The Calgary Flames loaded up over the summer with a pair of big trades. They added Mike Smith to solidify their goaltending and they acquired Travis Hamonic in an effort to shore up their defense. Despite going "all in," the Flames are very much on the playoff bubble as the 2018 trade deadline approaches.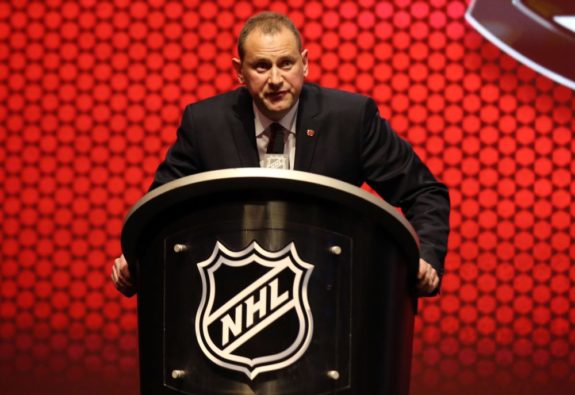 Having somewhat depleted their stockpile of future draft picks, few key players on their roster that they're likely willing to move, and a playoff spot far from certain, the Flames are in a unique bind. Their best course of action may be to hedge their bets and make minor tinker moves with an eye towards their future.
The Salary Cap
The Flames are extremely well-positioned for the future in regards to the salary cap. To be blunt: everybody that's important to the team's success is under contract.
In net? Mike Smith ($4.25 million) is signed through next season and backup David Rittich is a pending restricted free agent. On the blueline, their entire top five is signed through next season – Mark Giordano ($6.75 million), Dougie Hamilton ($5.75 million), T.J. Brodie ($4.65 million), Travis Hamonic ($3.57 million) and Michael Stone ($3.5 million) – and sixth man Brett Kulak is a pending RFA. Their entire top six forward group – Johnny Gaudreau ($6.75 million), Sean Monahan ($6.375 million), Micheal Ferland ($1.95 million), Matthew Tkachuk ($925,000), Mikael Backlund ($5.35 million) and Michael Frolik ($4.3 million) – are signed.
This summer's unrestricted free agents include Matt Stajan, Kris Versteeg and Matt Bartkowski. Their restricted free agents include Kulak, Rittich, Mark Jankowski and Garnet Hathaway.
Tkachuk, Ferland and Sam Bennett are due for new contracts following the 2018-19 season. Tkachuk's extension will give him a hefty raise, potentially to higher than $5 million annually. Aside from potentially moving an existing long-term deal to open up future cap space for these pending extensions, big moves by the Flames involving their core players seem unlikely.
Their Two Big Needs
The Flames are in a uniquely precarious position. They're not a slam-dunk playoff team, but they've sent a lot of draft picks out the door in recent years in an effort to load up for a playoff run. The club has to arguably serve two masters at once: adding strategically to augment the team's offense, but somehow also adding draft picks where they can just in case they miss the playoffs.
They definitely need to add more offense weapons. Aside from Gaudreau, Monahan and Tkachuk, the Flames' offensive production has been sporadic – especially at even strength. Their overall goals-per-game sits at 21st in the league, and that factors in their 23rd-ranked power play – at even strength they're around 20th. They need to find out ways to bolster their offense without breaking the bank.
On the other hand, if the Flames miss the playoffs they will be without their first, second, third and fifth round selections in this year's NHL Draft due to trades that brought Hamonic, Smith and Stone to town. Even including acquired picks, the Flames could have as few as four selections in the 2018 NHL Draft, and none earlier than the fourth round. Considering how crucial drafting and development is to long-term sustainability and success, it would be in their best interests to try to recoup a pick or two.
The Flames have these two pressing needs. It's unlikely that they will be able to address them both, but doing so would allow the club to both push for a spot and hedge for the future.
Their Tradeable Assets
While the Flames likely want to hold onto their main roster assets, they've developed a lot of depth within the organization which could aid them in making trade deadline moves.
Prospect Need to Know: @THNRyanKennedy spotlights kids from the Sharks, Flames, Oilers and more https://t.co/t4gpekmwdl

— The Hockey News (@TheHockeyNews) February 21, 2018
In goal, the maturation of minor-leaguer Tyler Parsons might see AHL starter Jon Gillies swapped elsewhere. That move would give Parsons additional starts in Stockton and aid in his development.
On the blueline, the Flames have four very promising prospects: WHL standout Juuso Valimaki, college star Adam Fox, and young AHLers Oliver Kylington and Rasmus Andersson. Of the four, Andersson is definitely the most NHL-ready, while Kylington probably has the most untapped potential – he's only 20 years old and has played two full AHL seasons. The Flames could easily trade one of these blue-chip prospects and still have an abundance of riches at the position.
Within their young forward ranks, the cupboard isn't nearly as full with mature prospects but still contains a lot of potential. AHL veterans Hunter Shinkaruk and Emile Poirier are useful depth pieces but could probably benefit from a change in scenery. While World Junior star Dillon Dube is probably off the table, other Flames junior prospects such as Matthew Phillips, Adam Ruzicka or D'Artagnan Joly would probably be available should the right offer be on the table.
Ryan Pike has covered the Calgary Flames and the NHL Draft extensively since 2010 as a Senior Writer for The Hockey Writers and Senior Contributing Editor of FlamesNation.ca. A member of the Professional Hockey Writers Association, he lives in Calgary.