At just 17 years old, Nathan Dunkley is suiting up for his second OHL team in two years and it has nothing to do with his calibre of play. In fact, Dunkley was the main piece in the trade that saw the London Knights move Cliff Pu to the Kingston Frontenacs for the young forward along with two picks.
Taken 17th overall in the OHL Priority Draft by the Frontenacs in 2016, Dunkley quickly became an important piece of the Fronts' offensive production. In 58 games for Kingston in his rookie season (2016-17), Dunkley tallied 6 goals and 31 points. He added 7 points in 11 playoff games before the Frontenacs were ousted.
He backed that up with a great start to his second season in the OHL and that's when he was traded to the Knights – a bittersweet move for the native of Campbellford, Ontario.
Dunkley's Goodbye, A New Beginning
Dunkley started the 2017-18 campaign with 13 goals and 33 points in 31 games for the Frontenacs. But Kingston needed more experience and bigger pieces as the deadline approached and became buyers to stay competitive in an Eastern Conference that was quickly changing.
Related: Evan Bouchard – Among the Knights' Best?
The Hamilton Bulldogs went out and picked up Robert Thomas from the Knights, while the Barrie Colts grabbed hold of Aaron Luchuk.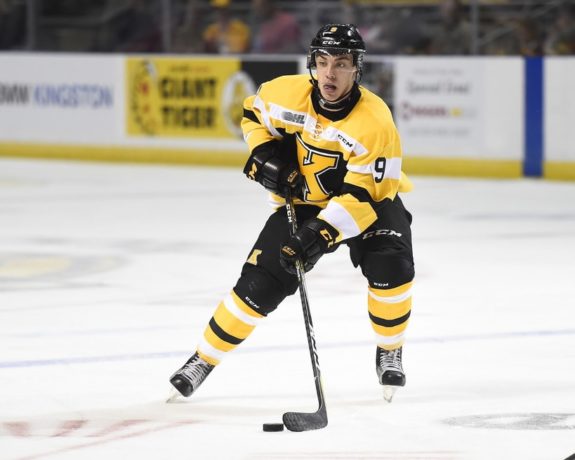 In response to that, the Frontenacs traded for Max Jones and Sean Day among others. On top of that, the team acquire Pu, but it came at a cost. That cost was Dunkley.
"Obviously it's different on a bunch of levels," said the young forward following a two-assist performance against the Spitfires. "Obviously you're extremely excited. But it's mixed emotions, you know what I mean? I'm really excited to be here and it's a great bunch of guys and a top-class organization. So overall I'm really happy."
Since the move, however, Dunkley has picked up right where he left off in Kingston. Still the playmaker he's been made out to be, he has 4 goals and 15 points in just 18 games since coming to London.
In fact, pegged as sellers at the deadline, the Knights have become an extremely consistent team since acquiring the aid of Dunkley, Sergey Popov and Connor McMichael. That said, the Knights aren't the only ones who benefitted from the trade.
Dunkley Benefitting From Move
While given the chance to play with guys like Alex Formenton and Liam Foudy, Dunkley may also benefit from the trade to London. A first-class organization and a perennial playoff team, the Knights may give Dunkley a chance to move up in the NHL Draft rankings.
Currently ranked 72nd by Future Considerations and 132nd among North American skaters by NHL Central Scouting, Dunkley is eligible for the 2018 NHL Entry Draft. That means he could potentially go anywhere from the middle of the second round to somewhere in the fourth or fifth round this summer. But the Knights have a history of spewing out top-end draft picks when it comes to the NHL.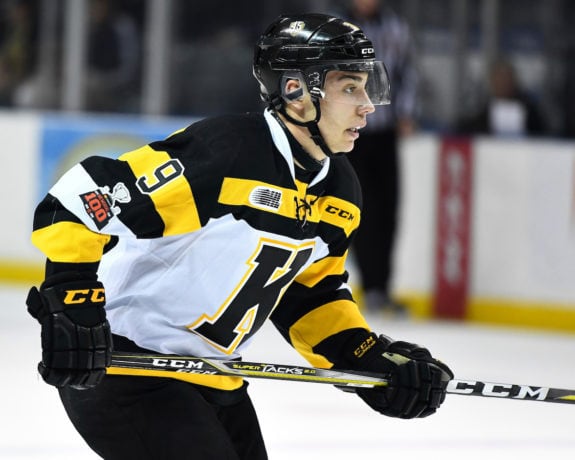 From guys like Corey Perry and Patrick Kane to others who still wear the green and gold like Jacob Golden, the Knights have played home to all types of players who've been littered throughout past NHL drafts.
Due to their reputation, teams know what they're getting when they pull a player out of the Knights' organization. Dale Hunter's ability to get players ready for the next level has been proven time after time and because of that Dunkley could be the beneficiary of a well-oiled machine in London – something he knows all too well, saying:
"When I found out I was going to be a Knight, I was obviously extremely thrilled simply because of that factor. If you look at the players they've produced here and what a great organization they are, it's exciting and it makes me excited for the future as well."
Regardless of where he goes in the draft, it's likely he'll be back with the Knights next season. And while the Knights might not be in a full rebuild, the addition of Dunkley is going to fast track this team in becoming a Memorial Cup threat in the very near future.