Nikita Scherbak's slick goal against the Vegas Golden Knights was representative of what the young Russian forward is capable of. In a Montreal Canadiens' prospect pool that lacks natural scorers, Scherbak is one of the few exceptions.
He has been slowly developing in junior and in the minors since being drafted and has seemingly turned a corner in his development this season. Due to a lack of roster room with players coming back from injury, he was recently sent down to the AHL after a solid NHL stint, but he will likely find his way back after the trade deadline. The question now is how much more development Scherbak needs and where his current ceiling is.
Draft Day Potential and Current Development
Being picked 26th overall in the 2014 NHL draft, Scherbak was deemed a project on draft day but his potential was intriguing. He managed to put up 78 points in 65 games for an awful Saskatoon Blades team, and it was his first season playing major junior hockey in North America. He was an instant hit with the media as displayed by his first interview post-draft.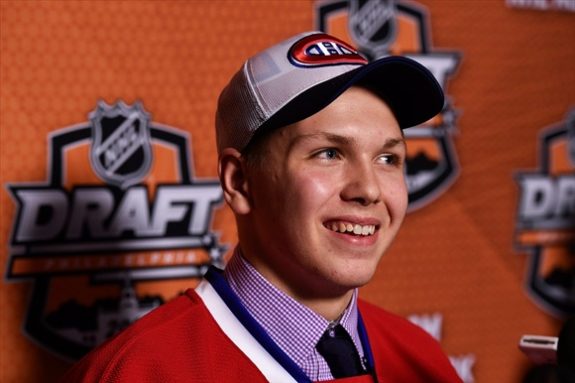 The wait for Scherbak to break through has been agonizing at times. Other than Conner Bleackley and Michael Dal Colle, Scherbak has played the fewest games of any of the 2014 first rounders so far with just 12 currently. As much as it looked like it would be better for him to develop his game for a little longer in the minors, he might be better off in Montreal for the remainder of the season.
It's pretty clear now that the Habs are not making the playoffs while the Laval Rocket are crashing further of the AHL playoff picture. The team needs to use this as an opportunity to find out what they have in their prospects, especially their older ones who have spent several seasons in the minors.
Is Scherbak Galchenyuk Part 2?
Placing Scherbak in an offensive role with the team's more gifted forwards is the way to go. He has shown some chemistry with Alex Galchenyuk and encouraging these players to make plays and use their strengths should be a priority this season. Like any player, they need to have some semblance of commitment to playing in all three zones but expecting them to be defensive wizards a la Patrice Bergeron isn't going to happen. 
There are some parallels between Galchenyuk and Scherbak. While Galchenyuk is more of a shooter, Scherbak is more of a playmaker. Both players are much better with the puck than without it and have natural talent in spades. While Scherbak isn't quite at Galchenyuk's level, they've had common critiques aimed them, mostly regarding defensive play and effort level. Claude Julien has helped Galchenyuk develop his two-way game and despite the insistence not trying him at centre again, Galchenyuk has been a better player and the effort is starting to match the immense talent.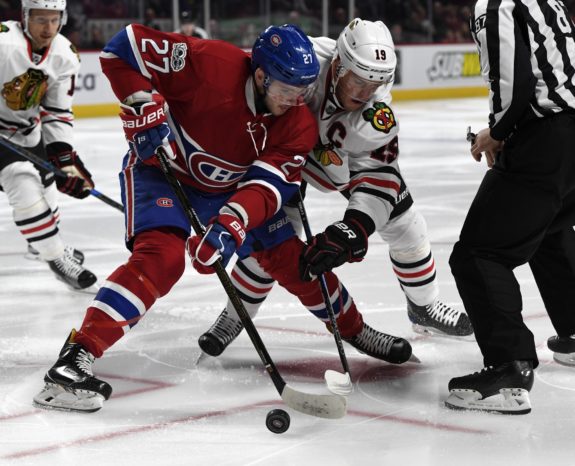 Like with Galchenyuk, it is important that the coaching staff not lose patience with Scherbak and nail him to the bench for every mistake. In terms of ceiling, Scherbak will likely top out as a good second liner/average first liner if he continues to make strides. Montreal's depth at right wing is pretty scarce so to have a player like Scherbak play to his potential would help shore up that side of the ice, talent wise.
Chance of a Lifetime
With the way the Habs develop their prospects coming under fire, there is no better time than the present to start correcting that. Being able to develop a scoring winger in house like Scherbak is important to the team's future. Montreal's failure to develop their prospects has them chasing after free agents or trading for other players. Though he is in the minors right now, Scherbak will hopefully be back soon to step up and fill a massive talent depleted hole on the right wing. 
I have a Bachelor's Degree in Journalism from Ryerson University. I am a freelance journalist and a Montreal Canadiens writer for The Hockey Writers. I previously wrote for Simcoe.com and Last Word on Sports as well as interned at TSN.