After a string of wins, all of a sudden the Calgary Flames can seriously be considered a playoff contender. In light of turning their season around, the Flames have likely looked at scrapping any plans of selling at the trade deadline.
That being said, moving a single player could help the Flames in the long run, and that single player is Dennis Wideman. Though Wideman is still one of Calgary's better defenceman, the argument for trading him may outweigh the argument for keeping him through the end of the year.
He's Probably Only Here for the Year
In 2012, Wideman signed a five-year deal with the Flames and now finds himself in the last year of that contract. At 33-years-old, it doesn't make sense for the Flames to re-sign Wideman and instead, that money could be spent on free agency signings. So with only months left with Calgary, it may make more sense to deal Wideman before his contract expires instead of keeping him for a potential playoff run.
Calgary realistically will not be a Cup contender this year and though it may no longer make sense to sell the farm, they could still look towards the future with this single trade. By moving Wideman, the Flames will be able to stock up for the coming years, where a Stanley Cup could become a possibility.
Calgary Can Get a Good Return
Even though he's past his prime, Wideman could still bring in a solid return as a rental player. He's still one of Calgary's better defenceman and a right-handed shot depth rearguard could be what some teams are looking for come the trade deadline. A comparison to the return he could bring in is what the Toronto Maple Leafs got for Roman Polak last year.
Polak is also a right-handed defenceman, though Wideman is still undoubtedly more talented than Polak. Last year, the Leafs dealt Polak to the San Jose Sharks and by throwing in a third-line player in Nick Spaling as well, were able to get two second-round picks for Polak as a rental player. Now there's no doubt the Sharks overpaid for Polak, but going off of this, Wideman should have no problem at least bringing back a pair of second-round picks. These picks could be valuable in building on their young team in the coming years.
The Flames Can Excel Without Him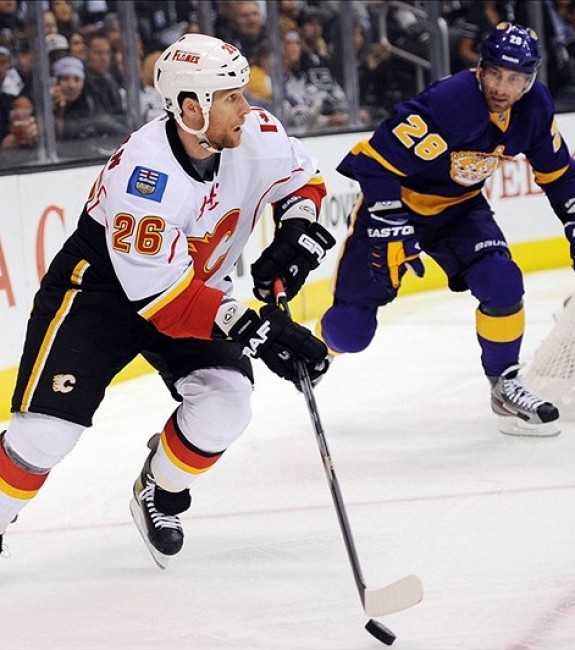 Two games removed from a six-game win streak, the Flames have been playing their best hockey in the last couple seasons. Whether it's Chad Johnson, Johnny Gaudreau or Matthew Tkachuk, things seem to be working for the Flames. That being said, Wideman hasn't been a huge part of the team's success. He has just eight points in 26 games this year, making that his lowest ever points per game average in a season.
Wideman is one of the players that Calgary could do without, and while two years ago he was arguably Calgary's second-best defender behind only Mark Giordano, he's not one of the elements that's working for them right now. If the Flames make the playoffs, they'll be relying on their top talent to carry them, and Wideman will only be a background piece.
Whether or not they do push for a playoff spot, Wideman shouldn't end out the year with the Flames. By keeping him in Calgary, the Flames would be depriving themselves of future assets to make a run at a year where they realistically aren't going to make a run at the Stanley Cup.