New York Rangers forward Rick Nash is back on the shelf according to the New York Post.
Nash has been back in the lineup for just three games since pulling his groin. In those three games, he's been an important piece for the Rangers, posting two goals and 10 shots. But he only made it one shift into Sunday's overtime frame against the Devils. Now, it's clear why.
According to the Post, Nash has pulled his groin. Worse yet, it's not an aggravation of the same injury, which he said is the first groin injury of his career. This time it's the other side of his groin. He'll sit out of Tuesday's game against division rivals in Pittsburgh. Beyond that, it's not clear if he could be ready to go or if he'll be out for a longer stretch of time.
The timing is fortunate for the Blueshirts if Nash has to sit out a second game. They only have two games on the schedule before the holiday break, which will offer Nash some additional recovery time without missing games.
Panthers Weirdness Gets Weirder
Vincent "Vinnie" Viola, chairman and governor of Sunrise Sports and Entertainment for the Florida Panthers, has been tapped by president-elect Donald Trump to be the new Secretary of the Army for the United States, pending Senate confirmation.
https://twitter.com/FlaPanthersPR/status/810852650333966336
The release from the Panthers says that ownership "will remain in the Viola family" during Viola's time as Secretary of the Army. Vice chairman and alternate governor of Sunrise Sports, Doug Cifu, has been tapped to take over Viola's role in the organization.
"Our hockey team has always been proud to be part of Mr. Viola's legacy. We admire his dedication to his country and are excited to watch him pursue this new endeavor," said Dale Tallon in a statement.
Viola is a former U.S. Army infantry officer who served in the 101st Airborne Division and a graduate of West Point. He's brought an Army mentality to the Panthers through hirings, a redesigned logo that emulates the Airborne Division insignia and he is assumed to be a part of the push for the NHL to host an outdoor game at West Point involving the Rangers next season.
There are a handful of connections between Viola and Trump, including that Viola allowed the Trump campaign to rebrand and use a Panthers plane during the election.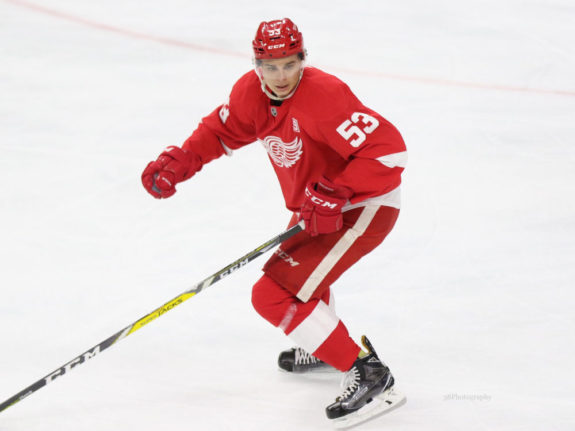 Marchenko Sits a Week
The Red Wings have placed defenseman Alexei Marchenko on seven-day injured reserve with a shoulder injury. He's posted five assists and no goals in 22 games this season.
In response, the team has recalled Nick Jensen from the AHL's Grand Rapids Griffins. A 2009 fifth-round selection, Jensen is in his fourth season with the Griffins and would make his NHL debut at age 26 if he finds his way into the lineup. He's posted a goal and six points through 27 games with Grand Rapids.
Brown Takes a PTO
NHL veteran and noted pugilist Mike Brown has taken a professional tryout with the AHL's Cleveland Monsters, affiliate of the streaking Columbus Blue Jackets, according to Sportsnet's Chris Johnston.
Brown split time between the San Jose Sharks and Montreal Canadiens last season, but didn't find a contract as a free agent during the offseason and hasn't been with a team since the season started. In 58 games last year, he posted two goals, three assists and 90 penalty minutes.
Oh, No. Oh. No.
This is the kind of thing that shouldn't be a real fear for most players but can become a reoccurring nightmare when it happens.
With Dinamo Minsk up 2-0 in KHL play, Sergei Drozd had his eyes on the opposition's empty net and his first goal of the year. But disaster struck. First, he whiffed on the puck, then on a desperate second attempt, he hit the post.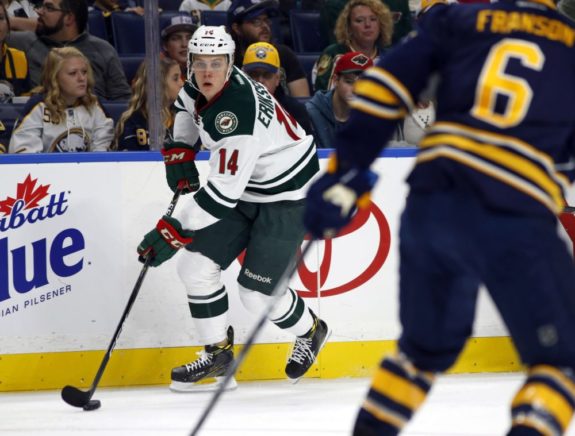 Odds & Ends
– The Blue Jackets have assigned prospect Oliver Bjorkstrand to the AHL's Cleveland Monsters. He has recorded a single assist through five games this season.
– The Calgary Flames have recalled defenseman Tyler Wotherspoon from the AHL's Stockton Heat.
– The Swedish national junior team has named Minnesota Wild prospect Joel Eriksson Ek captain of Team Sweden for the 2017 World Junior Championship.
– Edmonton prospect Dylan Wells has been named the OHL's Player of the Week after posting three wins and a .945 save percentage with Peterborough.
Dustin Nelson is the News Editor for The Hockey Writers. He's a contributor to Hockey Prospectus, Hockey Wilderness, and writes a column for Rotowire. He's also written for Gone Puck Wild, Wild Xtra, InDigest, Electric Literature, The Rumpus, Tiny Mix Tapes, Prefix Magazine & other publications. Have a tip? Email him at dlukenelson[at]gmail[dot]com.