Back in "the day," the Calgary Flames' top line was easy to identify; it was whatever line Jarome Iginla was on. In recent years, following the club's brief rebuilding, it's been known as whichever line Johnny Gaudreau and Sean Monahan are on. But while Flames management almost drove themselves batty trying to find a center to play with Iginla, they've had almost as tough a time finding a consistent right-side partner for Gaudreau and Monahan.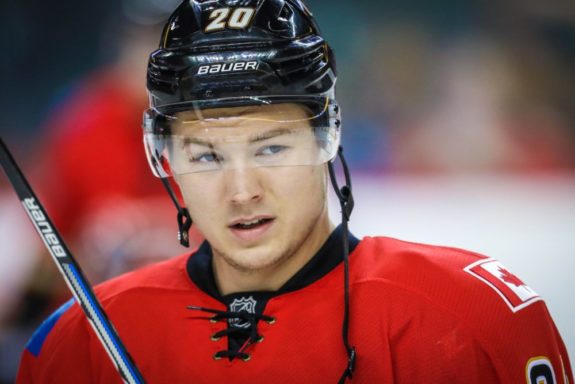 The early days of the 2017-18 regular season have seen the Flames start with Micheal Ferland as the right wing on the top line, then shift to both Curtis Lazar and Jaromir Jagr for a couple games. This shuffling continues three seasons of trying to find consistency on the top line – a search that's persisted through trades, free agent signings and the late stages of a rebuild.
A Brief History
The Flames selected Gaudreau in the fourth round of the 2011 NHL Draft; he went to Boston College as a freshman that fall. Two years later, they selected Monahan in the first round of the 2013 NHL Draft; he immediately went pro and made the Flames roster out of camp. At the very end of Monahan's rookie season, Gaudreau signed an entry level contract – forgoing his senior year of college – and joined the NHL club.
Following a few weeks of line juggling by then-coach Bob Hartley, Monahan and Gaudreau were put together and began to have success. Since then, the two have spent far more time playing together than apart – to the point where they're basically joined at the hip. Gaudreau and Monahan have played regular minutes with 11 different players since Hartley threw them together.
In descending order of most even strength time played with the top duo:
Jiri Hudler: 832 minutes
Ferland: 428 minutes
Alex Chiasson: 231 minutes
David Jones: 149 minutes
Troy Brouwer: 120 minutes
Michael Frolik: 100 minutes
Joe Colborne: 73 minutes
Kris Versteeg: 66 minutes
Josh Jooris: 61 minutes
Mason Raymond: 47 minutes
Hunter Shinkaruk: 31 minutes
Of these 11 players, only Ferland, Brouwer, Frolik and Versteeg remain with the Flames.
What Didn't Work
Based on their tendency to keep the trio together, it seems like the Flames preference for line chemistry and performance is exemplified in the 3M Line of Mikael Backlund, Matthew Tkachuk and Frolik. That trio is effective at shutting down opposition forwards, transitions the puck efficiently into the offensive zone, regularly generates scoring chances and draws more penalties than it takes. It is, in almost every sense of the word, a great forward line – the addition of Tkachuk "clicked" with the other two in a way that elevated the entire trio.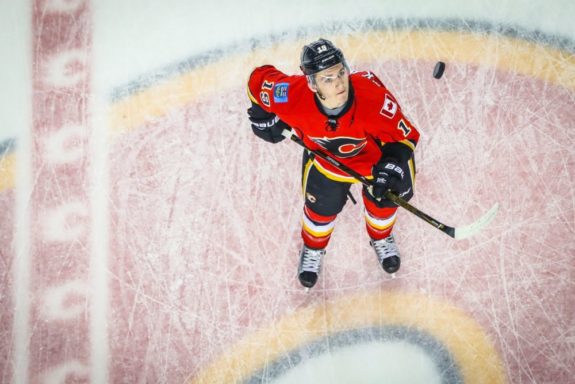 Their success provides a glimpse into why various players weren't kept with Monahan and Gaudreau long-term, as the trios all failed to "click" in different, important ways.
Ferland, Chiasson, Colborne, Jooris and Jones were energy players elevated to the top line because they played a direct, physical style of game that in theory would open up some space for their linemates. All four seemed to struggle with playing that style consistently when they played with Gaudreau and Monahan.
Versteeg, Frolik and Brouwer had experience playing with highly-skilled players from his previous stops, but just weren't good stylistic fits.
Raymond lacked the speed and ability to cut into the middle of the ice to generate scoring chances. (Granted, the guy broke his back and his hesitance was completely understandable.
Shinkaruk was trying to cement himself on the NHL roster, but didn't have nearly the consistency needed to do so – especially for the top line.
Hudler was arguably the best fit of the players mentioned, but he lacked the defensive attention to detail and game-to-game consistency to be a long-term fit on a contending team.
All of these players worked in a pinch, and some were pretty effective over long stretches, but all seemed to lack that indefinable dynamic quality that makes a player a perfect fit on a top line.
The Remaining Options
Jagr is fitting in nicely with the Flames pic.twitter.com/cqsZZvvAHv

— Flintor (@TheFlintor) October 12, 2017
The challenge for the Flames may be in their lack of internal options, and the solution could be trying out Jagr in that spot. Sam Bennett? He's a center. Frolik? He's a fixture on the second line, as is Tkachuk (who would also be an interesting option on the top line if the coaching staff decided to break the 3M trio up). Lazar's been a healthy scratch for half of the young season and is still somewhat of an unknown quantity in the NHL. Brouwer's been a better fit as a bottom-six winger and penalty-killer. Ferland's been the default option, but he hasn't been much of a factor on the top line thus far.
Given the revolving door of options that the Flames have tried already that haven't been a fit, trying out the 45-year-old Jagr makes complete sense. He's a talented player with a nose for the net that's played with younger, dynamic players throughout his career. If Jagr can become a fit with Monahan and Gaudreau it would give the Flames as much strength and stability in their forward lines as they've enjoyed with their defensive group, and that would be a definitive big step towards becoming a contender.
Ryan Pike has covered the Calgary Flames and the NHL Draft extensively since 2010 as a Senior Writer for The Hockey Writers and Senior Contributing Editor of FlamesNation.ca. A member of the Professional Hockey Writers Association, he lives in Calgary.