The second week of the season is in the books for the Chicago Blackhawks. It was a busy week, with four games on the docket. The Hawks came down to earth a bit after running away with the first two games of their 2017-18 journey. They lost in overtime in Toronto, managed a win in Montreal, relinquished a controversial tilt to the Minnesota Wild, and then beat the Predators in another overtime game Saturday night. Getting five points out of a possible eight isn't a bad way to continue their momentum.
Here are some observations from the week:
Winner of the Week: Corey Crawford
Corey didn't play in Toronto, but he aced the last three games. He always plays well in Montreal, his hometown. Crow didn't disappoint last Tuesday, stopping 41 of 42 shots for a .976 save percentage. On Thursday against Minnesota, he stopped 29 of 32 shots, for a .906 save percentage. The final 5-2 score was a bit misleading.
The score was 1-1 heading into the third period when a controversial play led to a Minnesota goal. Many, including Hawks' head coach Joel Quenneville, felt the play was offside. But according to the new rules, a failed coaches challenge results in a power play for the other team. This led to another goal for the Wild. The final two tallies were empty net scores. Crawford definitely wasn't the problem in this loss.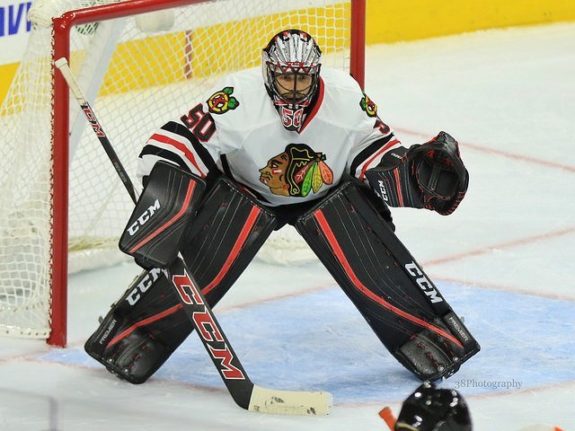 Against Nashville, Corey was lights out. He stopped 37 of 38 shots, for a .974 save percentage. The only goal he gave up was on the power play. Crawford's been playing great to start the season. He's tracking pucks well, staying square to shots, and not giving up many rebounds. While the rest of the team is trying to find their groove in front of him, Crow has remained strong, making key saves and giving the Hawks a chance to win.
Loser of the Week: Connor Murphy
It was a heartbreaking day for Blackhawks' fans when defenseman Niklas Hjalmarsson was traded to the Arizona Coyotes for Murphy. Hjalmarsson was an integral part of three Stanley Cups in Chicago. He was a warrior on the ice and a fan favorite.
Needless to say, Murphy has some tough skates to fill. While Hjalmarsson is still playing at a high level, the purpose of the trade was for the Hawks to rid themselves of an aging defenseman, whose style of play eventually takes its toll on the body. Murphy, in turn, provides size and physicality. While not of the same caliber as Hjalmarsson, the idea is for him to be smart and consistent, in order to take on Hjalmarsson's role as a top-four defenseman. After all, he played top defenseman minutes in Arizona.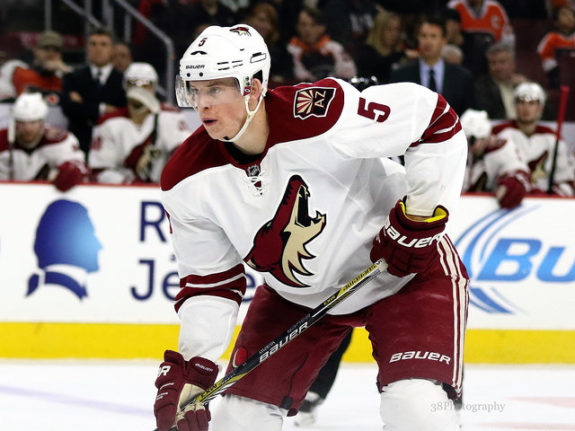 So far, this gamble isn't paying off. Murphy was a healthy scratch two times this past week, against Montreal and Nashville. The first scratch could be written off as Coach Q trying to light a fire under him, as well as trying to get some of the other defensemen into the rotation. But the second scratch indicates the coaching staff has lost some confidence in him.
The defensive rotation was supposed to involve the third pairing guys, namely Jan Rutta, Cody Franson, and Jordan Oesterle. It wasn't supposed to affect Murphy. We'll see how this plays out, but right now it appears Murphy is in Coach Q's doghouse.
What Went Right
I'm going to go with the penalty kill this week. In the past four games, the Hawks have only allowed three power play goals on twenty attempts. That's an 85% success rate. Remember last year, when they started the season allowing 14 goals in 26 tries in the first seven games? I'll take this start any day. Oh, by the way, they only allowed one PP goal in four attempts in the first two games. They're 83.3% on the season.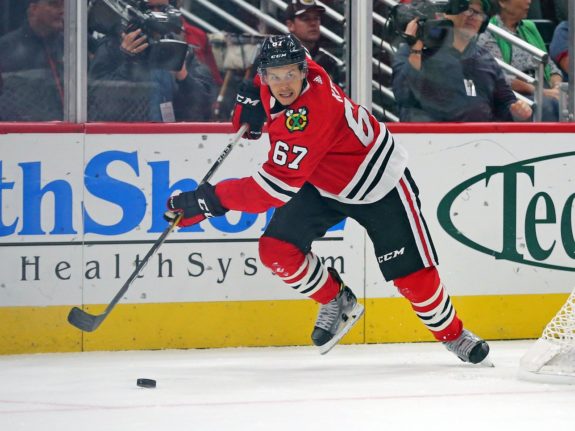 This usual suspects of Duncan Keith, Brent Seabrook, Jonathan Toews, Artem Anisimov, and Tanner Kero make up the core of the power play units. Having Brandon Saad back in the fold to eat up minutes when down a man has certainly helped the cause. Others that have been seeing time on the PK include John Hayden, Tommy Wingels, Michal Kempny, Rutta and Gustav Forsling.
What Went Wrong
Let's look at the other side of special teams, the power play. The Hawks have managed only three power play goals in 19 tries over the last four games. Against Nashville on Saturday, they were awarded six power plays and weren't able to convert on any of them.
The Hawks have actually changed up their power play look, deploying four forwards and one defenseman, instead of three forwards and two defensemen. But things still don't seem to be clicking. It's early in the season, so perhaps it's just a matter of finding chemistry and timing. Patrick Sharp made an interesting comment after Saturday's game.
Sharp on what Hawks can do better on PP: "More of the boring quotes that we're going to give you. They're quotes because that's what works."

— Chris Hine (@ChristopherHine) October 15, 2017
Gee, thanks, Sharpie.
Food for Thought
Nick Schmaltz has been out with an upper-body injury and didn't suit up the last four games. His absence has definitely been felt, as Patrick Kane's line hasn't had the same jump without him. Schmaltz provides speed and play-making ability to get things going.
But I think too much is being made about one player, especially one that's just entering his second year in the NHL. He shouldn't be treated as the missing piece; this kind of pressure shouldn't be put on the young forward.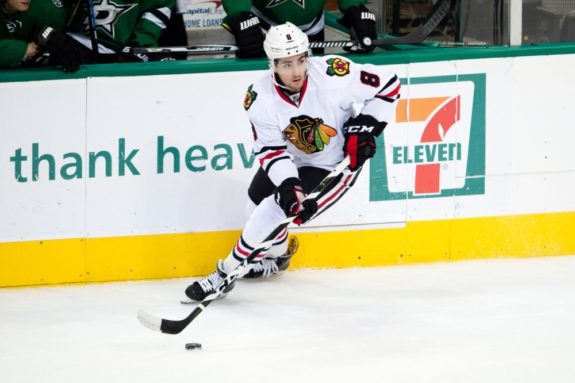 There are other options, and Coach Q seemed to be tapping into some of them on Saturday night against the Predators. Kero shouldn't be playing second line center, but Anisimov could certainly be serviceable with another playmaker on the left wing. What about Alex DeBrincat? Or even Sharp?
There are issues with players having to go through waivers, but if the coaching staff could decide on seven defensemen instead of eight, there's a guy in Rockford named Vinnie Hinostroza that's deserving of a look at forward. It appears Schmaltz will be back in the lineup for the next game, so this could all be a moot point. But these are all things to be considered in the future.
Final Observations
Some things to note:
Saad has scored six goals, with four game-winning goals since the start of the season.
DeBrincat tallied his first NHL goal Tuesday in Montreal.
Rutta picked up another goal and an assist on Monday in Toronto, for his first two-point game. He now has two goals and two assists on the season. His solid play is part of the reason Murphy's been a healthy scratch for two games.
I mentioned Hayden last week as someone to keep an eye on. He picked up his second assist of the season in Toronto, and his third against Nashville. As mentioned above, he's being given more time on the penalty kill, and was promoted to the third line towards the end of the game on Saturday. Oh, and then there was that fight against Minnesota's Marcus Foligno.
The Blackhawks are now 4-1-1 on the season, with a total of nine points. This currently gives them the lead in the Western Conference. They will have a few days of rest, before taking on the St. Louis Blues Wednesday night. They face the Edmonton Oilers and the Arizona Coyotes later in the week.
The season is young, my friends, and the Hawks are still getting acclimated. All things considered, they're off to a pretty good start.
Gail Kauchak has covered the Chicago Blackhawks as a content writer since 2014. She previously wrote for Fansided's Blackhawk Up, and has been part of The Hockey Writer's team since 2017. It's not always easy to balance life's responsibility's with one's passion, but Gail's doing her best to make it happen. Quote to live by, "Follow your dreams, and good things will happen." Wait, maybe it's "Good things happen when you shoot the puck!" You get the idea.
Follow Gail for her unique commentary about this storied franchise. And be sure to catch her and the rest of the Blackhawks' crew on their weekly Blackhawks Banter show, as well as follow her on Twitter.