We're only two games into the season, but the Chicago Blackhawks have made quite the statement. They trounced the defending champion Pittsburgh Penguins 10-1 in their home and season opener this past Thursday. Then they went on to beat the Columbus Blue Jackets 5-1 on Saturday night. The Hawks are now 2-0 and have four points on the season, the most they can have to this point. What a great way to get started! Let's take a look at how things are taking shape for the Hawks.
Winner of the Week: Brandon Saad
I think it's safe to say having Saad back in the fold is a win-win situation. Saad recorded a hat trick on Thursday against the defending champs and added another goal and an assist on Saturday against his old club. With four goals and one helper in two games, I'm sure the Hawks and Saad are pretty happy with the way things are going so far.
It's been widely speculated who got the better end of the deal in the Saad-Artemi Panarin trade. The Blue Jackets and Panarin are also two games into their season. Panarin is off to a great start as well, posting three assists in his first game. But the Hawks held him off the scoresheet in his second game.
Saad is providing what the Hawks have been missing the last two seasons. The top line of Saad, Jonathan Toews, and Richard Panik looks like the top line again. These three have combined for 11 points in two games (seven goals and four assists). Saad plays a significant role in this by finding the puck and being a solid presence around the net. It's a small sample size, but this kind of play could spell good things for the Hawks.
Related: Is Saad the Blackhawks' Missing Piece?
Loser of the Week: Alex DeBrincat
After lining up on the second line with Nick Schmaltz and Patrick Kane for most of the preseason, DeBrincat has found himself demoted to the third line for the first couple tilts of the regular season. Being outside of the top six, he's been pretty quiet so far. On Thursday against Pittsburgh, he did manage a secondary assist, along with two shots on goal and four hits. Giving out four hits is actually pretty impressive for a guy his size. But Saturday brought zero shots on goal, and the young winger was on the ice for the only goal against.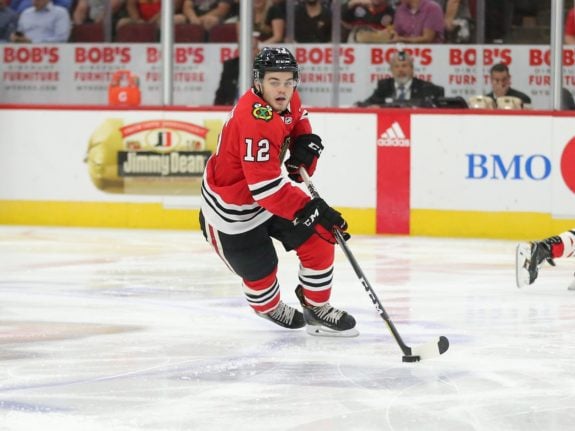 As Schmaltz is not traveling with the team for the next two road games (more on this later), Coach Q's line blender will likely give DeBrincat more opportunities to shine. Look for him to take advantage of that.
What Went Right
Scoring lots of goals is what went right! The Hawks posted 10 tallies on Thursday and added five more Saturday. As discussed, the top line was responsible for six goals, with Saad adding a power-play score as well. The second line accounted for five goals, the third line had one goal, and the defense notched two tallies. Everybody is getting involved, which is great to see.
The Hawks look hungry and energized, and they're already showing great chemistry up and down the lineup. Obviously, they won't be able to keep this up for the next 80 games, but they're certainly off to a solid start.
What Went Wrong
Two players are already dealing with injuries for the Hawks. Fourth-line center Tanner Kero left the game Thursday due to an undisclosed injury. Tommy Wingels replaced him on Saturday, but Kero should reportedly be ready to play tonight against the Toronto Maple Leafs.
Schmaltz left the first game late in the third period. Rumor had it he messed up his knee. But he was at the next practice, and started in the second game of the season. Unfortunately, he got laid out by a big hit on the play that resulted in the first goal of the game. He was down on the ice after Kane scored just 34 seconds in, and he never returned.
Schmaltz is double-teamed but gives Kaner double the space to work in. #Blackhawks pic.twitter.com/vBQMeVL86d

— Chicago Blackhawks (@NHLBlackhawks) October 8, 2017
It appears this second exit by Schmaltz is not related to his first. The Hawks are calling it an upper-body injury, and he will not travel with the team for the next two road games. Let's hope this isn't serious and that he can return to action soon. Schmaltz recorded two goals and one assist in his first game and did a commendable job centering the second line. His absence will be felt.
Related: Blackhawks Bury Reigning Champs
Food for Thought
Everyone is basking in the glory of the top two lines potting tons of goals, with the third line and the defense helping out as well. But keep an eye on fourth-liner John Hayden. He was a fringe forward who was fighting to make the team in the preseason.
He's quietly had two solid games. Hayden contributed an assist, four shots on goal, five hits, one takeaway, and a plus-1 rating on Thursday. He followed that up with two shots on goal and four hits on Saturday. He played 14:19 on Thursday and 14:35 on Saturday, which is substantially more ice time than the other fourth-liners, Lance Bouma and Wingels. Coach Q appears to trust him. He's bound to be rewarded for his efforts soon.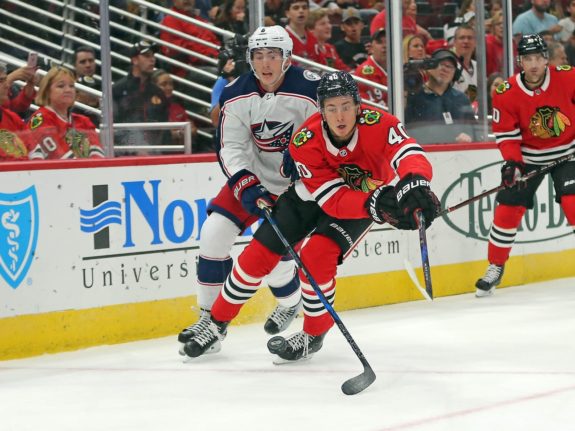 Final Observations
The Hawks have come ready to play in these first two games of the season. They've shown team speed that wasn't there last year. They have energy and present an offensive threat with pretty much every line.
There hasn't been much need for defense so far, but that won't last forever. The defense will be tested in future games. Duncan Keith and Brent Seabrook are being deployed on the top pairing, just like the good old days. They've looked strong together, but will this be at the expense of the other two pairings? The third pairing of Gustav Forsling and Jan Rutta looks fairly solid, but Michal Kempny and Connor Murphy have had their moments on the second pairing.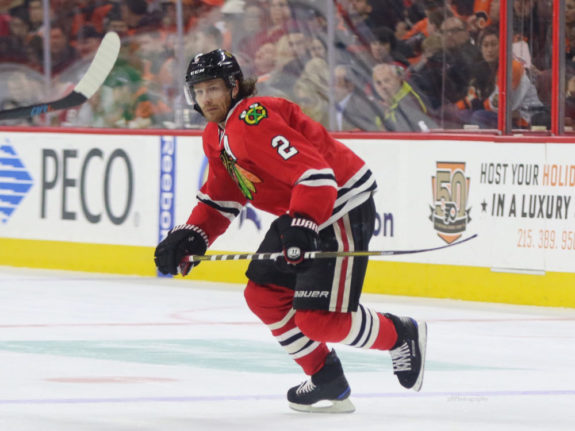 The offense is more than likely going to even out going forward. How the defense evolves could go a long way in determining whether the Hawks can sustain this early success.
For those of you who haven't gotten enough Blackhawks hockey this opening week, never fear! The team hits the road for back-to-back games against the Toronto Maple Leafs and the Montreal Canadiens, starting tonight. They round out the week with home games against divisional foes in the Minnesota Wild and the Nashville Predators on Thursday and Saturday. It should be a good week!
Gail Kauchak has covered the Chicago Blackhawks as a content writer since 2014. She previously wrote for Fansided's Blackhawk Up, and has been part of The Hockey Writer's team since 2017. It's not always easy to balance life's responsibility's with one's passion, but Gail's doing her best to make it happen. Let's put it this way; she's probably reading and writing about hockey instead of cooking and cleaning. Shh, don't tell her husband!
Follow Gail for her unique commentary about this storied franchise. And be sure to catch her and the rest of the Blackhawks' crew on their weekly Blackhawks Banter show, as well as follow her on Twitter.