Usually when a team is shelling out over $12 million to their goaltenders alone, they would expect a guy in the crease who can stop a puck here and there. Montreal pays $6.5 million per season for Price, Lundqvist is bringing in $8.5 million in New York, so since Calgary is paying even more than that, they should have the present day Jacques Plante, right?
Well unfortunately that doesn't seem to be the case for the Flames, who sit dead last in the Western Conference. Calgary is currently 29th in the league in goals-against, with a brutal 201 shots finding a way into their net this season, one less than Arizona for last.
But unlike most teams who have a declared starter, Calgary's crease situation isn't as simple as that. The Flames have four goaltenders on their roster, with Jonas Hiller, Karri Ramo, and Joni Ortio all having started for the team this season, and Niklas Backstrom, who came over from the Wild at the trade deadline. With all these goalies, it should be a given that one could prove to be at least an average goaltender in the league, but so far, Bob Hartley and co. have had nothing but scraps and disappointment to worth with in net this season.
Pending Unrestricted Free Agents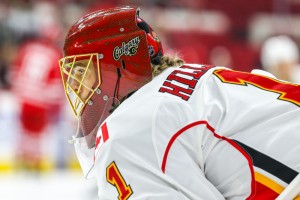 Typically seeing one goalie on your roster, let alone three, set to become a UFA would cause worry, but this situation actually seems to be ideal for the Flames. Come this summer, Calgary will free up $11.7 million in cap space simply by letting go of Hiller, Ramo, and Backstrom. The freed up space could go towards re-signing Johnny Gaudreau and Sean Monahan to long-term contracts worth a small fortune, or shopping around for a real starter.
When Calgary signed Jonas Hiller two years ago, it looked as if for the first time since Mikka Kipprusoff's retirement, the Flames had found a new concrete starter. Hiller had played with the Ducks for six seasons, and had represented Switzerland in two Olympic Games, playing stellar in both. After being pushed out of Anaheim after the emergence of both Frederik Andersen and John Gibson, Hiller came to Calgary as the team's clear number one goalie. In 2014-15, Hiller backstopped Calgary to their first playoff appearance since 2009. Hiller posted a very respectable .918 save percentage, and a 2.36 GAA in 52 appearances, and it looked as if Calgary would be pursuing a long-term deal for Hiller going into this season.
However Hiller's play has been nothing short of a nightmare this season. He has the worst save percentage of any goalie who's played over six games this season at .883, and was replaced as a starter by Karri Ramo. After Ramo's injury, coach Bob Hartley went back to Hiller in the hopes he'd be able to perform again at a high level.
"The plans with Hills is that we're trying to give him the same opportunity as Karri Ramo." – Bob Hartley. Jonas Hiller gets the start.

— Calgary Flames (@NHLFlames) February 19, 2016
In his last outing against Buffalo on Thursday, Hiller gave up five goals on 34 shots, and looked as if he had zero confidence in net. His play this season will almost certainly result in the Flames watching him slide into the competitive free agent pool this summer.
Replacing Jonas Hiller as the starter, Karri Ramo, despite his mediocre play, was Calgary's best goaltender for the better part of this year. He posted a half decent .909 save percentage in 34 games, and played how he was expected to- posting numbers similar to that of a backup goalie. After being placed on waivers earlier in the year, Ramo returned to Calgary quickly, once Hiller couldn't solidify himself as a starter. Ramo had been playing the majority of games this season, before tearing his ACL last month, resulting in Ramo missing the rest of the season. Overall, Ramo had a decent year, but it doesn't make sense for Calgary to pay a backup goaltender $3.8 million per season, so it shouldn't be a surprise if Ramo has played his last game with the Flames.
The third goalie going into free agency at the end of the season is 38 year-old Niklas Backstrom. Backstrom was acquired from Minnesota at the trade deadline in exchange for David Jones, after playing with the Wild for 10 seasons. A couple of years ago, Backstrom was seen as the face of the Wild, and over his career with Minnesota, had posted numbers as low as a .929 save percentage, and went five of his first seven years with the Wild with a GAA under 2.50.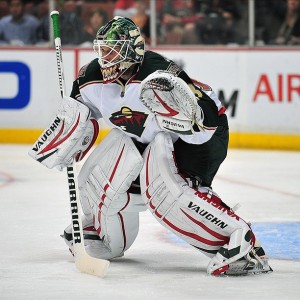 However, Backstrom has shown signs of age, seeing his numbers decline every year since 2011-12. Backstrom didn't play a single game with the Wild this season, and only played 19 games last year, putting up a 3.04 GAA and a .887 save percentage. It's a given that Backstrom will never return to what he once was, but he could still help the Flames to a respectable finish this season. Since coming to Calgary, Backstrom has been practicing with the team, and has been promised a start in the near future.
The Future
It seems that none of these three goaltenders will return next season, meaning Calgary will have to draw from both their development system and possibly free agency. The only goalie currently on the Flames roster that may end up back on Calgary's roster next fall is Joni Ortio. Ortio, 24, has only appeared in nine games this year, and his numbers have been less than stellar so far, with a 3.34 GAA and a 0-6-1 record. Ortio becomes a restricted free agent in the off-season, and Calgary will likely re-sign him to a two-way contract. Ortio should see more action before this season comes to a close, due to Ramo's injury and Hiller's shaky play.
Calgary may also be looking to call up minor league goaltender Jon Gillies. Gillies was a third-round pick of the Flames in 2012, and has gone on to play with the United States at two different World Junior Championships. Gillies played NCAA last season with Providence College, finishing the year with a very impressive .930 save percentage and 2.01 GAA in 39 games with the team. He was moved up to Stockton (AHL) this year, but was injured after playing in only seven games, and hasn't been able to return to action since. Gillies is likely to end up on the Flames main roster eventually, it's just a matter of when.
Calgary will also get to see prospect Mason McDonald more next season after his junior hockey career ends. McDonald will likely find himself on Stockton, and will be viewed under a microscope by Flames management. McDonald was drafted in the second round of the last June's draft, and represented Canada at this year's World Junior Championship.
With all this extra cap room after losing three goaltenders, Calgary will also have some room to dip their feet into free agency this year. Two goaltenders that could fit with the Flames are Cam Ward or James Reimer. Ward has played with Carolina for 11 seasons and will become a UFA this summer. Ward's experience could help the young Flames' team to turn their team around next year. James Reimer will also be available this summer, and if Calgary can't manage to get their hands on Cam Ward, Reimer could still be a solid starter for the team.
There's no question that Calgary's crease has been a mess this year. Three less than stellar goalies eating up Calgary's cap room and an underperforming prospect was likely not what Flames management and Bob Hartley were shooting for. But with all the inconsistencies in Calgary, one thing's for sure: whatever the Flames do in terms of goaltending next year, it would be a stretch to say it could get any worse than this season.