It started out as a narrative, but now it's becoming a reality. Through six games at the World Cup of Hockey (three pre-tournament games and three round robin games), Oilers' star Connor McDavid didn't score one goal. In fact, in those games that mattered, McDavid had 12 shots, but couldn't find the back of the net and managed just three assists. (He had no points in pre-tournament action despite his team scoring 13 goals in three games). He generated plenty of chances. His speed opened the door for Team North America to get scoring opportunities. But he was snake-bitten in this tournament, and that's not a new development.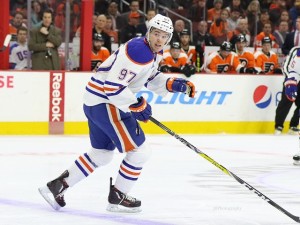 McDavid's Talent is More Than Goals
There are many things that make Connor McDavid great. His speed, his poise with the puck, his hockey sense, his ability to create space, and his knack for making something out of nothing. He isn't a one-trick-pony winger who scores a bunch of goals (like an Alex Ovechkin type). McDavid has the tools to be an all-around superstar, a guy who controls the play every time he's on the ice. In his short career thus far, he's shown some magic when he has the puck. As a centerman, his job is to do just that, and so long as he's setting up his teammates, he'll get his share of points.
McDavid is such a smart player, even the way he takes faceoffs and the way he positions himself on the ice. You can't teach things like that. Great players just know where to go. He doesn't make a lot of mistakes, and when you watch him on a game to game basis, you're usually amazed at what he does out there at such a high pace. Except, of course, filling the back of the net.
McDavid didn't have any trouble scoring goals in Junior Hockey. In his first season with the Erie Otters, McDavid scored 25 goals and 66 points 63 in games. He improved on those numbers the following season notching 28 goals and 99 points in just 56 games. His last Junior season was his best, scoring 44 goals and 120 points in a mere 47 games.
McDavid's productive rise in Junior Hockey was a big reason why he was so highly touted going into the draft. He dominated his peers in every area of the game. He kept getting better and better and improved upon his goal scoring totals every year. He always had more assists, but that's usually the case with a puck-distributing centerman such as McDavid. The wonder of watching this kid was his ability to create and think the game. He seemed so much faster than everyone. His skating was second to none. He has what it takes, there's no question about it. But can Connor McDavid truly be the best player in the world if he's not scoring goals?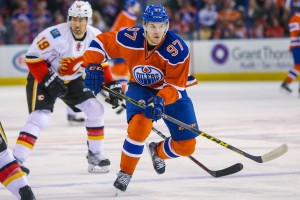 McDavid's Goal-Scoring Woes Have Grown
The World Cup of Hockey wasn't the only international tournament that saw McDavid struggle to score. In the 2016 IIHF World Hockey Championship, McDavid managed just one goal in 10 games (to go along with eight assists). His best output for Canada was in the under-18 World Championship in 2013 where he scored eight goals in seven games. His first World Junior tournament in 2014 saw him hit the back of the net just once, and the following year he scored three. McDavid's first NHL season (albeit shortened by injury), saw him score 16 goals and 48 points in 45 games. That's more than a point per game.
We can't put too much stock into his low international output because players notoriously get less playing time than they would on their club team, and the level of competition is always higher. But McDavid also had the luxury of playing with some high caliber linemates. Does he have the propensity to pass first? It might seem that way, but he got his fair share of shots and attempts on goal. He just couldn't light the lamp.
Although I hate player comparisons, because there are so many variables, one player that McDavid seems to be linked with is Sidney Crosby. Crosby went through many seasons where his assist totals were far higher than his goal totals, and it wasn't until he made a concerted effort to work on that aspect of his game that he became a Rocket Richard winner. And Crosby has had his international struggles as well, most notably the 2014 Olympic games where he scored just one goal. But, as would be the case with McDavid, Crosby gets the most difficult match-ups, and much less playing time than he's accustomed to.
However, Crosby is currently on top of his game, and playing better than we've seen in a long time. He leads the World Cup of Hockey with three goals and nine points in five games. His linemate Brad Marchand has the most goals with four, but Crosby is getting all of the headlines because of how dominant he's been in this tournament. He's getting his goals, but it's more about the way he controls the play and makes things happen, all while facing the best competition in the world. And that's the kind of player that McDavid can be, expect that he may have even more explosiveness than Crosby does. Scary thought.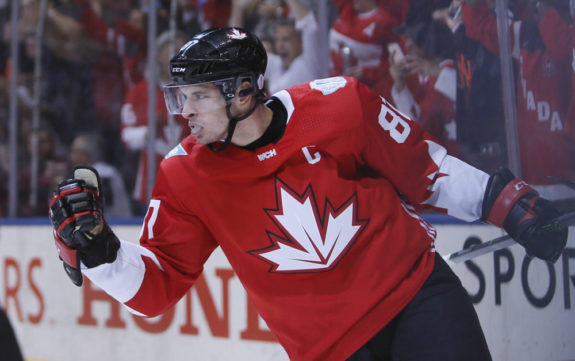 What Makes Someone the Best Player?
Crosby has long been considered the best player in the world, and although he may have fallen off for a while, he's appeared to take back his thrown in the past calendar year. Crosby was a Hart nominee this season even though his 36 goals ranked seventh best in the league. He won the Conn Smythe trophy as the most valuable player in the playoffs despite not getting a goal in the Final series and ranking 12th in goals scored in the postseason with six. (He finished seventh in points with 19).
Crosby has earned his way to the top, despite being hailed as the next great player before he even suited up in the NHL. His early journey was very similar to that of McDavid, though I'd venture to say that the expectations placed on the young Oiler are even higher. Like Crosby, there is a good chance McDavid will be named team Captain at the age of 19. He is expected to be the savior of a floundering franchise. He's expected to rival the best players of this generation. And he's handling it all like a pro.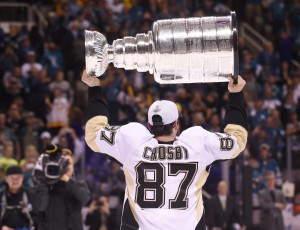 McDavid played his first preseason game against the Vancouver Canucks and recorded no points and three shots in 23 minutes of ice time. (It's just exhibition, so don't put much stock into it). But McDavid was already warmed up from the World Cup and ready to go, so I could understand why there might be a slight concern. (Again, it's just preseason so it means nothing). McDavid is already great at so many aspects of the game, and he's just going to continue to improve. Is he pressing too hard to try and score? Maybe.
Pucks are going to start going in for him. A guy with his drive and work ethic isn't going to let any facet of his game slip. I don't know if he's going to win the goal-scoring title this season, or next season. A lot of pundits are pegging him to win the Art Ross. Just let the kid play. He's already great, but he has a long way to go until he could be considered the best. Crosby won the playoff MVP because of his leadership, the way he controlled the game, and the way he put his team on his back. It wasn't about the numbers.
Connor McDavid will score again, and probably soon. He doesn't need Ovechkin numbers to be the best. But he's going to need time. Of course, Oilers fans want to see him fill the net, and there will be some worry until he gets that first one this season. It's not for lack of trying. Or lack of talent.