It is 1983, defenseman Al MacInnis' official rookie season with the Calgary Flames. Before this, he had only played 16 games with the Flames over the span of two seasons. He was drafted 15th overall by the Flames in 1981. MacInnis is ready to prove that he deserves a full-time spot in the NHL.
He played for the Kitchener Rangers in the OHL and won the Memorial Cup two seasons in a row. He earned a First Team All-Star spot for two seasons straight averaging 66 points over his two and a half seasons there. Being a defenseman, this earned him the second best defensive prospect in the draft and the OHL's top defenseman trophy. Most impressively, he tied the OHL record for most goals in one season by a defenseman, tying none other than the great Bobby Orr.
By the end of his rookie season in the NHL, MacInnis had 49 points and an even plus-minus rating in 67 games. Not many forwards these days can put up those numbers, so a defenseman with that many points made him stand out even more.
Al MacInnis Through the Years
http://gty.im/72389183
Throughout his career, people recognized that MacInnis had the hardest slapshot in the entire league. He won the Hardest Shot competition in the NHL All-Star Game in seven different seasons. His fastest shot was measured at 100.1 MPH. He is known for the game in 1984 when he split Blues goaltender Mike Liut's mask from his slapshot.
He helped lead the Flames to their franchise's first ever Stanley Cup in 1989. That year in the playoffs, he had 31 points in 22 games and won the Conn Smythe Trophy, the trophy awarded to the MVP of the Stanley Cup Playoffs. This trophy has only been awarded to defenseman 10 times in the past 51 years. After being traded to the Blues for Phil Housley and two second round draft picks, he won the James Norris Trophy, awarded to the top defenseman in the league. He retired in 2005 due to an eye injury.
Now, you can see MacInnis in the rafters. His number two was retired in 2006 by the Blues. You can also find him in the Blues front office as the Senior Adviser to the General Manager. He comes to prospect and team practices and is always stopping to sign autographs for fans. He hosts a yearly golf tournament in Nova Scotia to raise money for the local rink, the MacInnis Sports Centre. Recently, his son Ryan MacInnis was drafted by the Arizona Coyotes in 2014 and plays for his dad's former OHL team, the Kitchener Rangers. Let's hope he continues following in his dad's footsteps.
Colton Parayko's Beginning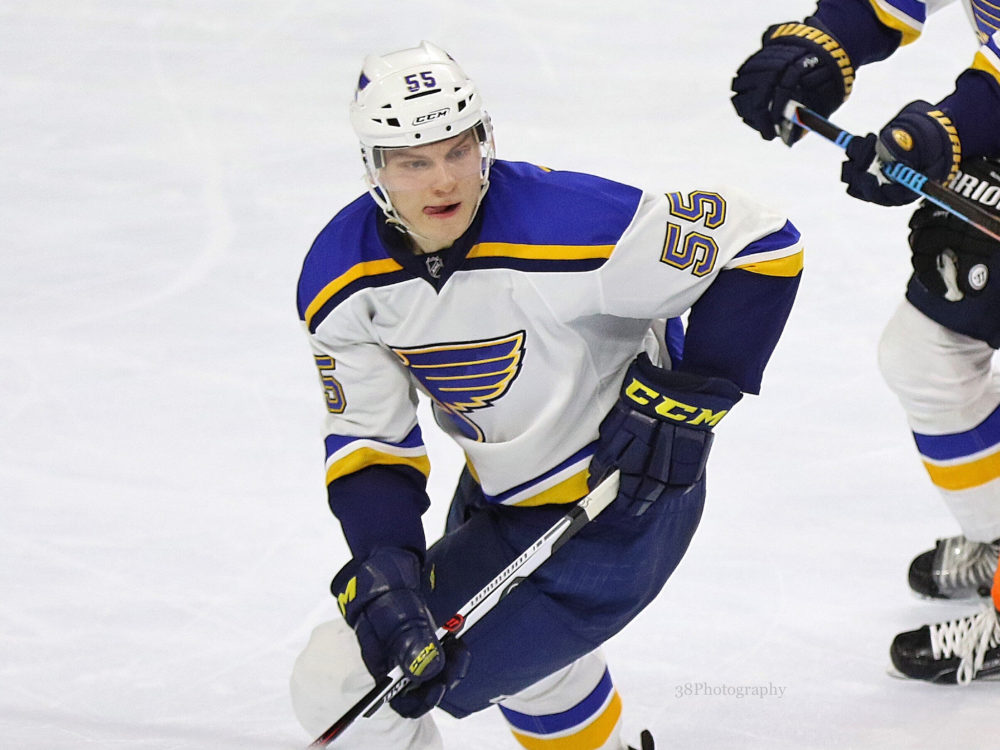 Jump to 2015 in St. Louis. Cue Colton Parayko. It is his rookie season with the St. Louis Blues, and like MacInnis was at this time, he is itching to earn a spot in the NHL. He was drafted by the Blues in the third round in 2012.
He played 17 games with the Blues' AHL affiliate, the Chicago Wolves after his third college season before making the team in 2015-16. In his 22 AHL games, he had seven points and a plus-minus rating of plus-four.
In his initial NHL season with the Blues, Parayko had 40 points in 99 games played, including the playoffs. He had a plus-minus of plus-28. The plus-minus alone compares to MacInnis. The fact that his plus-minus is great, and he has a great deal of points for a defenseman shows that he is a promising two-way defenseman. He can block shots and help score goals and that is very rare these days in the NHL. You could see this in MacInnis as well.
In October of 2015, Colton Parayko fired a slapshot that made MacInnis proud. It was measured at over 100 MPH and it broke the glass pane. Needless to say, it had to be replaced. As Darren Pang said:
"That's the first of many."
The Next MacInnis?
Although Colton Parayko did not win the Calder Trophy for the rookie of the year, MacInnis himself said that he deserved to.
If you've watched this kid game in and game out, it would blow your mind. The way he's played since day one, it's hard to believe it's his first year. He hasn't had much publicity nationally, but there aren't many defensemen who come into the league and play this well and at a consistent basis. It has been unreal.

– Al MacInnis
A compliment like this from MacInnis himself must mean a lot to a player.
It is hard to say that Colton Parayko is going to be the next Al MacInnis because there is no way of really knowing that. However, if he continues to play as well or better as last season, he could come close to Macinnis. They have similar stats in their rookie years and both have the ability to fire a wicked slapshot. With his success in the recent 2016 World Cup of Hockey, he seemed to be noticed by other NHL teams. If Colton Parayko has a career like MacInnis, the Blues sure are lucky to have had both of them on their team over the years.