"I said when I got drafted that I can score 50 and I know I can score 50."
– Evander Kane to The Winnipeg Sun.
Kane, a 23-year old Vancouver-native, says he is ready to challenge the NHL's top goal-scorers – "The sky is the limit" he said – but can he live up to his own expectations?
"@NHLonNBCSports: Evander Kane: I know I can score 50 goals http://t.co/NFV3kk5UaS" Maybe if the season was 150 games — King of Westeros (@kennybelvin) September 20, 2014
The Facts So Far

In five NHL seasons (324 GP) under his belt, he has amassed 99 goals, a 19.8 goals-per-season average.
He has never had a 50-goal season, neither in junior nor his professional hockey career
So what makes he think he can score fifty goals in a National Hockey League season? Kane he do it? 
Stacking Up Against the Best
For comparison, here are the last three 50-goal scorers in the NHL alongside Evander Kane's numbers from his best season, 2010-2011, when he scored 30 goals:    
| | | | | | | |
| --- | --- | --- | --- | --- | --- | --- |
| Player | Year | Games Played | Goals Scored | Goals-per-Game Avg. | Shooting Percentage | Scoreless Games |
| Alex Ovechkin | 2013-2014 | 78 | 51 | 0.654 | 13.2% | 38 |
| Steven Stamkos | 2011-2012 | 82 | 60 | 0.732 | 19.8% | 37 |
| Evgeni Malkin | 2011-2012 | 75 | 50 | 0.667 | 14.7% | 36 |
| *Evander Kane | 2010-2011 | 74 | 30 | 0.405 | 10.5% | 51 |
*Kane's 51 goalless games include an eleven game streak (Dec 31st 2011 – Feb. 7th 2012), a seven game streak (Dec. 10th – Dec 23rd 2011), and three five-game streaks (Oct. 9th – 20th 2011, Nov. 5th – 12th 2011, Mar. 16th – 24th 2012). 
Top Line Indications
In defence of Kane, he has lacked quality top-line linemates during his tender in the NHL. In any case this will have a direct effect on scoring production for any player regardless of the league they are in. If a player has a chance to play on the top line with the best players, their production will undeniably increase…
Kane has had success on the top line before:
During the 2008 – 2009 WHL season Kane was on the top line of the Vancouver Giants. 20 year-old overage linemate Casey Pierro-Zabotel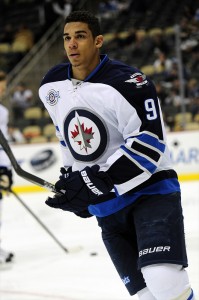 garnered 115 points, setting new team records in  single-season assists and points. The Giants ended up setting a WHL record by clinching a playoff berth in just 46 games (a WHL season is 72 games), and finishing with a team-record 57 wins and 119 points. Kane, a 17 year-old at the time, produced 48 goals and 48 assists in 61 games. He had the highest points-per-game-average in the WHL. In the 2011 – 2012 NHL season Winnipeg was graced by staying in the former Atlanta division, at the time an easier division than the Northwest or Pacific Division. This ultimately helped out Kane's point production of 30 goals and 27 assists that season. 
Evander Kane shall see higher production both 5v5 and on the powerplay on the top line alongside skilled playmakers Mark Scheifele and Blake Wheeler. He is coming into the season in his top shape – he did Jiu Jitsu over the summer, however being on the top line does not guarantee Evander Kane's success or fifty goals. If Kane truly wants to put up fifty goals in an NHL season he needs to score consistently in company with a better shooting percentage.
EKane says he can score 50 goals. I would be happy if he scored 30 this year. http://t.co/3ZhC74r71E — Chris Barron (@ChrisRBarron) September 20, 2014
---
Indeed a lot of pressure has been put on the young Canadian to produce, even before entering the NHL. With constant trade rumours it's evident that no one, not even Kane himself, can concentrate on merely just his gameplay.
By no means is Evander Kane a terrible hockey player; he has scored 30 goals in a National Hockey League season, has played in three World Champions, and has a gold medal from the 2008 Under-20 World Junior Championship in his collection.
Perhaps he will score fifty goals in a season; in a few years time as Scott Kosmachuk, Nic Petan, and Mark Scheifele crack the Jets roster and make it onto his line. But I do not think Kane will score 50 goals in the 2014-2015 season.
Actions speak louder than words – I'll leave it at that.