Leading the New York Islanders with 34 goals this season, Anders Lee proved he could be the power forward the Islanders needed in the wake of Kyle Okposo's departure. Not scared to take bumps and bruises in front of the net, Lee bounced back from a 15-goal effort in 2016-17 and was the team's lone bright spot at several points in the season. But can he be the same player again in 2018?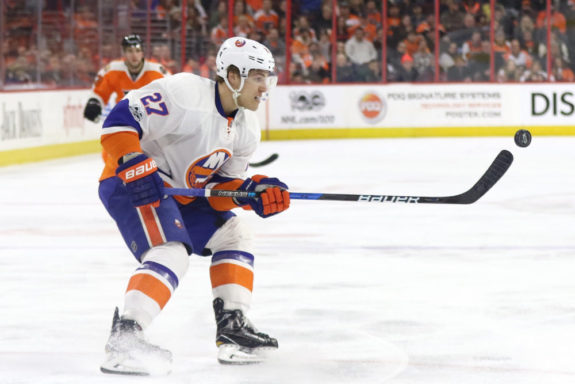 This Season
Lee scored 34 goals this season. That's more than Evgeny Malkin, Alexander Ovechkin and Jeff Carter. His 17.8 shooting percentage was better than every player in the NHL with more goals than him. With only 191 shots in 2016-17, it'll be interesting to see if the Islanders make him shoot more next season. The team's resident garbage man, Lee was all about working hard in traffic. Many of his goals weren't pretty ones, but they were clutch. Add in nine power play goals, and Lee made an impact every time he was on the ice.
Why Lee Will Score 30 Goals Again
Lee's tireless work ethic proves he wants to be a star. While a solid skater, he's not Jason Chimera. He knows what his style is and isn't scared to battle in corners and in front of the crease. No longer a rookie, he understands his role. Even in his 15-goal season in 2015-16, Lee was a presence in front of the net.
It's scary to think that his stats this season are virtually identical to last year except for the number of goals. The fact that he doesn't get all of his goals in one situation is great as well. He's not dependent on being on the power play. And while he had success with John Tavares, he can play and produce with anyone on the team.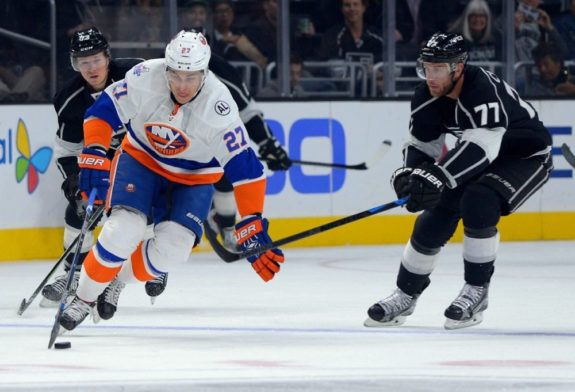 Why Lee Won't
Lee's play as a power forward requires constant effort. It also means taking a beating. Crosschecks, spears, hooks, you name it, Lee was a victim of it last year. How long can he take it and still produce top shelf numbers? The odds are against him and anyone else who plays the way he does. At 6' 3", 228 pounds, he's in a better situation than most to take a pounding. With a surgically-repaired leg already on his medical chart, is another injury likely? With Lee's success tied to his ability to get into high-traffic spots, he's always in danger. That has to be a concern for him and the Islanders. The fact that he's a streaky scorer (just five goals in his first 22 games this season) is a concern as well.
Expectations
In spite of concerns of another injury and his high-impact style, Lee has arrived. Expect another 25-30 goal season in 2017-18. If the Islanders get another top-six scorer or Joshua Ho-Sang and Andrew Ladd make themselves viable options, Lee could have even more space and contribute more. The real question is if Lee can get to 40 goals. At 26, he hasn't hit his prime yet.