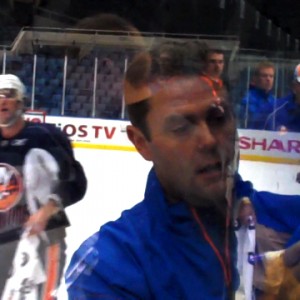 Yesterday the New York Islander officially announced that Scott Gordon would no longer be the head coach as Jack Capuano, the head coach of the Bridgeport Sound Tigers (the team's AHL affiliate) would be stepping in on an interim basis for the rest of the season. Gordon will remain with the team and serve as an advisor to Garth Snow.
With offense a major issue as the team continued to struggle at five-on-five and the power play having become less and less dependable, the Isles continued to lose their 10th straight game after facing the L.A. Kings on Saturday night in a 5-1 defeat. Gordon's job was rumored to have been in jeopardy once the streak had hit seven games, and it was understood that these talks would only increase if things didn't get any better. Clearly they didn't.
It is always to easier to fire one guy as opposed to trading twenty, but bringing up your minor league coach is a clear sign of desperation. But the Isles do need to get desperate. The season is still early and they still have a chance of improving their record and making a run for the playoffs. Capuano does know ten of the players on the current roster since they had spent time in Bridgeport with him in previous seasons as well as possibly this one, but will he be able to transition his minor league success into the NHL?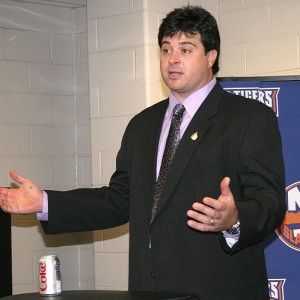 Either way, he is coming to a team that is in trouble. Clearly Capuano is going to give it his all as is this his first head coaching opportunity with an NHL team, despite being an assistant coach with the Islanders back in the 2005-2006 season. But a coach can't score goals. A coach can't stop goals either. A coach is supposed to motivate and have the respect of his players in order to reach them – many thought that Gordon did; a coach is supposed to set up a system that the players buy into and know how to utilize; many are on record saying this in the past. Capuano does preach most of the same methods that Gordon had over the years since they knew each other for a very long time and were both active participants in the rebuild. The idea was to have the Bridgeport roster knowing what to expect once they made it into Gordon's line-up.
So will Capuano be able to light a fire underneath Bailey, Tavares, Comeau and Schremp to get them going and score the timely goals that they need? Will he be able to help DiPietro feel confident back in his net again? More importantly, will he find a way to have this team make the playoffs as they all had so hopefully believed in at the start of the season?
There are  a lot of questions and Capuano cannot be held accountable for all of the answers. The players need to step up. General Manager Garth Snow decided to part ways with the easy scapegoat. It's time for them to prove that he was right for making that decision. If they don't, then more changes would have to be in order.
The Isles go for a fresh start when they host the last team that they beat, the Tampa Bay Lightning, at the Nassau Coliseum tomorrow night at 7PM.
-Rob McGowan
Follow me on Twitter!
http://twitter.com/IslesRM