Yeah, yeah I know…Toronto…the wheels came off…etc.  That's for the next digest.  Let's talk about last week.
Get Backes, Get Backes, Get Backes To Where You Once Belonged
Nashville at St. Louis  November 11th, 2010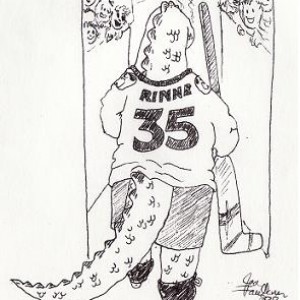 This was a game with two teams that had something to prove.  The Blues had taken a thorough drubbing from Columbus earlier and were ready to draw blood whenever and wherever they could just to get the taste of Blue Jacket boot out of their maws.  Nashville?  Five straight losses.  'Snuff to make any team want to light the lantern more times than the opposition in regulation.  It had all the earmarks of a titanic battle straight out of the fevered imagination of a Japanese director saddled with a set of big rubber monster suits, palm-sized twins on the halfshell and a 30,000 yen budget.
Backes drew first blood, but he was answered by O'Reilly in the second period.  Dumont and D'Agonstini traded netters in the third while  Rinne and Halak swore softly and made bear-like swipes at their water bottles.   This was going to lead to OT, which is almost always ugly.
OT made everyone playing at home want to scream, cry and kick someone in the umbo¹.  Predsnation needed a win, not just for stats and team standing and all of that.  This was a faith based kind of thing between the fans and the team.  On boths sides of the glass was the  palpable rattle and  hum of everyone living and breathing the "Ya gotta believe!" mantra.    OT came and went, a fruitless, useless, sweaty interlude that had everyone playing on Twitter or running to the loo.
The Predators at their best and out of regulation have always been about the shootouts, baby!  This is when Legwand becomes a beast and Erat gets as deadly as any Ian Fleming baddie.  However, this time it was up to O'Reilly to save the day. Flying at Halak like an anime teen hero with big eyes ablaze, he brought home the win and broke Nashville's dry spell, making the Predators' cruelest month seem a little less so.
Oh What A Night! (Nashville's At Their Best When Its Five On Three)
Chicago at Nashville   November 13th, 2010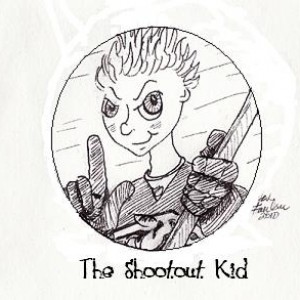 Saturday night was all right for fighting and the battle was as much between Predsnation and the Windy City Warriors as it was between the Boys in Black and Blue and Chelsea Dagger's Boyfriends.  The sellout crowd of 17,000 plus was loud and ready to fight for their teams as the battle ensued on the ice.
All of the regulation goals were damned pretty.  Two of Chicago's came courtesy of  that Skille kid, who was impressive all night. Someone in Chicago has a good eye for talent.  The real story, however, was to be found in the internecine  battles between squads that are still smarting from the bruising they gave each other during round one of the playoffs.
After a tense first period, second period took on the  appearance of a fight card on ice². It started with a bout between Hornqvist (quelle suprise.) and Marty Turco.  Turco managed to get in a hard swipe at Pugnacious Pat before they were pulled apart and everyone was sent to the corner to think about things.  Bouillon took a major for fighting, and Shea Weber clocked six minutes in the sin bin.  There was some talk that the Blackhawk he was fighting turtled.  Trotz was very nice at the scrum and said it wasn't the case.  Come on.  You're on your back and Shea Weber is cocking his fist to pound you.  Who in their right mind wouldn't curl up like a salad shrimp at that point?³ Hornqvist and Sullivan* got some fight time in during third.  Patrick Kane, bless is heart, got a two-minute sit-own for hooking in OT.
Yeah, there was OT and aside from the Kaner putting in his twenty cents, it was pretty uneventful.  Remember, this is Nashville hockey, where the drama is on the shootouts.  Trotz has mentioned that he leaves the shooting order up to his goalies. Rinne, who is the shorter of the two netminders** reportedly prefers the pressure of going second.  In fact, he allegedly enjoys it.  Okay doke.  Whatever keeps the biscuit out of the basket is fine by me.  It was fine by Predsnation, too, as Cal O'Reilly and everyone else on the Nashville roster sent the B-Hawks home on the losing side of a 4-3 final score.
What's next?  I get back to playing phone tag so so more of my deathless prose can see the light of day and we'll talk about this week.  No, really, we will.  Until then, this is Jas Faulkner, who is hoping everyone will support their favorite MoBro this month!   I'll be seeing you at The 'Plex and The 'Stone and  online at Facebook and Twitter!
1. Thank you, William Zinsser.
2. Who am I kidding?  This was old-school hockey with the testosterone cranked to 11.
3 Note the absence of jokes about retractable appendages.  I didn't go there.  Nope.  No speculation about that player needing a rubber gloved recovery expedition the following Monday in Chicago in this column.  I am of too fine a moral stuff to ever suggest that here.
* …who had this very scary gleeful berserkers expression thing going every time they showed him on the jumbotron during pre-skate.
**Seriously, who ever thought THAT sentence would appear in an article about Nashville?  That Lindback moppet is one inch taller than Rinne. From my five-foot-zip perspective, interviewing them is a bit like having a conversation with very friendly, super-intelligent trees.  It makes me want to scoop up my little dog and say, "Gee, Toto.  Oz is actually kind of cool".
Jas Faulkner is a minimally socialised writer and artist who lives and works in Nashville, Tennessee. She hearts her attitude problem.