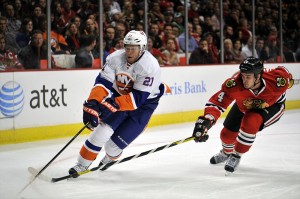 There are several New York Islanders who are certain to suit up for their country this February, when the Olympics begin in Sochi, Russia. John Tavares is off to a great start following up a Hart Trophy nomination, so he will be tough to keep off the Team Canada roster. Lubomir Visnovsky is one of only four Slovakian defensemen in the NHL, and wingers Michael Grabner and Thomas Vanek do not have much competition for the Austrian squad.
Aside from the aforementioned four, most of the Islanders appeared to be severe long shots to represent their country this winter. That statement still holds true for most of the team, except for Kyle Okposo, who has been making an excellent case to be on the defending silver medalist roster, and is making people take notice of his amazing start.
A usual slow starter, Okposo has bucked that trend this season, exploding out of the gate for 19 points in his first 18 games. The St. Paul, Minnesota native only trails Tavares on the Islanders in scoring, and is currently tops among American born players.
The United States will be heading to Sochi in search of a gold medal, and have a chance to do so thanks to their impressive depth. Okposo is not going to be handed a roster spot thanks to a hot October. He scored only four goals last season in 48 games, and needs to continue this pace to force USA General Manager David Poile to select him over other American stars.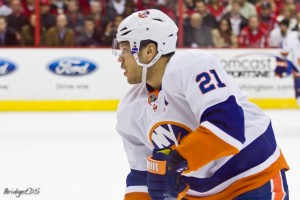 Okposo was on the short list of potential 2014 American Olympians, proven by his invite to the team's summer orientation camp. 24 forwards were brought together in late August to be debriefed on the expectations of what it would take to become a member of the team. The management team led by Poile and Head Coach Dan Bylsma of the Pittsburgh Penguins were on hand to discuss what it would take to be given a chance to win a gold medal. Okposo clearly understood the message loud and clear, as he is approaching his point totals from last season's 48 games already this year.
The United States boast a tremendous amount of depth among their forward ranks, which could make it difficult for Okposo to crack their lineup. There will be up to ten forwards returning from the team that fell just one goal short of winning it all in Vancouver four years ago. Dustin Brown, Zach Parise, Paul Stastny, David Backes, Patrick Kane, Phil Kessel, Ryan Kesler, Bobby Ryan, Joe Pavelski and Ryan Callahan are all still playing the game at a high level, and will be tough to knock out of a roster spot.
Other star forwards fighting with Okposo for one of the final roster spots are Max Pacioretty, Derek Stepan, TJ Oshie, Alex Galchenyuk, James van Riemsdyk, Blake Wheeler and Jason Pominville. As you can see, the Americans are going to have to leave off some impressive talent, no matter how they go about picking their team.
Okposo already had the eye of the American brass, as we saw when he was invited to the orientation camp. He has bolstered his stock even further with his excellent start to the season, but will have to keep playing at an exceptional pace until the roster is announced in late December if he plans on playing for his country in February.
Extra incentive clearly has Kyle playing his best hockey, and knowing he has to keep it up is great news for the New York Islanders. If he can keep playing at this level, there is no doubt he will don the American colors in Sochi.
Kenneth is a recent graduate from Saint Mary's University, and is currently studying at Mount Saint Vincent University to be a High School Teacher. Kenneth is a huge hockey fan who enjoys the game as a player, fan, writer, coach and referee. Follow me on twitter @MacMillanKen88