Humor me for a minute.
I want you to pretend that you're the general manager of an NHL team. The team in question is coming off its best regular season in franchise history, setting club records for wins and points in a single season. Your squad lost in the first round of the playoffs, but your season was considered to be a resounding success by most analysts. Hell, you might even be headed toward relevancy in your city's sports market, which is a huge shift from previous years.
Now I want you to think about your offseason, and all the moves you would make. Does it look anything like the Florida Panthers' summer so far?
Shakin' Things Up in South Florida
The Florida Panthers have had one of the most fascinating offseasons in recent memory. Mere weeks after the team put together its best regular-season performance in club history, including a 103-point season and an Atlantic Division title, the team fired director of player personnel Scott Luce and assigned general manager Dale Tallon to a new position within the organization. Luce and Tallon are widely thought to be responsible for the roster that produced the historic 2015-16 season; as such, many a head was scratched when these moves went down after season's end.
There's no doubt that this shake-up was prompted by an ownership group that was disappointed in the Cats' first-round playoff loss to the New York Islanders. Clearly management must have felt as though the team either underperformed or simply wasn't good enough to compete for a title. (Or both.) So the team brought in Tom Rowe to be the new GM, and owner Vince Viola supposedly gave Rowe an ultimatum: Win the Stanley Cup in three years, or clean out your desk.
To achieve this edict, Rowe made some rather unorthodox hires. He brought on Steve Werier and Eric Joyce–the GM of the Portland Pirates and the team's former VP of Legal and Business Affairs, respectively–to help him out. Werier and Joyce are thought to be focusing heavily on analytics and less on the traditional scouting metrics used by Tallon and other GMs around the league. It's unclear, however, whether the emphasis on using analytics to evaluate players represents the team's new organizational philosophy or is simply an example of Rowe et al looking to use all available information when constructing the roster. Regardless of which it is, big question remains: Are the Panthers any closer to winning the Stanley Cup now than they were in May? Obviously it's hard to predict, but we can take a closer look at the organization's recent moves and make our best guess.
The D
With the departures of Brian Campbell, Willie Mitchell, and Erik Gudbrandson, it was obvious that Rowe and his team would place a heavy emphasis on bolstering the defensive corps–with a particular emphasis on adding some speed.
To that end, the Panthers re-signed Aaron Ekblad to an 8-year deal while also adding Keith Yandle, Jason Demers, and Mark Pysyk. Yandle is a mobile defender who can pass the puck extremely well and join the rush, but whether it was smart to sign the 30-year-old blueliner to an 8-year-deal worth over $50 million is certainly debatable. Demers is a potential stud with size and speed, but he's been dogged by inconsistency—especially in the defensive zone (and you do want to be consistent in your own zone, especially when you're a defenseman.) Pysyk hasn't really shown that he can handle big minutes in tough situations, and he's also suffered a few injuries that limited his ice time throughout his career. He might prove to be a solid third-pairing D-man if he can stay healthy and continue to fill out his 6'1" frame, but those are some big "if"s; he may just be a stopgap until one of the Panthers' younger defensive prospects like Ian McCoshen are ready to assume a role with the big club.
The team also strengthened the back end by signing goalie James Reimer to a five-year deal. The Reimer move initially looked like a strange one, given that Roberto Luongo—who still has six years left on his current contract—had just come off a superb season which saw him record 35 wins and a .922 save percentage. Luongo had hip surgery in May, however, and it now looks like he won't be back between the pipes until November at the earliest. Should this turn out to be the case, then the Reimer signing looks like it could end up being a steal. If Reimer performs the way he did in San Jose, the team will have a solid long-term starter in net for a relatively modest price.
The O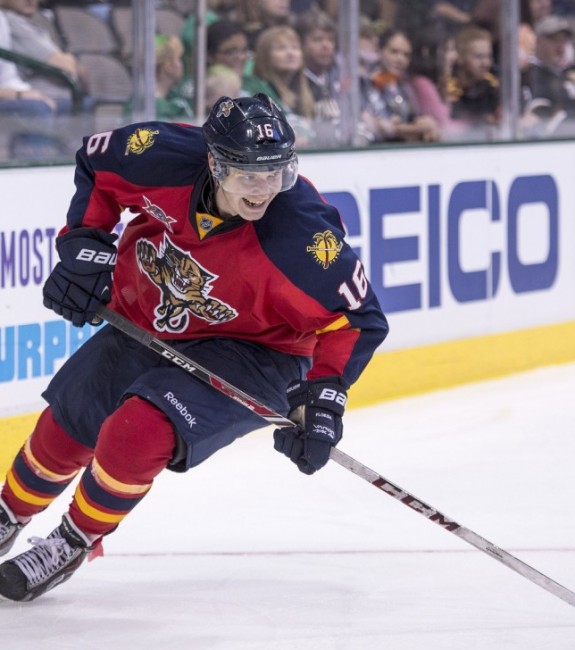 The Panthers have some serious talent upfront, and the numbers back it up: they netted 232 goals last season, good for 8th in the league. Jonathan Huberdeau and Aleksander Barkov Jr. are highly skilled forwards that can form a solid nucleus for years to come (provided the team re-signs Huberdeau, who is due to become a restricted free agent in 2017). Jaromir Jagr is an ageless wonder on the wing and still makes everyone he plays with a lot better. The club extended the contracts of both Reilly Smith and Vincent Trocheck, locking them up for another five and six years respectively. The additions of Johnathan Marchessault from Tampa Bay and Colton Sceviour from Dallas bring needed depth to the roster. The team is also hoping that Lawson Crouse, the club's 2015 first-round draft pick, can earn a roster spot during this year's training camp. The 6'4", 215-lb Crouse has the size and strength that makes scouts salivate, but at only 19 years old it may make more sense to send him to the team's AHL affiliate in Springfield for some seasoning. And given how talented this team is on the offensive side of the puck, there hardly seems to be any need to rush Crouse up to the big club.
The Florida Panthers, Your 2018-19 Stanley Cup Champions
So are the Panthers any closer to hoisting the team's first-ever Stanley Cup? The increased emphasis on mobile, puck-moving defensemen is certainly a step in the right direction. The Penguins won the Cup this year in part due to their lightning-quick speed on the back end, and the league's best teams all seem to have a number of defensemen who can lead a fast-break type of offense when necessary. The team can also take some more chances with Luongo and Reimer in net, as having stellar goaltending allows the defensemen to attempt a greater number of high-risk, high-reward plays coming out of the back end. The offense will continue to produce at an elite level, with players like Barkov Jr., Huberdeau, and Trocheck likely to improve upon last season's already-impressive numbers.
Still, Florida is a team that is a year or two away from a championship, as evidenced by the playoff loss to the Islanders. But that loss may prove to be a good thing for the 2016-17 squad. It allowed a number of the team's players to get their first taste of post-season play, and we all know that it's a different game in May and June. The loss to the Islanders might also put a chip on the organization's collective shoulder, motivating them to avenge the embarrassment of that first-round exit when the Cats make the playoffs again in 2017. While it's unlikely that the Panthers will win the Stanley Cup in 2016-17, they should make some serious noise in next year's playoffs, setting them up nicely for legitimate contention in 2017-18 and beyond.
Marc has been writing in various professional capacities for more than a decade. He has written on a number of topics including local/state news, government and the media. He remains one of Toms River, NJ's all-time greatest street-hockey goalies.
Feel free to follow Marc on Twitter: @Marc_Cavella