It is always a puzzling situation when a trade or a signing happens in the NHL and the hockey world unanimously chimes in with a "what on earth are they thinking?". Did the person making that decision consult anyone? How is it that so much of the community sees it as a mistake yet the move was made? Will it be worth the risk?
Every once in a while, a unanimous "bad move" ends up turning on a dime and becoming favorable for the general manager who made the call. Most of the time, however, that move ends up exactly how everyone thought it would.
Last week, we took a look at general managers who were getting a ton of production and value out of their acquisitions. This included acquisitions through the draft, via trade, via free agency and through waivers. This week, we will take a look at the general managers who didn't get much out of their acquisitions in the 2015-16 NHL season. Are they unlucky or are they making avoidable mistakes? Let's get into it.
General Managers are given "credit" for an acquisition if they acquired a player and that player was still on that team for the 2015-16 season. Only GMs with a minimum of five remaining acquisitions were included. All statistics at 5-on-5 unless otherwise indicated. Data via corsica.hockey.
Production
While some GMs look to acquire defense and take a more defensive style, if they plan on being around for any playoff runs they have to land some production along the way. Last week, we looked at some of the GMs who excelled in acquiring talent that added a lot of production in the 2015-16 season. General managers like Jim Nill, Jay Feaster, George McPhee and Dale Tallon have been excellent at landing players who add points to their respective clubs.
Taking a look at the other end of the spectrum and we see some names who are longer general managers in the NHL. Mike Gillis, fired by Vancouver in 2014, shows up at the bottom in terms his acquisitions' combined primary-points-per-60. His acquisitions combined for a .44 primary-points-per-60 which was indeed the lowest out of any GM with at least five active acquisitions remaining the league. Not far ahead of that with a .5 primary-points-per-60 is current Flyers general manager Ron Hextall. With Hextall, you could easily make the case that he hasn't had a real chance to make his mark yet. He hasn't really looked to acquire any big-time producers as much of his work has been damage control from the previous regime.
Following those two we have a couple of GMs who are no longer employed with Darcy Regier and Don Waddell. And then comes a surprise.
Lou Lamoriello.
Lamoriello currently has 39 of his acquisitions still playing for their original team, split between New Jersey and Toronto. The second highest total in terms of overall acquisitions is Jim Rutherford with 34. Unfortunately for Lamoriello, it has been quantity over quality.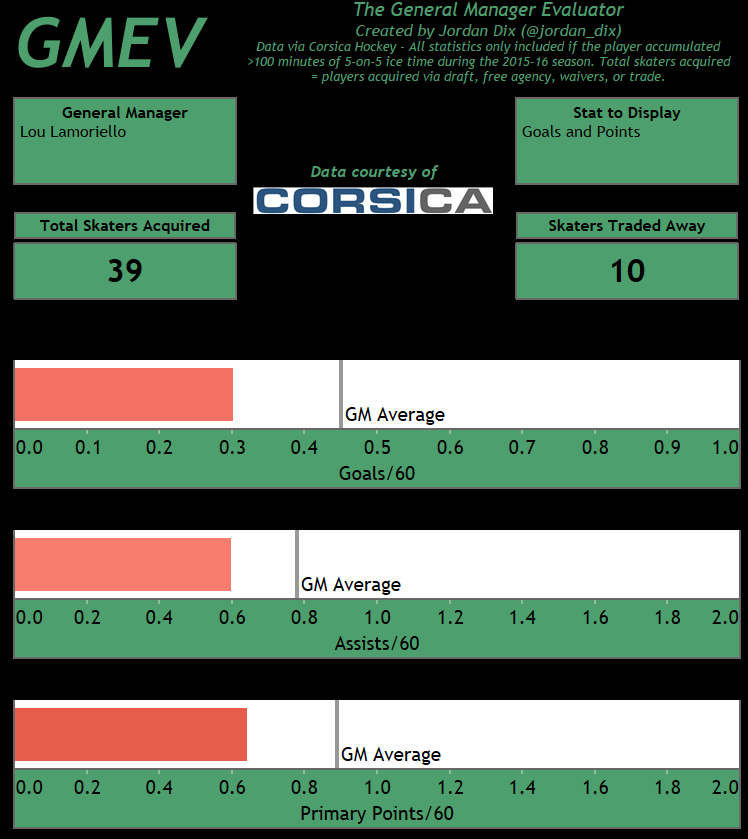 As you can see, his acquisitions' goals-per-60, assists-per-60 and primary-points-per-60 all fall well below the average for all GMs in the 2015-16 season. The two teams he has had a hand in constructing finished 30th and 28th in total goals scored this past season. While he hasn't necessarily had the opportunity to make a huge impact in Toronto yet, it is surprising to see him so low with the likes of Adam Henrique, Travis Zajac, and Mike Cammalleri. Auston Matthews should help.
Another high-acquisition GM who isn't much better in production for the 2015-16 season is Bob Murray of the Anaheim Ducks. This past season, he averaged four 5-on-5 goals per acquisition. His acquisitions' combined .36 goals-per-60 was among the worst in the NHL as his moves just did not lead into much production last season. He was well below average in all of the offensive categories.
Possession
If a general manager is below-average in production and they use the "I acquire more defensive players" excuse, they better not show up again in this category.
Possession proxies such as Corsi and Fenwick seem to have drawn some extra-heavy criticism this summer, particularly after some questionable moves were made. Jim Benning of the Vancouver Canucks traded away Jared McCann and a fourth-round pick to the Florida Panthers for Erik Gudbranson and a fifth-round pick a couple of months ago. That move was quickly criticized by the analytics community and Benning responded just as fast:
Marc Bergevin made one of the more heavily criticized moves in the past five years with his trade of P.K. Subban for Shea Weber. Not long after, analytics consultant Matt Pfeffer was not brought back in Montreal. That certainly isn't to say that Marc Bergevin or the Canadiens are against analytics, but that trade is concerning.
Don Sweeney, hired to replace Peter Chiarelli in Boston, has also made some questionable decisions early on in his GM career. Most feel as though he didn't get full value for Dougie Hamilton at last year's draft and the trading of a third-round pick for Zac Rinaldo was a head-scratcher.
How did they do in terms of their acquisitions' performances in 2015-16? Well…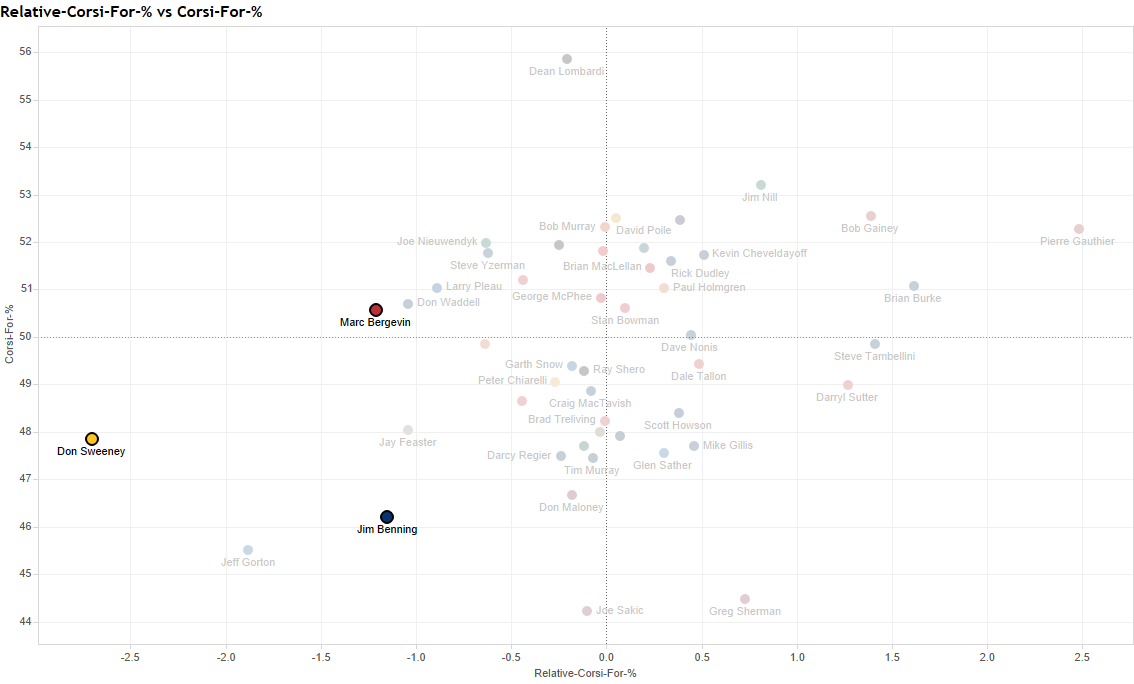 Oof. Three of the bottom four in terms of relative Corsi-for-% and counting Jeff Gorton almost feels wrong considering he was hired a year ago and has only acquired four fourth-liners and Eric Staal (or five fourth-liners).
Changing the metric doesn't help, unfortunately. Those three stay in the red in relative Fenwick, shots, and expected-goals-for-%. They are joined most commonly by Jay Feaster and Joe Nieuwendyk, two general managers who no longer hold that position in the league.
Maybe it is too early to tell with Sweeney and Benning who haven't been in their positions for an overly long time. The moves they've made have certainly raised eyebrows though and will be interesting to follow moving forward. Bergevin is the one who is tough to make excuses for at this point. These numbers are before the Subban deal has had a chance to make an impact and it seems like an eventuality that will only have a negative impact in the future. The clock is liking ticking for Bergevin in Montreal.
Next week, we will take a look at general managers who are coming out on the positive side of their acquisitions versus the players they decide to trade away. Thank you for reading.
Jordan has been covering the Stars for The Hockey Writers since February 2015. He is originally from Iowa City, Iowa. You can follow Jordan on twitter @jordan_dix