Now that's the way to open up the World Junior Championships.
Whenever a World Junior tournament starts, there are two games that Team Canada fans look forward to. The one vs. the United States and the one against Russia. We'll have to wait until New Year's Eve for the US, but Canada faced off against Russia in their opening game. Whenever these two teams face off, you know it's going to be a good game and these two did not disappoint.
'How To Beat Russia For Dummies'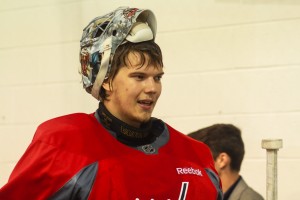 The game was fast-paced all the way through, but one thing was constant: Canada was the superior defensive team. They limited Russia to only 17 shots for the entire game, 11 of which were in the third period. Holding such a dangerous team to that many shots is going to be key. Case in point — Russia still managed to score three goals.
The good news is that Canada managed to score two more goals than that. Dylan Strome tallied two power play goals. Matt Barzal had a goal and two assists and ended up being named Canada's player of the game. Tyson Jost and Nicolas Roy had the other goals for Canada.
If any other team wants to compete against Russia, they will have to play a very similar game to what Canada did. Shot-suppression and minimizing their chances is going to very important if you want to beat Russia. If they get numerous opportunities, they are going to roast any team they face.
Dylan Strome Speaks
Team Canada captain Strome spoke to the media after the game.
On the feel of the Russia-Canada rivalry.
"I felt both teams kept it pretty classy. I think it was good in that sense. Sometimes you see, in previous Canada-Russia games, some guys flying by the bench real close and saying stuff, but we really don't understand what they're saying half the time, they really don't understand what we're saying so it doesn't really matter who's doing what. I think it was pretty good. Both teams kept their cool pretty well, and the refs were blocking us off so I think it was classy game for both teams and it was nice to see."
On getting five past Ilya Samsonov.
"He's a good goalie. We've talked about him before. He's a big guy that can move real well, so for us to get five past him today was a good sign and it's a credit to us just shooting the puck and going to the net hard."
On his two-goal performance.
"I feel pretty good. I thought the whole team was going pretty well. For myself, we started off kind of slow, our line, but we kinda figured it out after the first period in the dressing room, talked it out and I thought we were real good the rest of the second and third. I think it's kind of the nerves for all three of us to start the game but I definitely felt we got a lot better as the game went on and we got rewarded. Nice for us to get the win and we'll move onto Slovakia tomorrow."
On the thankless position of a Canadian goalie.
"We're behind Hartsy (Carter Hart) all the way. I think two of the three goals were tipped or we were screening him. We've got full confidence in him. There's no issue with him. He's a great goalie. He's battled all pre-tournament, all season long. We feel comfortable with him in the net. We either get in the way or out of the way so he can make a save."
---
Both teams will be in action on Tuesday as Russia will take on Latvia and Canada will take on Slovakia.
Toronto Maple Leafs Writer At The Hockey Writers.