Last year aside, the Montreal Canadiens have been relatively successful the last several years. However, the same can't be said for their American Hockey League farm team, the St. John's IceCaps (formerly the Hamilton Bulldogs). They have failed to make the playoffs in five consecutive seasons and while some prospects have flourished, others have struggled. Is it the case of players not cutting it or is the development plan not working?
Struggles in the AHL
It is difficult for a youngster to crack the Montreal lineup due to head coach Michel Therrien's preference for veterans but some prospects straddle the fine line between too good for the AHL and struggling to find a place in the NHL. Sven Andrighetto and Daniel Carr are two prime examples of players who have outgrown the AHL but have struggles in the NHL. Their youth and lack of a standout skill likely factor into them being healthy scratches and not playing big minutes.
Montreal has had more than a few players struggle to make their mark in the AHL. It is not unusual to see junior stars make the jump to professional hockey and struggle with the pace. There are other players who actually perform better at the NHL level by playing in a more structured system with better players and having a more defined role. Some players also don't mesh with the coach or the system they are playing in.
No One Way to the NHL
It is interesting to trace the development paths of some of Montreal's younger players. Alex Galchenyuk was selected by the Canadiens third overall in the 2012 draft and is the only one to jump straight from junior hockey to the NHL. While he has received tough love from Therrien at times, he's now the team's top centre. Brendan Gallagher spent only half a season in the AHL due to the lockout but made the NHL permanently when it ended in 2013.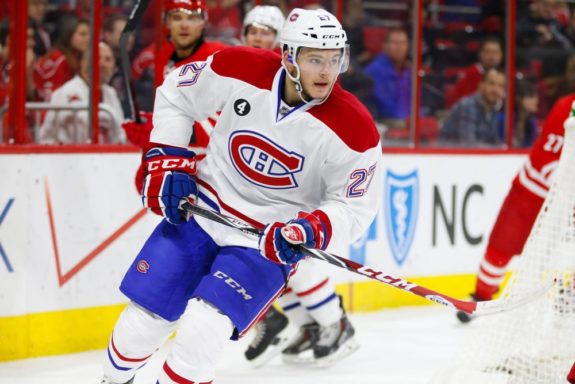 Artturi Lehkonen developed in the Finnish and Swedish professional leagues and for him, it was the right call. He is one of Montreal's most polished prospects as he developed playing against men on good teams while learning the game at both ends of the rink.
Defenceman Nathan Beaulieu spent a full season in the AHL but struggled mightily at times.
Jacob de la Rose is an interesting case of whether he was overrated as a prospect or if his development path derailed him. Going into the draft, de la Rose was projected to be more of a defensive forward as opposed to a scorer at the NHL level. He was developing well in the Swedish Elite League but decided to come to North America at age 19 and play in the AHL.
Since then, de la Rose's game has stagnated as his offensive production has been minimal and he hasn't taken a big step forward in any way. He has looked marginally better playing in the NHL but in a limited role. De la Rose just may not be good enough to be an NHL regular but his development path since coming over to the AHL is a little concerning.
Why it's too early to give up on Jacob de la Rose, but there's reason for concern: https://t.co/AhPvaCbKrS via @AATHabs

— Mitch Brown (@MitchLBrown) November 18, 2016
Winning vs. Development
As much as the AHL can be seen as a development league, constant losing isn't beneficial and it's a tough cycle to break. The Edmonton Oilers are an example of a team that lost so much to the point where they had no idea how to win. The Habs need younger players to develop and push for spots but if they aren't in an environment conducive to development, players will continue to struggle.
I have a Bachelor's Degree in Journalism from Ryerson University. I am a freelance journalist and a Montreal Canadiens writer for The Hockey Writers. I previously wrote for Simcoe.com and Last Word on Sports as well as interned at TSN.