After a slower start than what many were expecting, Tampa Bay Lightning forward Jonathan Drouin has had a December to remember. The 21-year-old native of Quebec was setback by injury in early November but responded with a productive few weeks before the holidays, undoubtedly serving as Tampa Bay's player of the month.
Injured Early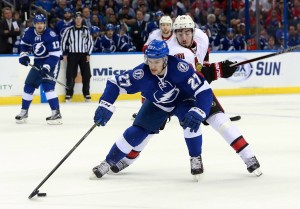 Unfortunately for the former 2013 third overall pick, Drouin has been running into injury problems early on to start the first half of his 2016-17 campaign and missing considerable time as a result. Drouin was first injured against the New York Islanders Nov. 1 after being lined up for a big hit by Islanders defenseman Calvin de Haan which forced the young winger out of the Lightning's next seven contests. It was a time that also saw the Bolts lose their captain Steven Stamkos to injury for 4-6 months — detrimental news to a Tampa Bay team that was poised to have one the franchise's best seasons to date.
After leaving the second period against the Washington Capitals on Dec. 23 and failing to return for the third period, it is reported that Drouin will be listed with an apparent day-to-day injury. It will certainly be a hard pill to swallow for the Lightning if Drouin is set to miss more time with this latest injury as he without question has been Tampa's best player these last few weeks. Hold your breath Tampa fans, there's still potential for good news.
Rebounding  in December
If it wasn't for Drouin and his offensive output this last month, the Lightning would not be where they are in the standings today — that's how important he's been. After posting just five points in his first 10 games, Drouin spent the last 10 games compiling 13 points, although he never got the chance to finish the 10th game against the Capitals prior to the holidays.
Drouin had seven goals during that 10-game stretch and a 25-percent shooting percentage to go along with it — impressive for a player tagged as a playmaker. He also has nine points at home in the month of December alone, and if he can make it back from injury before the 28th, the Lightning have a three-game home stand to close out the month which you know Drouin wants to be a part of. There's just nothing like home.
Strong offensive production isn't all Drouin has been bringing to the table, however. His overall game has been excelling and it isn't going unnoticed by coach Jon Cooper either. Drouin is receiving balanced ice time night in and night out, playing on average just short of 17 minutes a game (16:55). With the way Cooper likes to roll through all four lines during games, he's far from shortening Drouin on rewarded playing time and this can be seen as a way of keeping his young superstar fresh for every game as it's clearly been working out.
Over the last 10 games Drouin is a plus-nine, has nine hits, and has stayed clear of the penalty box, receiving zero penalty minutes during the stretch. He's also been a threat on the power play where he's come up clutch, recording three goals and six points while averaging 2:52 with the man advantage. He's obviously an offensive threat but that's not all Drouin is shaping up to be, and he's out now to prove it.
Drouin knew he needed to bounce back from injury going into December and step into a top role with Stamkos missing from the Bolts' lineup. December has been rather generous to Drouin, and if he can make it back from his latest injury in time, the Bolts still have a couple games left to play before January rolls around. You can catch Drouin and the Lightning during a three-game home stand from Dec. 28-31 in contests against the Montreal Canadiens on the 28th, Toronto Maple Leafs the 29th and the Carolina Hurricanes on the 31st to close out 2016. Can Drouin top off December with more surging dominance? Rest up Jonathan, we're waiting to see.