Reports have surfaced indicating Tampa Bay Lightning forward and captain Steven Stamkos will be out four to six months after suffering a torn right lateral meniscus early in the first period of Tuesday's night game against the Detroit Red Wings. It is a huge blow to the Lightning and their offensive attack, but the team will be looking to carry on without their leader on the ice to prove their worth.
Stamkos' Contributions
Before going down Tuesday night to injury, Stamkos found himself tied in second place with Dallas Stars forward Tyler Seguin in overall points, recording 20 respectively to date. Stamkos has been regarded as one of the league's most elite players over the last few seasons, a natural goal-scorer who can also make plays with the best of them. There's a reason the Lightning opted to bring-back their captain this summer by signing him to an eight-year, $68 million contract – players like Stamkos don't come around often.
He easily could've left town on a more lucrative contract, but his heart was in Tampa Bay, the only organization he's ever known after being drafted by the team in 2008, and this is where he wants to win. His contributions to the Lightning don't go unnoticed, and his presence will undoubtedly be missed within that locker room and on the ice.
Players Need to Step Up
In the absence of Stamkos, the rest of the Lightning's forwards will need to step up to make up for lost production. The Lightning have scored 54 goals to date this season, having them tied for fourth overall in the league in terms of goals-for. Stamkos has without a doubt played a major role in this production, but now it will be up to other members of the Lightning to carry the load.
Nikita Kucherov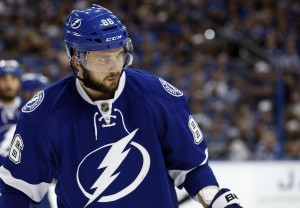 Kucherov has been playing on the top line with Stamkos and fellow Russian winger Vladislav Namestnikov for most of the season, resulting in major contributions from all three players. Kucherov is currently tied for first in points with Winnipeg Jets forward Mark Scheifele, recording 13 assists and 21 points for the Lightning as of Tuesday night. It will be interesting to see if Kucherov can keep up with scoring at this rate without Stamkos in the mix, but the Lightning will be leaning on him harder now than ever to keep them near the top of the league's standings.
Tyler Johnson
Johnson has had a slow start to the 2016-17 season but seems to be coming around slowly. One thing is for sure though, the Lightning need Johnson to find his game faster now with Stammer out and to step up as their number one center in his place. This may provide the perfect opportunity to reunite Johnson with Kucherov, a tandem that along with Ondrej Palat was nicknamed "The Triplet Line" due to their undeniable chemistry and ability to play a responsible two-way game together. Tampa's Head Coach Jon Cooper may elect to reunite The Triplets to find a new offensive spark now that Stamkos is missing, or he may decide to keep them separated in order to spread out the scoring across two or three lines. Either way, Johnson could be the biggest solution to the problem if he can play the way he has over the last three seasons.
Brayden Point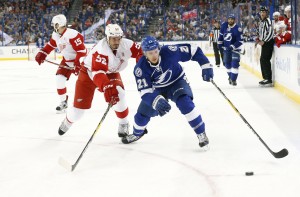 Point was able to make the Lightning's opening night roster this season after playing his junior days for the Moose Jaw Warriors of the Western Hockey League (WHL). The rookie has played a responsible two-way game for the Bolts so far, and with Stamkos out, he may be given more ice time to prove himself in a more prominent role with the team. With Johnson likely moving up to the first line, this could potentially give Point the chance to center either the second or third line after playing much of the season on the wing, and he should be given more time on the power play in lieu of Stamkos. The opportunity is there for him to prove himself, now's his chance to take it and run.
It will be a challenge for the Lightning to overcome the loss of Stamkos, just as it would be for any team losing their star player. However, the Lightning have the skill to overcome this adversity and prove that they are legitimate Stanley Cup contenders for a reason. It will be a big month for the Lightning, but it won't be the first time they've had to compete without their captain. Luckily for them it's still early on in the season and Stamkos will be back to helping them reach the top long before the playoffs come around.
4th year Sport Management student at Brock University.