Mitch Marner is pretty good at ice hockey.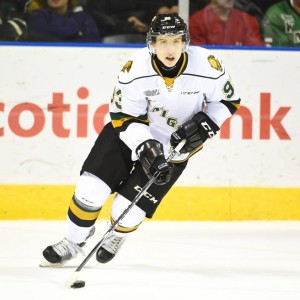 The Hockey Canada brass has a lot of decisions to make and questions to answer in the months leading up to the World Junior Hockey Championship, but whether Marner can hack it against high-end talent is not up for debate. Marner was the star of the first exhibition game put on by Hockey Canada during their Summer Showcase event in Calgary as Canada skated to a 4-1 victory over the Russians.
Tampa Bay prospect Mitchell Stephens, Detroit prospect Joe Hicketts, Los Angeles prospect Spencer Watson and Arizona prospect Dylan Strome all scored for Canada. Damir Sharipzyanov responded for Russia.
Russia opened the scoring four minutes into the game, with Sharipzyanov's wrist shot from five feet inside the blueline eluding Mason McDonald. However, Stephens responded before the period ended with a goal off the rush. Hicketts gave Canada a lead early in the second period off a beautiful set-up pass from Marner, and Canada never looked back.
Goaltender Maxim Tretiak – grandson of Soviet goaltending godfather Vladislav Tretiak – was easily the best Russian player with 23 saves in the loss, including a couple diving stops in the first period alone. McDonald, a Calgary Flames 2014 draft pick, made 16 saves for the win. Tretiak was easily the busier goalie, but also had to make tougher saves. Outside of an eight-save first period, McDonald wasn't particularly busy and merely made the saves he needed to in order to capture the win.
Outside of Marner, the most impressive Canadian player was defender Alexandre Carrier, a Nashville Predators pick. Carrier played a simple, composed game, and continued to make smart decisions with the puck even as the game became more physical as it wore on. Another player that impressed was 2016 draft-eligible forward Julien Gauthier; despite taking two penalties, Gauthier was energetic and interjected himself into plays throughout the evening, never seeming intimidated by his surroundings.

The game was unusually hard-hitting and chippy for an August hockey game – though par for the course for a Canada/Russia game – with three separate 10-minute misconduct penalties doled out for physicality, the most notable being Nikita Khuldikov's second period collision which knocked Vancouver Canucks prospect Jared McCann from the game.
Lowry says McCann is "fine", will be re-evaluated Tuesday before further Team Canada comment. https://t.co/vzNRdGx07i

— Ben Kuzma (@benkuzma) August 4, 2015