The Montreal Canadiens have made it official. P.A. Parenteau will be bought out by the club.
#Habs buy out the contract of forward Pierre-Alexandre Parenteau. DETAILS -> http://t.co/tgF7c0xOb8 pic.twitter.com/lDtucoyinY

— Canadiens Montréal (@CanadiensMTL) June 29, 2015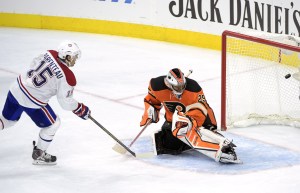 Parenteau has one year remaining on a four-year contract originally signed with the Colorado Avalanche. It carries a cap hit of $4 million.
Buying out his contract spreads 2/3 the value of his contract over twice the time frame, two years. It'll cost the Canadiens $1,333,333 against the cap over the next two seasons and carry an actual cash value of the same amount in each season.
Parenteau made a public statement about the situation:
Former #Habs PA Parenteau's statement after being bought out today. pic.twitter.com/BGhVh4VakJ

— John Lu (@JohnLuTSNMtl) June 29, 2015
Parenteau is currently 32 and played just 56 games with the Canadiens in his first season there, scoring eight goals and 14 assists. That made for a 1.6 P/60, which was the lowest scoring rate he's had since the 2009-10 season at even strength. Might part of that be shooting percentage? Possibly. He shot 5.9% at even strength last season, which was the lowest mark of his career. The four seasons prior to that he shot 12.7%, 14.1%, 8.9% and 9.0% at even strength.
It's entirely possible that a team who gets Parenteau on the cheap could have a player bound for a bounce back season, a player who could be an effective third line winger.
Parenteau has also been a strong possession player throughout his career, running on six-year streak of positive relative possession, including a score-adjusted 2.5% CF%Rel last year and a 3.4% mark the season before. The only thing working against him there is his usage. He was always given more offensive than defensive zone starts, but never like the margin he had last season when he was given 14.8% ZSO%Rel.
Parenteau will become a free agent on July 1 and will be free to sign with any team except the Montreal Canadiens.
RELATED: Carey Price is Not the Key to a Stanley Cup
[catlist categorypage="yes" numberposts=3 excludeposts=this]
Dustin Nelson writes about news and the Minnesota Wild for The Hockey Writers.