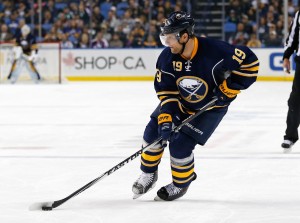 After weeks of speculation, the Buffalo Sabres have done the expected, and put forward Cody Hodgson on waivers for the purpose of a buyout.
The move was first reported by James Mirtle of the Globe & Mail.
Hodgson has been rumored to be heading for a buyout ever since the Sabres ended their second-straight last place season in April. In 78 games last season, the 24-year old scored just six goals and seven assists for 13 points. He was also a putrid minus-28 on the year.
After scoring 34 points in 48 games during the 2012-13 season, former Sabres general manager Darcy Regier signed Hodgson to a six-year, $25.5 million contract rather than a simple bridge deal. It was a contract that was immediately questioned by media around the team as well as the fans.
With the additions of Jack Eichel and Ryan O'Reilly to the team, Hodgson's place became even more expendable than it already was. GM Tim Murray stated after the draft that the organization had a plan in place for the young player, and that people would know about it sooner rather than later due to the time frame for a buyout coming to an end on Tuesday.
Hodgson was acquired at the trade deadline in 2012 in one of the biggest "hockey trades" of the year when Buffalo sent Zach Kassian to the Vancouver Canucks. It was expected that the Toronto native would blossom into a top center for the Sabres, but it just never came to be.
Now, after a little over three seasons with the Sabres, a run that saw him score just 99 points in 218 games and post a minus-65 rating, Hodgson will have to prove himself with another team after the buyout becomes official on Tuesday.