The Montreal Canadiens enter the 2023 offseason with dozens of options available to them to advance the rebuild. General manager (GM) Kent Hughes will need to carefully consider each one before he acts. One of the decisions he faces is what to do with Josh Anderson. 
Related: Canadiens' Salary Cap Issues Will Lead to Offseason Moves 
The Habs' power forward holds a very high value on the roster now, as it is constructed, but also around the NHL, as other GMs have significant interest in adding a player of his type. The reason is that power forwards are not plentiful and are still seen by managers as a necessity to challenge successfully for a Stanley Cup. So what can Hughes do? What will he do? 
Canadiens' Powerhorse 
Anderson joined the Canadiens via a trade with the Columbus Blue Jackets. Immediately following that deal, the Habs signed him to a seven-year, $38.5 million contract that makes his annual cap hit $5.5 million until the 2027 offseason, when he will be 33 years old. When Anderson first arrived in Montreal, his teammates in that 2021 pandemic-shortened season were immediately impressed by his size, speed, and skill. 
Now, at 28 years old, Anderson is in his prime and is coming off an injury-shortened season where he scored 21 goals in 69 games, placing him third on the team in goals behind Nick Suzuki and Cole Caufield, who scored 26 goals each. It's his ability to play a prototypical power forward game, with speed and physicality, that makes him valuable to Montreal but also on the trade market, where he was heavily rumored to be available.  
Canadiens Keep the Powerhorse  
At the end-of-season media availability, Anderson made it clear he wants to remain in Montreal. "I signed a long-term contract," he said. "I'm here for the next four years. I'm a Montreal Canadien. I'm here, I'm present, and I'm ready to win." Keeping him on the roster provides the coaching staff with a very important player who can complement anyone in the top six extremely well. Because of this, Hughes may have more incentive to keep the 6-foot-3 right-winger simply because he's the type of player that's very hard to replace.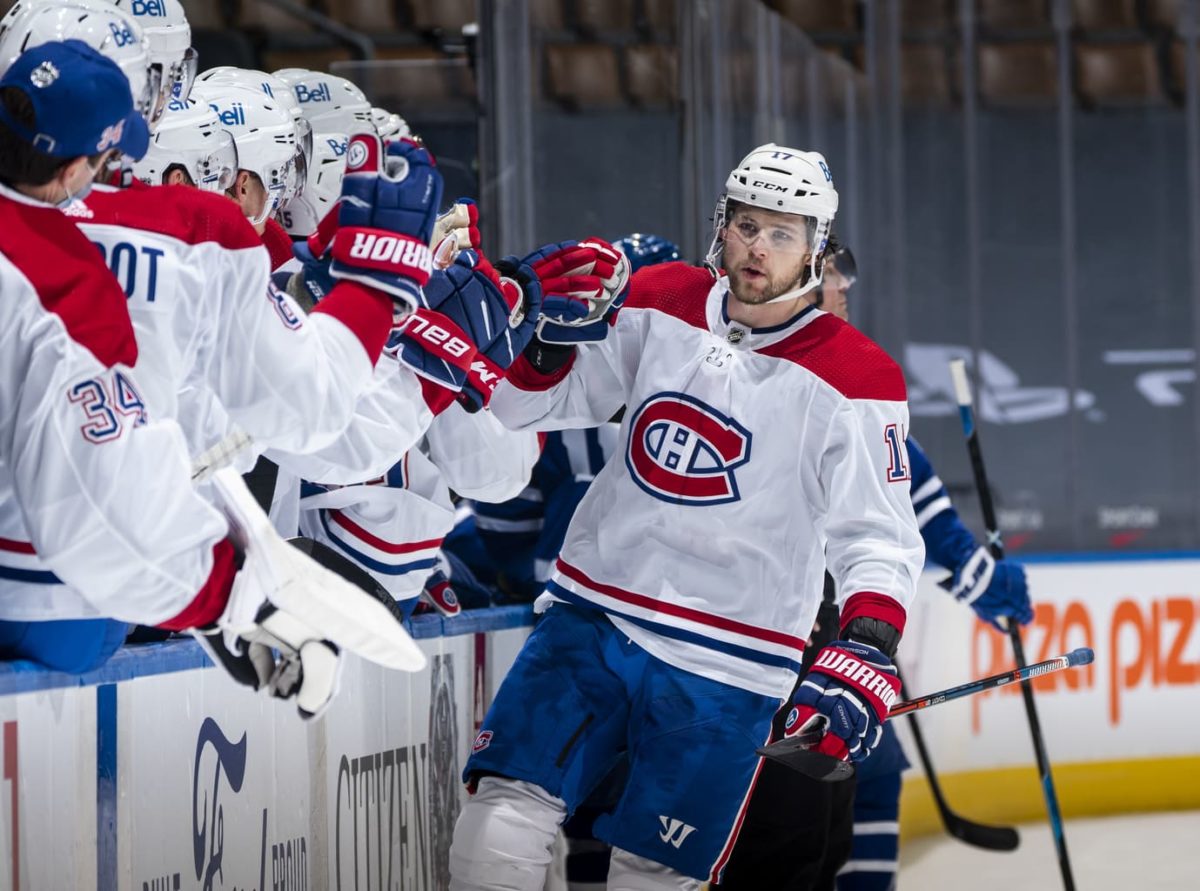 Anderson sustained an injury against Tampa Bay in the final minute of a 3-2 victory. He was fouled from behind by Mikhail Sergachev, who was trying to prevent Anderson from driving to the net for an empty-net goal, leading to him slamming hard into the post foot first. Before that incident, he was one of the Canadiens' most durable players. For a team that led the NHL in man games lost due to injury for two consecutive seasons, having durability, an ability to score, and playing a physical style are all important aspects of the game that Anderson can bring to Montreal's roster, and that makes him very valuable to them, for now. 
Canadiens Trade the Powerhorse 
Is Anderson an untouchable for Hughes? That's unlikely, as his age places him several years ahead of the Habs' current core built around 24-year-old and younger players. But that doesn't mean Hughes is shopping the 216-pound winger. Instead, Hughes will listen to offers. It is hard to believe that Anderson, despite his comments about wanting to remain in Montreal, isn't available to teams for the right offer. 
---
Latest News & Highlights
---
So, is Anderson "expendable"? Yes and no. As mentioned above, he is a rare player type and would make the Habs better next season than any pick or prospect could. He is not unique, as the Canadiens do have Juraj Slafkovsky, who is being developed into a power forward. However, he needs more time to reach that potential, and holding onto Anderson does ease the burden and prevents rushing their top prospect.  
Hughes has shown he's willing to make a deal when his price is met. Fans saw it when Tyler Toffoli and Arturri Lehkonen were traded at the 2022 trade deadline. It would make sense that the same would hold true with Anderson. There are not a lot of power forwards available on the market that can provide size, physicality, speed, and goal-scoring. The Timo Meier trade to the New Jersey Devils proves that teams are willing to pay a steep price for this style of player.
As for Hughes, he has been vocal about wanting another 2023 first-round pick, so if a team offers one, along with a very good prospect that fills a specific need for Montreal, it would be hard to ignore that. Especially if the team acquiring Anderson takes on his entire contract, and no salary goes back to Montreal, it's hard to think Hughes would hesitate to make the trade.
While keeping Anderson at least up until the 2024 trade deadline is the most likely scenario, considering how high the return would be for him, the cap space and futures his trade could provide mean it's only a matter of time before he gets traded. For the Canadiens' rebuild, any trade revolving around Anderson will require Hughes to stick to a very high asking price and not hesitate if a team meets it. 
---
---