The Winnipeg Jets have eight pending restricted free agents (RFAs) to decide on this offseason, from prospects to stars. Here, we'll take a brief look at each and their potential future in Winnipeg.
Morgan Barron
Morgan Barron went viral in the first round for being cut on the face by Vegas Golden Knights goaltender Laurent Brossoit's skate, getting more than 75 stitches to fix the resulting gash, then returning to the game and playing most of the series with a full cage.
---
---
"Some guys look at me like I'm a science project," the 24-year-old joked in the aftermath of a scary situation that could have turned out much worse (from "Looking Frightful, Feeling Delightful,' Winnipeg Free Press, April 20, 2023.)
Barron's toughness was evident, and so was his progression in his first full NHL season. The budding power forward posted eight goals and 13 assists for 21 points in 70 games to go along with an ATOI of 13:15 and a plus-four rating.
He became a mainstay on the bottom six, and while he suffered through some offensive droughts and an early-season wrist injury that required surgery, he brought a reliable compete level to whatever line he was on. He was never afraid to go into the thick of things or the dirty areas to help the team.
Barron played this season on the final year of the entry-level contract the Jets inherited from the New York Rangers last March in the trade that sent Andrew Copp to the Big Apple. A two-year bridge deal would be appropriate to allow Barron to continue on his path to becoming an impactful two-way forward with a heady mixture of size and skill.
Declan Chisholm
Declan Chisholm enjoyed a splendid season for the Manitoba Moose. The left-shooting defenceman, chosen in the fifth round in 2018, was a consistent presence on the top pairing and recorded five goals and 38 assists for 43 points in 59 games and four assists in five Calder Cup Playoff games. He was named an AHL All-Star for the first time in his career.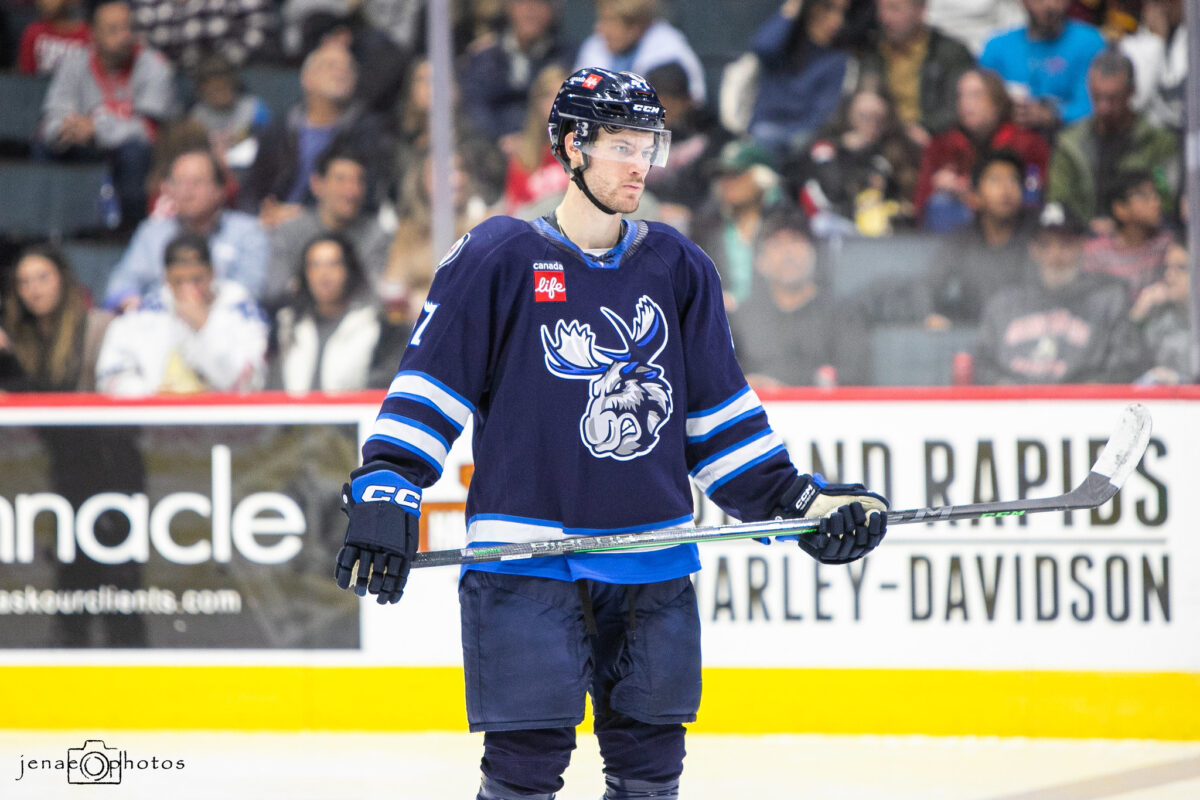 Chisholm missed the final month of the AHL regular season with a high-ankle sprain, but because the Moose received a bye to the second round of the playoffs, was able to suit up for postseason action.
Despite the small setback, Chisholm, who has reached the end of his entry-level contract, made a compelling case that he's ready for a full-time NHL work. A new two-year deal should be easy to work out; he will be out to prove himself this fall.
Pierre-Luc Dubois
Pierre-Luc Dubois is the Jets' highest-profile RFA by a long shot and is coming off a season where he recorded a career-high 63 points and did everything one could ask of a power forward. He is a player GM Kevin Cheveldayoff would like to build around, but the centre never seems to want to talk about his future in Winnipeg.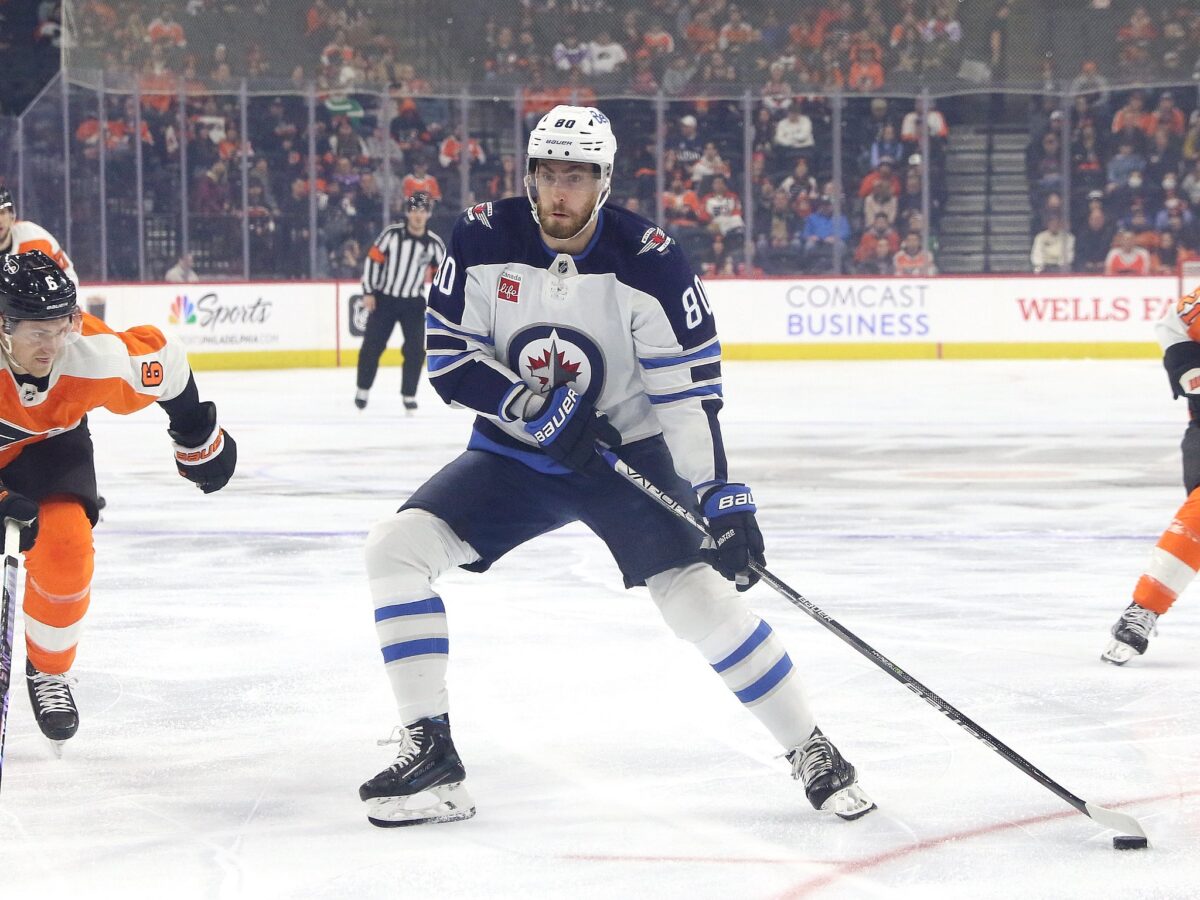 He didn't after last season, claiming he isn't a long-term thinker and making it known he intended to test the open market as an unrestricted free agent (UFA) in 2024. He then put the front office in a bind with the bombshell statement he really only wanted to play for the Montreal Canadiens.
He still didn't during his exit interview last month, with his overall attitude seeming lukewarm. Dubois, who played on a one-year, $6 million deal this season, said he is still processing the season and playoffs and hasn't had any conversations with his agent or Cheveldayoff yet.
Related: 6 Jets Who Could Be Traded This Offseason
While he did say "it would be great to get a long-term deal," he didn't say if he wanted that long-term deal to be with the Jets. He added the "right to choose" to go where he wants as a UFA is important to him. "This year I was just thinking, one game at a time, one day at a time… I just really haven't put much thought into anything," he explained.
---
Latest News & Highlights
---
He attempted once again to walk back the Montreal talking point, saying "there's a lot of fake things out there, a lot of people saying they heard this or they heard that… at the end of the day, if I haven't said anything or done anything, it's just speculation."
Despite that, his overall evasiveness didn't provide evidence of a change of heart.
Unfortunately, the fact the 30 other teams know Dubois really has only one destination in mind hampers what Cheveldayoff can get for him in a trade. Even the Canadiens, still in the beginning stages of a rebuild, don't have to give up an A-plus package knowing they can sign him as a UFA next summer.
Arvid Holm
Arvid Holm was fairly reliable in his second season with the Moose. The 24-year-old, chosen in the sixth round in 2017, split time with Oskari Salminen and posted an 18-11-4 record, 2.67 Goals Against Average, and .911 SV%. He also backed up Connor Hellebuyck in the playoffs when David Rittich was unavailable due to injury.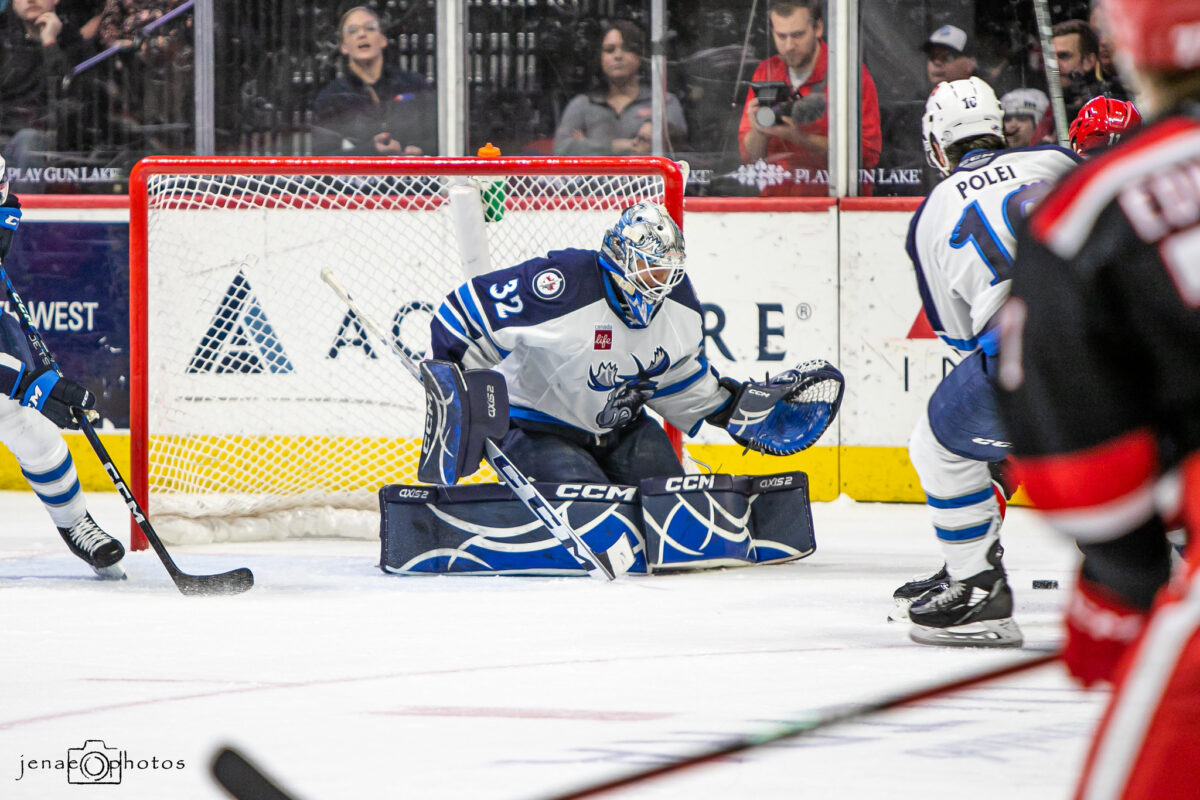 The Jets' don't have a ton of depth in goal, so it's probable Holm will sign another deal although it's not clear how high his ceiling is.
Rittich is a unrestricted free agent who may or may not be back, while Salminen has one year left on his two-year entry-level deal and will be back with the Moose next season. 2022 seventh round pick Domenic DiVincentiis had an outstanding season with the OHL's North Bay Battalion — winning the league's Goaltender of the Year Award — but only just turned 19 and is eligible to play in juniors again next season.
Alex Limoges
Alex Limoges led the Moose in points this season with 54 in 63 games and was tied for third on the team with 20 goals. The 25-year-old undrafted forward played on a one-year two-way deal this season after spending two seasons with the San Diego Gulls.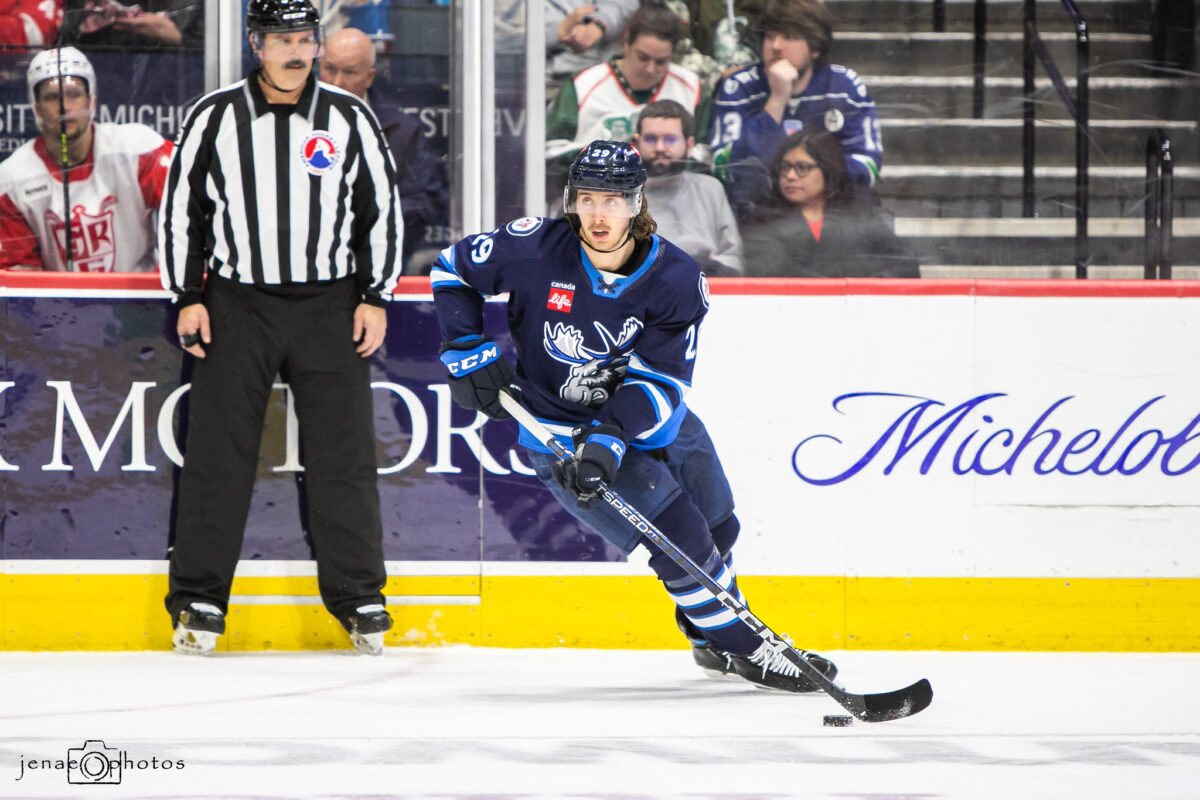 While Moose head coach Mark Morrison would undoubtedly be thrilled to have his leading scorer back in the fold next season, the fact Limoges did not receive an NHL call-up at any point may make him inclined to look somewhere that may give him a better shot at the big leagues.
Dylan Samberg
Dylan Samberg took a big leap forward in his first full NHL season, establishing himself as a reliable shutdown blueliner on the third pairing. The 24-year old played 63 games, recording two goals and six assists, an ATOI of 14:56, and a plus-10 rating. He provided, according to The Athletic, $5.9 million in surplus value.
Samberg, after his impressive campaign, looks ready to step into a top-four role after being considered for a number of seasons to be one of the Jets' better defensive prospects.
Related: Jets' 2023 Report Cards: Dylan Samberg
Originally selected in the second round in 2017, Samberg played this season on the final year of his entry-level contract he signed in 2020 and will be due a raise from his current $925,000 salary. He may seek a bridge deal that carries him to UFA status at age 27.
The Jets could also consider tendering him a longer-term deal if they feel he has proven his ability to be a cornerstone of the top four in the future.
Logan Stanley
Logan Stanley is a player the Jets may be set to finally move on from.
The towering defender has been a long-term project since being drafted 18th overall in 2016. The project has not turned out well, as other than his brief rise to a regular in the shortened 2021-22 season, he has been a disappointment.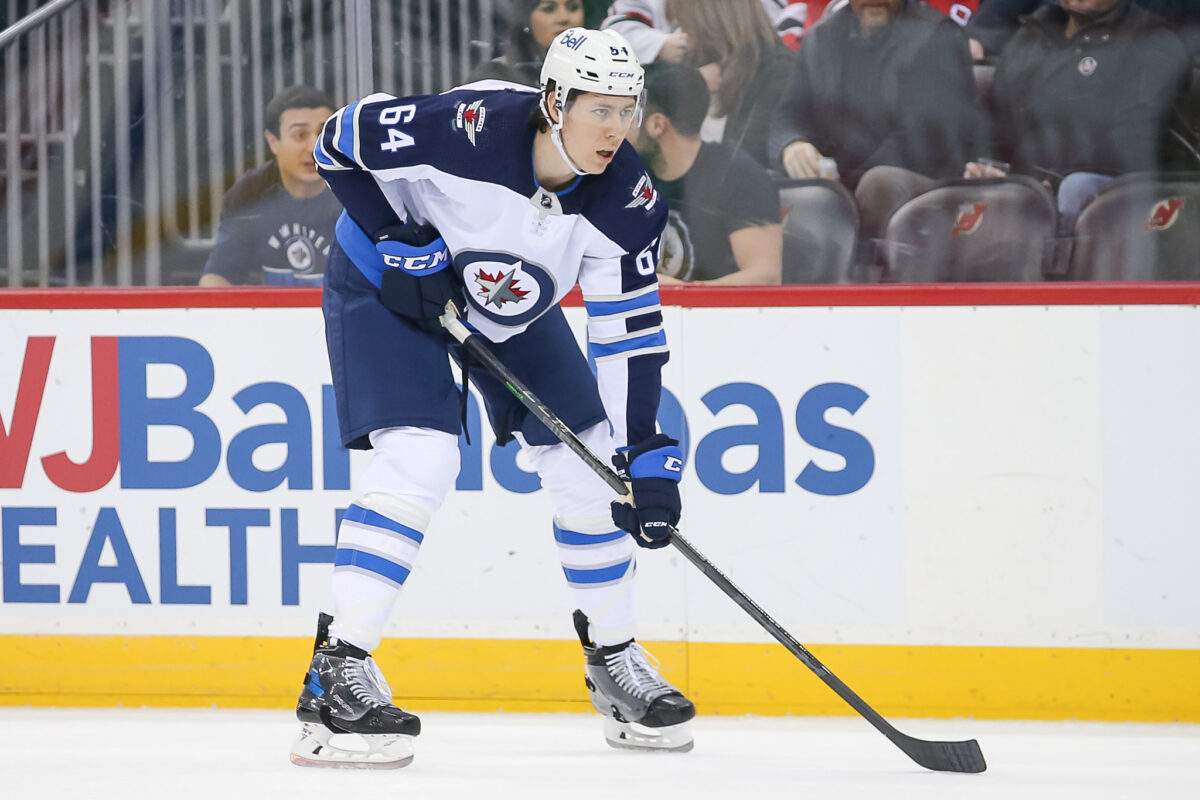 Stanley was on the outside looking in for much of this season and could not stay healthy. He suffered two separate long-term injuries and ended up playing just 19 games, recording one goal and two assists for three points. Perhaps seeing the chance at being a full-timer with the Jets as dimmer than ever, the 24-year old requested a trade at the Trade Deadline, but one did not ultimately materialize.
While six-foot-seven and 230 pounds, Stanley is not overly physical and will never be the second coming of Zdeno Chara — at best, he is an adequate third-pairing defensemen. Chisholm and Ville Heinola, who both had splendid seasons with the Moose, are younger and have more upside.
Stanley's trade value may not be particularly high, but Cheveldayoff needs to explore moving him for whatever he can get.
Kevin Stenlund
Kevin Stenlund worked hard to recover from a subpar training camp and earned a spot as the Jets' fourth-line centre for the majority of the season.
The 26-year-old Swede, who signed a one-year deal last summer, started with the Moose but got an opportunity with the Jets in December and never looked back. He suited up for 54 NHL games — a career high — and recorded six goals and three assists for nine points and one goal in five playoff games. He was strong in the dot, winning 53.3 per cent of his faceoffs, and played a key role on the Jets' much-improved penalty kill.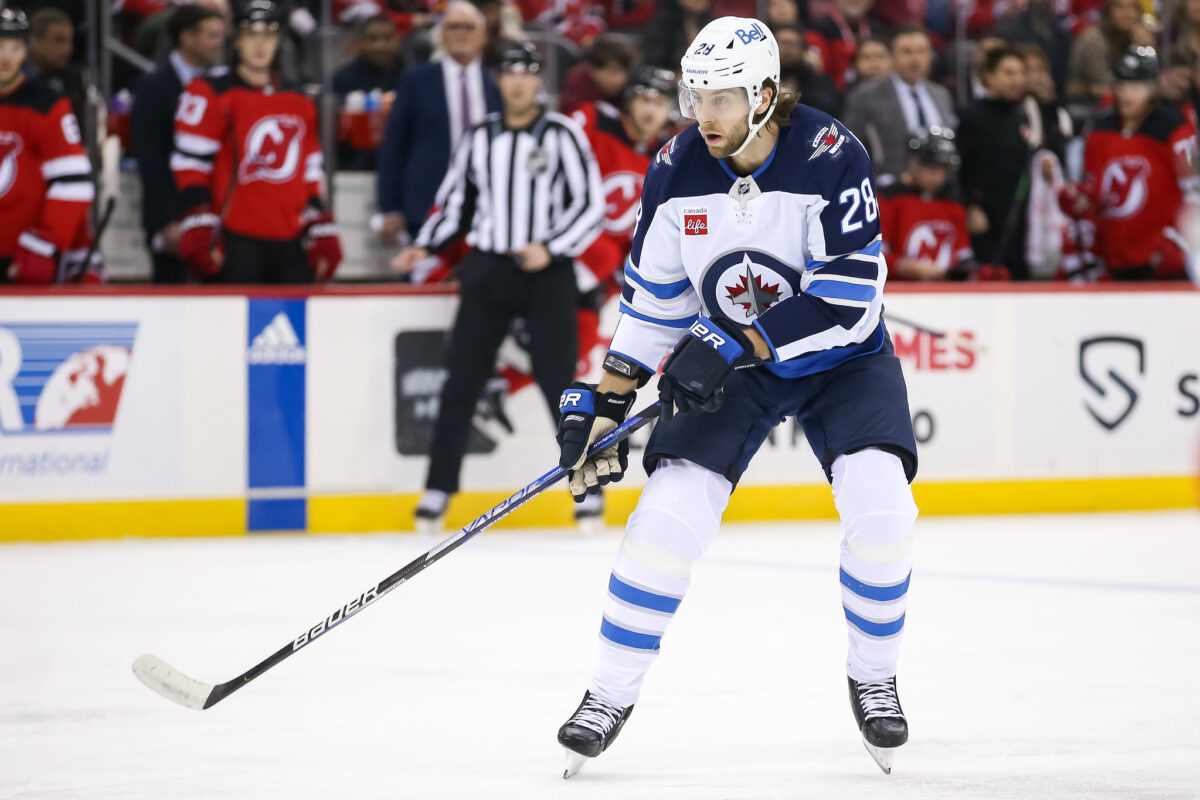 Considering the upside he displayed and that his presence largely relegated David Gustafsson to the press box, Cheveldayoff would be well served to consider signing Stenlund to another one-year deal.