The New Jersey Devils had a fantastic 2022-23 season, but that doesn't mean there won't be changes this summer. The team has six unrestricted free agents and eight restricted free agents. I'd expect a fair number of those 14 players to be back, but not all will be, partly due to salary cap reasons. We'll look at the RFAs in another article in the coming days, but first, let's review each of the Devils' UFAs and see who may return and who may test free agency on July 1. 
Erik Haula
This one seems like a no-brainer, but I'd expect the Devils to re-sign Erik Haula. He got off to a slow start in his first season with the team, but he found his stride at the right time, finishing with ten goals across his final 18 games, playoffs included. The lack of scoring through the first two-thirds of the season wasn't for the lack of chances, either. He was creating plenty of opportunities but was shooting an unsustainably low two percent at his lowest point.
---
---
By the time the season ended, Haula had 14 goals and 41 points in 80 games, almost exactly on par with the 18 goals and 41 points per 82 games he averaged in his previous three seasons before joining the Devils. His impacts were good both defensively and offensively, and he was one of the team's best faceoff men, something head coach Lindy Ruff values. He played all three forward positions and was a big part of the penalty kill as well.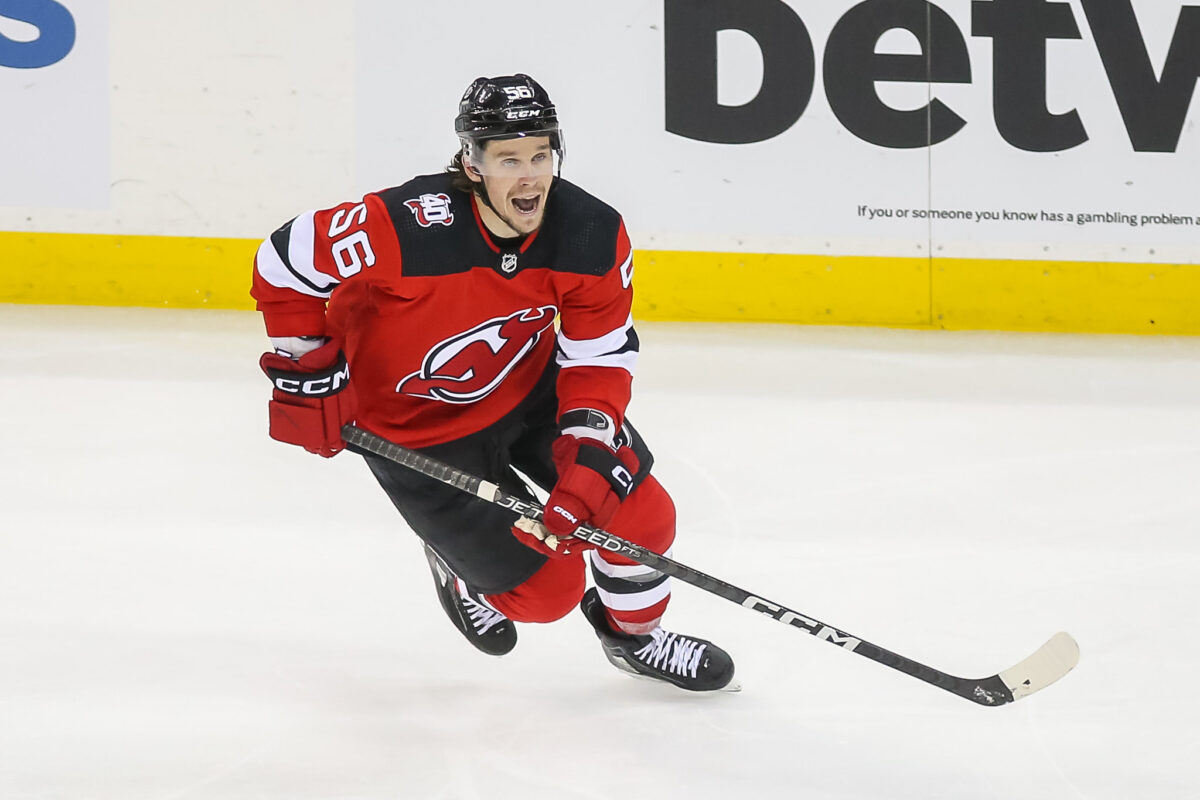 There are plenty of reasons to bring Haula back, but what will it cost the Devils? Evolving-Hockey has him projected for a three-year deal worth a cap hit of $4.041 million. That doesn't mean Haula will receive that exact deal, but Evolving-Hockey's projections are usually a good barometer of what a player gets in free agency. That cap hit may be a bit high, but Haula has bounced around the league quite a bit in recent years. Three years seems reasonable, and if the Devils can get him at a cap hit of around $3.5 million, I don't see any reason he isn't playing for the team next season. 
Miles Wood
Mile Wood's counting totals — 13 goals and 27 points in 76 games — were solid for a fourth-liner, but the 2022-23 season was a struggle for him. His underlying metrics were the worst on the Devils and some of the worst in the entire league for forwards. His even-strength defense was worth an expected goals above replacement (xGAR) of minus-5.1, ranked in the bottom 30 for all NHL forwards. 
Not only did Wood struggle defensively, but he got back into the habit of taking untimely penalties that put the team at a disadvantage more often than not. Granted, he was good at drawing penalties, but his habit of taking penalties outweighed the good of drawing them. 
Related: 4 Takeaways From Devils GM Fitzgerald's Press Conference
---
Latest News & Highlights
---
It also seems that Wood lost a bit of a step after having hip surgery that caused him to miss all but three games of the 2021-22 campaign. The speed was there at times, but at least to me, it seemed like he lost a bit of the step that helped him cause havoc on the forecheck as he did in the past. 
Wood projects to land a four-year deal at a cap hit of $3.265 million as a UFA. Given his struggles and the previous hip surgery, the Devils would be wise to move on and fill that roster spot through other means. They could either promote Nolan Foote from the AHL or sign someone like Pierre Engvall at a cheaper price than Wood in free agency. Either way, one of the longest-tenured Devils may be playing elsewhere in 2023-24. 
Tomáš Tatar
Tomáš Tatar struggled in his first year with the Devils in 2021-22, but he bounced back in a big way this season. He totaled 20 goals and 48 points in 82 games and looked more like the Tatar who could drive play at an elite level as a top-six winger during his three seasons with the Montreal Canadiens before signing with the Devils in August 2021. 
Tatar finished with an impressive 62.79 expected goals percentage (xG%) at five-on-five during the regular season. That ranked first in the entire NHL for forwards with at least 1000 minutes logged, placing him just ahead of Matthew Tkachuk, a Hart Trophy finalist. No, that doesn't mean Tatar was better than Tkachuk, but his two-way impact at even strength was well above league average: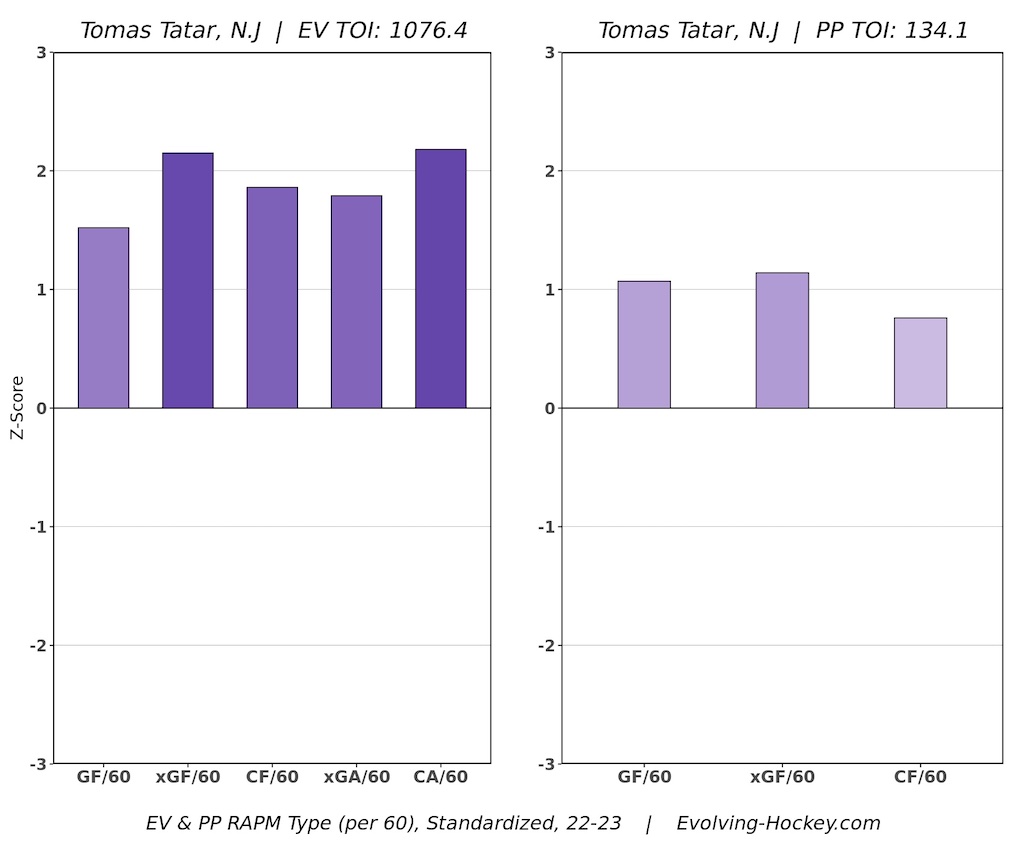 It seems like an easy decision to re-sign Tatar, right? He's a 20-goal scorer who drives play at a high level and pairs very well as Nico Hischier's linemate. Unfortunately, Tatar went missing in the playoffs, and that's become an all too common theme during his career; he now has 13 points in 52 career playoff games. He had just one point in 12 appearances and some poor underlying metrics, which doesn't cut it for a top-six winger in the postseason. 
Tatar's contract projection of a $3.899 million cap hit over three years is more than valuable for what he brings to the table. But given his playoff struggles, it wouldn't surprise me if the Devils look for another option through a trade or in free agency. 
Ryan Graves
Two of the Devils' regular six defensemen will be UFAs this summer. We'll start with Ryan Graves, who's played the last two seasons with the Devils after they acquired him from the Colorado Avalanche ahead of the 2021 expansion draft. Graves has been solid in his two years with the Devils, totaling 54 points in 153 games while playing some difficult defensive minutes in a top-four role. 
Because he's been a consistent top-four defender, Graves projects to land a four-year deal at a cap hit of $4.775 million, a decent raise over his current cap hit of $3,166,667. Since the Devils have some big-name RFAs to re-sign (Jesper Bratt, Timo Meier), they'll need to be smart about how they spend their cap space this summer. 
Plus, with Kevin Bahl's emergence over the last two months of the season and Luke Hughes showing during his three playoff appearances that he's ready for regular NHL minutes, Graves will likely have to test the market on July 1. Otherwise, there'd probably be a stronger case for retaining him if it weren't for Hughes and Bahl. 
Damon Severson
When the Devils drafted Šimon Nemec and Seamus Casey last summer, then added John Marino through a trade, it was fair to wonder if Damon Severson's days with the Devils were coming to a close. But despite the organization making moves to prepare for his possible departure, he had a fantastic 2022-23. 
Severson finished with seven goals and 33 points in 81 games this season. Those counting totals don't pop off the page, but his underlying metrics were stellar. With Marino in the fold, Severson moved into a third-pair, offense-first role and absolutely killed it in those minutes. He finished with a 60.68 xG% and had a significant positive impact offensively at even strength: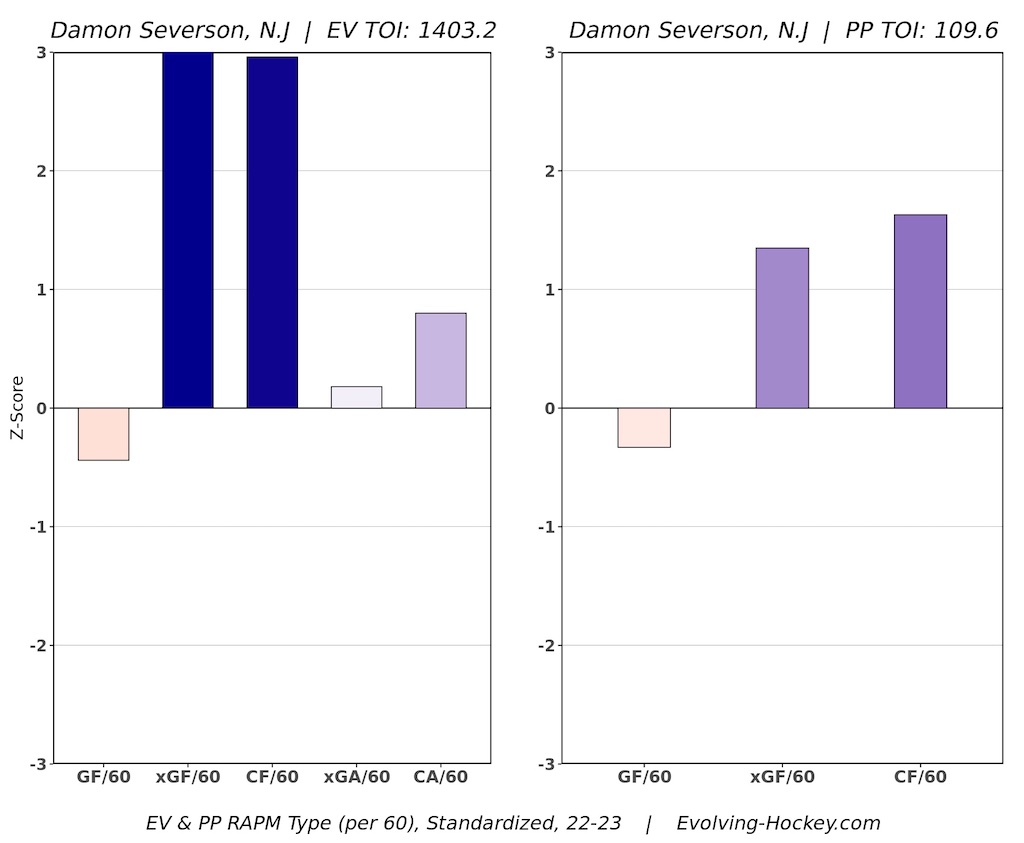 There's a very reasonable argument for the Devils re-signing Severson since it's not a given Nemec will be NHL-ready to start 2023-24. Unfortunately, his play has probably priced him out of a range the Devils would be comfortably going; he projects to land a six-year deal worth a cap hit of $6.171 million. 
Nemec will be ready sooner than later, and Casey may be a couple of years away too. Severson has seen some difficult years with the Devils, so it was nice he got an extended playoff run with the team, one that saw them defeat their biggest rivals in the New York Rangers in Round 1. But unless the two sides can agree to a short-term deal, he'll likely test the market on July 1. 
Most of the Devils' UFAs Likely Hit Free Agency
One player who I'll mention briefly to conclude is Jonathan Bernier. He's also a UFA this summer, but given that he hasn't played in a game since Dec. 2021 after undergoing hip surgery, his career may be over. Perhaps there's a role for him in the organization in hockey ops, but he will not be re-signing with the team. 
The Devils' decisions on their UFAs should be relatively straightforward other than with Tatar. I'd expect Haula back at a minimum, and possibly Tatar, but everyone else will likely test the waters at noon on July 1. 
* * *
Advanced stats from Natural Stat Trick, Evolving-Hockey; all contract projections from Evolving-Hockey