Just as in October with the Montreal Canadiens' main training camp, Owen Beck was one of the final cuts from Team Canada's selection camp. He had never represented Canada internationally before and was in tough with so many high-quality centers available to Hockey Canada. It was a personal disappointment for the 18-year-old center who was a 2022 second-round selection of the Canadiens. A disappointment he likely felt would have to wait until the next tournament to be remedied. 
Beck now gets to live a dream much sooner than expected as he got the call to replace Colton Dach who was injured during the Dec 31 game versus Sweden. Of all the players to replace Dach on the roster, why would Canada select Beck? There are several reasons. 
Canada Loses Colton Dach 
Dach was an important part of Team Canada's game plan at the 2023 World Junior Championship (WJC). Unfortunately for him, his dream of playing for Canada has come to an end for this tournament after suffering a shoulder injury. Sadly, there's an oddly reminiscent aspect to this as his brother, Canadiens center Kirby Dach suffered a significant wrist injury at the 2021 WJC.
Related: 2023 WJC 3 Up, 3 Down: Canada vs Sweden 
---
Latest News & Highlights
---
As he put his shoulder into Swedish defender Victor Sjoholm to complete his check along the half wall, it was clear something was wrong. Dach's arm on the side he used to complete the check went limp and he crumpled to the ice in pain with a scream that was heard even in the press box over the crowd noise. He immediately left the ice and needed assistance to get to the dressing room. It looked like a play completed 100 times per game, but in this instance, Dach's shoulder seemed to have taken the brunt of the force, leaving him out for an unknown amount of time.
When asked about Dach's injury and what he brings to Team Canada in a post-game interview, Logan Stankoven said, 
"He can score and add some offence and at the same time he's laid out some big hits so he was playing physical for us and definitely a difference maker out there." 

–Logan Stankoven
The Chicago Blackhawks' 2021 second-round pick was added to the team for several reasons. At 6-foot-4, 196 pounds, Dach is not only capable of playing a physical style of hockey, but he also has the reach to strip pucks when on defense, or to protect pucks when in possession. Plus, he's a highly versatile player who has experience playing all three forward positions. As captain of the Western Hockey League (WHL) Kelowna Rockets, Dach also brings leadership. Finally, he played a penalty-killing and third-line checking role, scoring two assists in his average of 10:43 on the ice. 
Canada Adds Owen Beck  
Beck, who will wear the No. 8, was the one tapped to replace Dach. He joins his Ontario Hockey League (OHL) Mississauga Steelheads teammate Ethan Del Mastro on the Canadian squad. Beck, who is the assistant captain of his OHL team, has been on pace for his best junior season so far having scored 17 goals and 40 points in 30 games.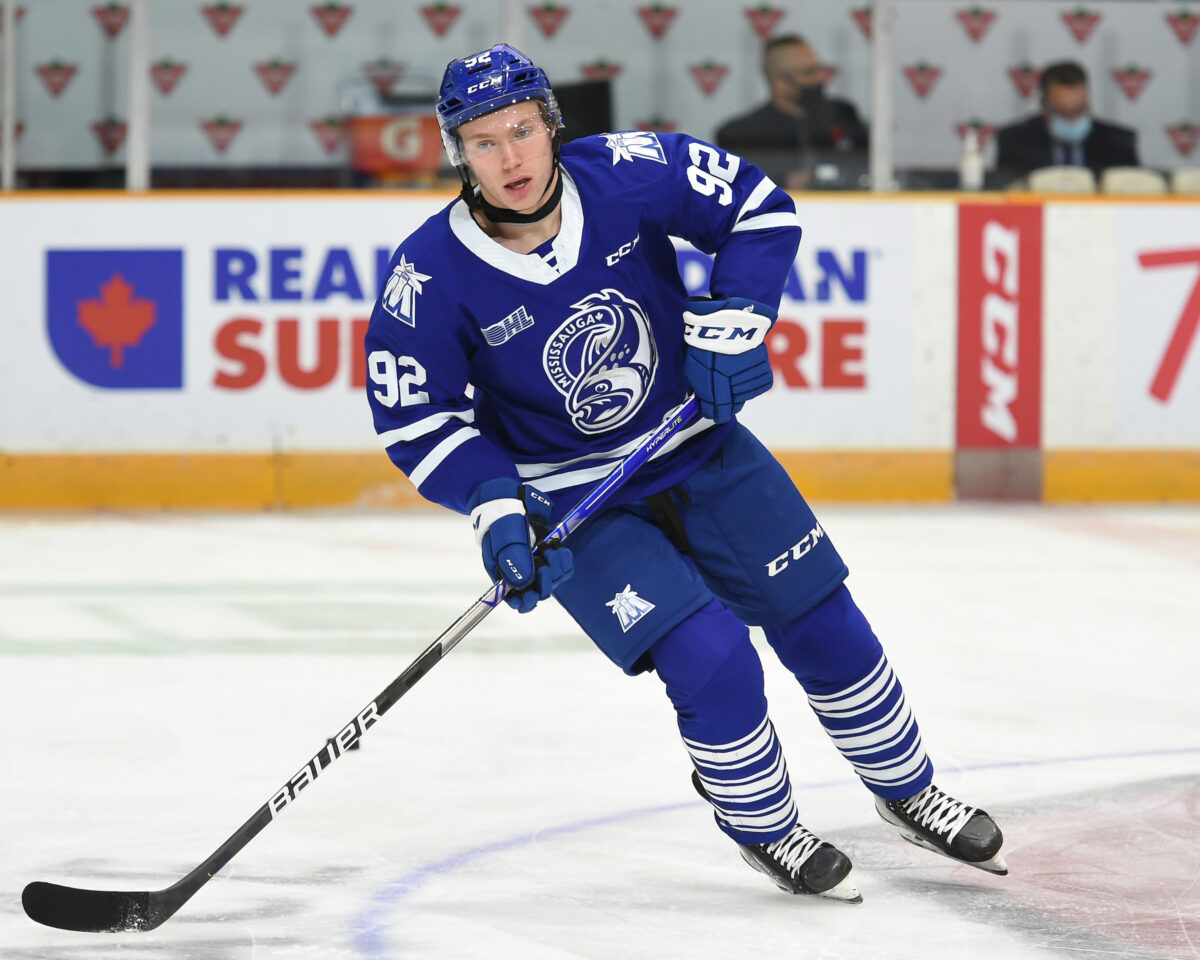 Bech fits the mold of what coach Williams will need going into the playoff rounds of the WJC. He brings with him a highly mature, professional style of defensive play. While he lacks the size that Dach boasts, Beck does make up for that lack of physical edge with his speed on the forecheck and impeccable defensive positioning. Beck, who currently has a 58.9 percent success rate in faceoffs, is also one of the top faceoff centers in the Canadian Hockey League (CHL). He is also an excellent transitional player, capable of making controlled zone exits and entries.
Related: THW's Guide to the 2023 World Juniors 
Beck can read and anticipate plays over the entire 200 feet of the ice surface. His hockey IQ, mobility, speed, and vision also help him to play an effective penalty-killing and shutdown center role. As a reliable two-way pivot and energy player, he is exactly what Canada will need moving forward and he has very little time to prepare as he will be in uniform when they face off against Team Slovakia in the Quarterfinals on Jan. 2, 2023.
---
---