The final score was 10-0. TEN TO NOTHING.
As great as that was for the Columbus Blue Jackets, and as bad as that was for the Montreal Canadiens, this is just one game. It's one game out of 82. As Fleetwood Mac sang to us several years ago, "Yesterday's Gone, Yesterday's Gone."
Brendan Gallagher called the game an "a** kicking." Max Pacioretty said, "We'll see what type of group we have when we lace them up tomorrow."
Both statements, especially the last one from Pacioretty, couldn't be more accurate. The key word is tomorrow. Tomorrow is here. How will both Montreal and Columbus come out tonight on the second half of back-to-back games? The Canadiens host the Flyers while the Blue Jackets travel to St. Louis to face the Blues.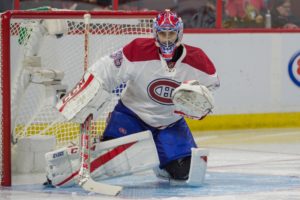 The Montreal Side
It's easy to overreact to a game like Friday. Montreal enters Saturday with a record of 9-1-1. Even better, Carey Price returns to the crease. A win over Philadelphia will make things better in Habs land again, even if just for a day. That said, the tape showed some very disturbing trends.
Did you see how easy it was for Columbus? Once the score got to 5-0, the Blue Jackets did whatever they wanted. They kept the pressure up and Montreal had no answers. You have to especially feel for goaltender Al Montoya. He took a bullet for the team.
One hopes that Montoya's confidence isn't shaken as a result of something like this. One has to imagine that he understands what took place last night. They didn't want to have to put Price in for the third period if they could help it. Just imagine for a moment if they did and he got hurt somehow. You can't take that chance, even with this score.
…with the back to back, Price's injury history and the way CBJ was crashing the net, no way Carey Price was going into that game. Smart.

— Darren Dreger (@DarrenDreger) November 5, 2016
Even more telling, though, was the play of the bottom nine. Woof. They were clearly exposed last night. If Montreal has areas that need to be addressed it's the bottom six and another top-four defenseman. As long as Price is healthy, the Canadiens will compete every night. But if they don't address those glaring needs, even Price can't stop everything.
The good news is tomorrow is here and there's plenty of time to put Friday behind them. This game will teach them valuable lessons. It could end up being one of the best things to ever happen to them, depending on what happens moving forward. We will learn a lot about this team in the next month.
The Columbus Side
On the Blue Jackets side, how much fun was that to play a game like that? I couldn't imagine many players ever experiencing something to this effect in their careers. For one night, everything worked for them.
Now the real test begins. Can the Blue Jackets put Friday behind them and keep everything on an even keel like coach John Tortorella has asked? The Blue Jackets are young and learning, so Saturday will give them a chance to show that tonight is the only game that matters.
Really good night for one, really awful night for the other. One of those nights. https://t.co/5MdVHc7zQo

— Aaron Portzline (@Aportzline) November 5, 2016
The Blues have struggled of late, but that doesn't mean it will be easy for Columbus. Travelling to play the back-end of back-to-back presents interesting challenges. So far in two previous back-to-back situations, Columbus has won both by a combined score of 7-0. Sergei Bobrovsky is the difference maker, posting shutouts against Dallas and Anaheim in those second games.
Tortorella doesn't share his goaltending plans until the day of the game. It's hard for me to imagine a scenario where Bobrovsky isn't in net. He's on fire. I'd ride the wave until he starts to cool down. Never say never, though. Maybe the team planned this in advance. Tortorella will talk with us this afternoon about this and other topics before tonight's game.
The Main Takeaway
Yesterday's gone. As Tortorella told the media last night, "it's a tick in the win column for us, and a tick in the loss column for them." Today is a new day for both teams. As fun as it was for Columbus, and as horrible as it was for Montreal, tonight is the only thing that matters. Can each team move on from the historic nature of Friday night's game?
We'll all find out soon enough.