Imagine waking up one day and learning that you had been traded to the Toronto Maple Leafs. That was the reality for Frederik Andersen when the former Anaheim Duck discovered he was on his way to the hockey mecca of the NHL. For the Maple Leafs, it was a significant and rebuild-altering trade.
On arriving in Toronto, Anderson was immediately signed to a five-year extension worth $25 million, signifying that the club knew he was not any old regular goalie. He was worth an investment for the future.
Goaltending had long been a major concern for the boys in Blue and White. The organization has been searching for stability between the pipes since Ed Belfour last played, which was all the way back in 2005-06. A slew of netminders including Vesa Toskola, Jean-Sébastien Giguère and Jonathan Bernier tried and failed to make the crease their own.
It was a dicey situation for Andersen to walk into. He was the undisputed number one goaltender for the Leafs. He was the one signed to a significant contract by the management team. There was and still is a huge amount of pressure on his shoulders.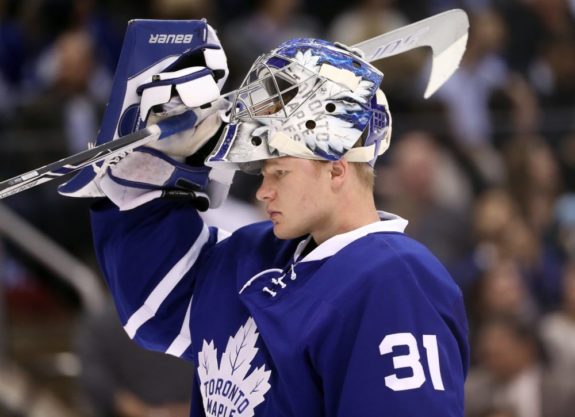 First Five Starts
A look at the injury #Denmark G Frederik #Andersen suffered today. #MapleLeafs #TMLTalk pic.twitter.com/cmbOW6fvCs

— CoastToCoastHockey (@coastocoasthky) September 2, 2016
His first five starts left much to be desired. He sported a 4.29 goals-against average and a .851 save percentage. Many things can be attributed to the poor start. He was playing for an entirely new team in a city he's never lived in before. He was hurt before the season began courtesy of an Olympic qualifying game, that forced him to miss the entire World Cup of Hockey.
#Leafs Frederik Andersen This Season

First 5 Starts: 1-1-3 with a 4.29 GAA & .851 SV%

Last 4 Starts: 3-1-0 with a 1.77 GAA & .954 SV%

— Sportsnet Stats (@SNstats) November 4, 2016
The Leafs defence hasn't been great either. It's no secret that the blueline could use some significant help and that they are currently looking for some type of upgrade. Those are not easy to come by, however.
The Game Against Tampa Bay
Andersen looked like he might be turning a corner and settling down. Then came the game against the Tampa Bay Lightning, which was his worst start of the season. He looked incredibly shaky and ended the contest by giving up seven goals to the powerhouse Lightning squad.
Mike Babcock made a decision that night. It was his call to keep the Danish-born goalie in net to see how he reacted and if he could battle back. He knew that Andersen had more to give, even if it wasn't apparent at the time.
After the dismantling at the hands of the Lightning was complete, it came time for the inevitable pundits tearing into Leafs management and Andersen himself. In Toronto, when something goes wrong with the Maple Leafs, the old adage of "when it rains it pours" is especially true.
Last Four Starts
Since that outing against Tampa, Andersen has seemingly settled into the crease and is beginning to excite people. Over his last four starts, he's earned a 1.77 goals-against average as well as a stellar save percentage of .954. Nothing was more impressive than his performance against the Buffalo Sabres in the Maple Leafs' latest win.
The big Dane made 42 saves on the night, including denying Zemgus Girgensons on the doorstep, in highlight reel fashion. He looked fantastic on a night that the Leafs needed him to steal a game. Ever since,  Andersen has continued to raise his save percentage back to respectability. It now sits at .903 on the season.
Great save by Frederik Andersen to keep it 1-0 #Leafs as they head to intermission after the 1st period. pic.twitter.com/0KZrphguKp

— Maple Leafs Hotstove (@LeafsNews) November 3, 2016
Andersen has made three solid starts in a row, with two of those turning into wins for his new club. He appears to have his confidence back and a confident Andersen is great for his teammates and dangerous for his opponents.