It's been talked about by NHL insiders for so long that it's hard to believe it's not going to happen. The long-rumored outdoor game on Ottawa's Parliament Hill is off the table. The government has squashed the idea, per The Ottawa Citizen's Don Butler, who first reported it.
The plan had been for this to be a signature NHL event in 2017 celebrating the Senators' 25th anniversary, the NHL's 100th anniversary and Canada's 150th birthday.
Full statement from Heritage Minister Melanie Joly's spokesman, nixing an outdoor NHL game on the Hill #ottnews pic.twitter.com/cFGYy6XUxk

— Michael Woods (@michaelrwoods) November 4, 2016
"Despite the hard work of the NHL and the Government of Canada over the past 18 months, the Ottawa Senators are disappointed for all Canadian hockey fans," the Senators wrote in a statement, "that we will not have the opportunity to witness an NHL Outdoor Game on Parliament Hill. To host a game on Parliament Hill would have been iconic and historic and, in our view, the best way to cap off the year-long celebrations in 2017 to honour both the League's Centennial and Canada's 150."
The possibility of an outdoor game in Ottawa isn't dead, though. The team will continue to explore opportunities elsewhere, with one possibility rumored to be TD Place Stadium, host to the 2017 Grey Cup.
Karri Ramo Skating With Toronto
Karri Ramo was a part of the cleansing of Calgary's net in the offseason and didn't manage to emerge from the offseason with a new contract. He needed off-season surgery on his knee and is still working to get back to full strength.
Ramo has recently been seen skating with the Toronto Maple Leafs, but he's not there on a PTO. He's just working on getting back to full strength according to Sportsnet's Chris Johnston.
"So Ramo was out there with us today," coach Mike Babcock said of the situation. "His agent has a relationship with (GM) Lou (Lamoriello), he knows Lou. So he needed to get in shape and get his knee redone. Our guys helped him with that process and he was out on the ice today with us because we didn't want Andy to have a whole bunch of shots."
In a trying season with the Flames last year, Ramo posted a .909 save percentage in 37 games. Despite Jonas Hiller's .879 save percentage in 26 games and Joni Ortio's .902 in 22 games, it was tough for Ramo to gain favor with the club. He was waived early in the season and spent a brief stint in the AHL. He quickly found his way back into the NHL due to injuries.
Raffi Torres Retires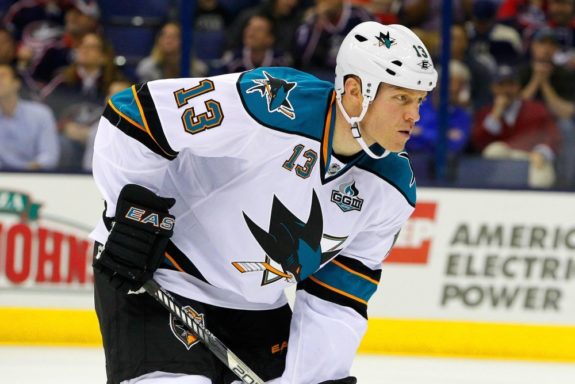 The oft-suspended and massively divisive Raffi Torres has called it a career, he announced Saturday. Torres spent training camp trying to make his NHL return with the Carolina Hurricanes. When he wasn't offered a contract out of camp, it seemed that the writing was on the wall.
"It's never easy to stop doing what you love to do," Torres told the Stouffville Sun-Tribune. "I wanted to play one more year and when I went to Carolina I wanted to make sure I didn't want to question myself. In the end, I wanted to make sure if I could hold up or not.
"I had a good summer in training. But these days the game is a lot quicker. One week into camp my body wasn't responding. Once the contact started…you can't mimic game situations."
Craig Anderson to Get a Start
It looks like Craig Anderson is back with the Senators and likely to start in Saturday's game. Anderson has been with the team on and off since it was announced that his wife was diagnosed with cancer.
His first game back with the team was an emotional shutout against the Oilers. He left the team again after that and they traded to acquire Mike Condon from the Penguins. But Anderson will be back between the pipes for Saturday's contest.
Craig Anderson is on the ice this AM. He will likely start if he's ready. #Sens

— Bruce Garrioch (@SunGarrioch) November 5, 2016
Del Zotto Return
Flyers defenseman Michael Del Zotto is set to make his season debut for Philadelphia, according to Sam Carchidi of the Philadelphia Inquirer. Del Zotto missed the first month of the season nursing a knee injury suffered in the preseason.
He's expected to make his season debut against Montreal on Saturday. The Canadiens were throttled Friday night, suffering a historic 10-0 loss at the hands of the Columbus Blue Jackets.
Montreal's Historic Loss
Speaking of that loss… poor, poor Al Montoya. He's going to be hearing cannon fire in his sleep for days.
This goal is absolutely absurd. pic.twitter.com/rHdLjve5He

— NHL (@NHL) November 5, 2016
Odds and Ends
– Colorado's John Mitchell has cleared waivers.
Dustin Nelson is the News Editor for The Hockey Writers. He's a contributor to Hockey Prospectus, Hockey Wilderness, and writes a column for Rotowire. He's also written for Gone Puck Wild, Wild Xtra, InDigest, Electric Literature, The Rumpus, Tiny Mix Tapes, Prefix Magazine & other publications. Have a tip? Email him at dlukenelson[at]gmail[dot]com.