This week's news and rumors feature the signing of recently acquired defensemen Joel Edmundson, prospect Cole Caufield could be headed to Europe, and Guy Lafleur celebrates his birthday.
Canadiens Sign Edmundson
Montreal Canadiens general manager Marc Bergevin turned some heads last week when he traded a fifth-round draft pick for the rights to unrestricted free agent (UFA) defensemen Joel Edmundson of the Carolina Hurricanes. This week, he pulled the trigger and signed Edmundson to a four-year contract worth $3.5 million per season. The contract is similar to the one Ben Chiarot signed last season, only longer by one year.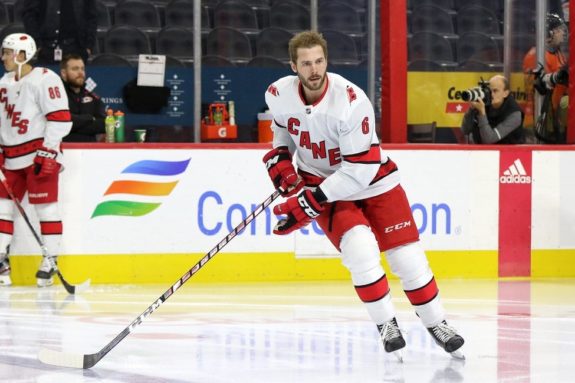 Edmundson isn't the top left-handed defensemen that the Canadiens need, but he is a much-needed upgrade to the bottom pairs. Odds are he will play on the second pairing with Jeff Petry, which could free up Petry to be an even bigger threat offensively. If anything, Edmundson will make the defensive core bigger and tougher than it already is.
Caufield Could be Headed to Europe
Rumor has it that Canadiens' top prospect Cole Caufield could be headed to Europe. Rögle BK of the Swedish Hockey League (SHL) is looking for top offensive talent after Edmonton Oilers prospect Raphael Lavoie couldn't crack their lineup.
The NCAA is still undecided if they are going to start the 2020-21 season, while the SHL has already started. Bergevin has stated that he would like to see Caufield play in Europe if there is no NCAA season. It's well known that Caufield himself wants to get to the NHL as soon as possible, but Bergevin only wants him there when the team thinks he is ready.
Related: Future for Canadiens' Cole Caufield Undecided
A season in the SHL could do wonders for Caufield's development and propel him closer to his goal of the NHL – it will also give him much-needed ice time instead of waiting for the NCAA to decide what it will do for the season.
Lafleur Celebrates a Birthday
Guy Lafleur turned 69 on Sept. 20, and he's happy to be alive after two serious health scares in the past year. In December, Lafleur had lung surgery only two months after having quadruple bypass heart surgery. He was recently seen at Jonathan Drouin's charity golf tournament, where he said he was feeling good.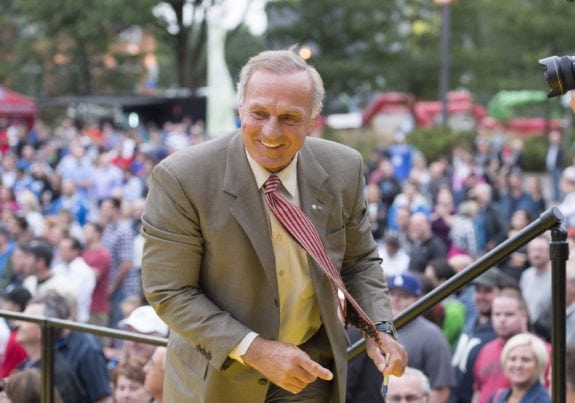 Lafleur was involved in some mild controversy Saturday when a column in the Journal de Montreal reported that the Canadiens banned him from wearing his famous No. 10 jersey while participating in an advertising campaign for the CHUM charity foundation. Lafleur dismissed the report stating he already knew of the Canadiens' strict policies.
"I am well aware of the policies governing the use of the Canadiens brand, which are the same for everyone, and I had no expectations of displaying myself in the colors of Blue-blanc-rouge"

Guy Lafleur on not wearing the CH logo for CHUM charity – La Presse, CHUM advertising: Guy Lafleur in defense of the Montreal Canadiens, 20 September 2020
Lafleur's Life Story Going to the Big Screen
A movie is being made about Lafleur's life on and off the ice. Christal Films Production is currently developing the film and it has been given the green light by Lafleur's family. It's being written by Luc Picard – not from Star Trek – and is still in the early development stage with no director attached.
Related: Guy Lafleur: The Last of the Great Habs Skaters
This will be the second movie made about an iconic member of the Canadiens. In 2005, the movie The Rocket was released about the life of Maurice "Rocket" Richard. The Lafleur biopic is scheduled to be released in 2021.
Albert Langlois Passes Away
Former Canadiens defensemen Albert Langlois has passed away at the age of 85. Langlois was a member of the Canadiens for three Stanley Cup wins in 1958, 1959, and 1960. He was nicknamed "Junior" and also played for the New York Rangers, Detroit Red Wings, and the Boston Bruins.
In 498 games between 1957 and 1966, he scored 21 goals and added 98 assists for 119 career points.
Jacob Olofsson Has Strong Rehab
Canadiens' prospect Jacob Olofsson is not only starting the season at a new position, but also with a new attitude. After suffering a season-ending shoulder injury, and a concussion in the offseason, Olofsson had a strong rehab, where he strengthened his core and legs, which improved his skating.
" Olofsson is a huge talent, and he really grew last season. He hasn't paid enough attention to the details, which has caused him to take some hits. He did have some bad luck with his [shoulder] injury that happened just when he started to earn some success. He will be a great asset for Skellefteå this season. If he can start up where he left off it will be a really exciting season for both him and his team. Jacob has enormous potential. If he can raise the level in his game, then he is close to realizing that potential."

Adam Savonen, journalist for Norran Skelleftea's local paper, as communicated to Eyes On The Prize's writer Patrik Bexell
With his SHL team, Skellefteå, deep at center, the coaches are going to play Olofsson on the wing. This could be beneficial for both the Canadiens and the young prospect. The Habs are also deep at the center position but thin on the wing – if Olofsson's talent can improve on the wing, the Canadiens could have another deadly weapon in their arsenal.
That's the news for this week! with the season soon coming to an end -finally- and the draft taking place Oct. 6 and 7, there should be even more news and rumors in the coming weeks.