The NHL Draft Lottery has been completed, and the Chicago Blackhawks won the Connor Bedard sweepstakes. The Montreal Canadiens stay put at fifth overall, which is good fortune in itself as the odds were at 58% that the Habs would have slid down to sixth or seventh overall. This provides general manager Kent Hughes an opportunity to add a prospect that should become a perennial All-Star and help the rebuild leap ahead. The controversy and elite skill surrounding Matvei Michkov has made where he gets selected one of the biggest debates going into this NHL Entry Draft. 
---
Latest News & Highlights
---
While there is a legitimate possibility that Michkov gets selected earlier, perhaps by the Columbus Blue Jackets because of his potential star status, if he does slide down and is available at fifth overall, where the Canadiens are selecting, this explores the pros and cons involved in Hughes deciding on picking him or passing him over. 
Matvei Michkov – A Background 
The one thing that jumps out is Michkov's offensive abilities. The 17-year-old had a slow start in SKA St-Petersburg of the Kontinental Hockey League (KHL) and was sent down to their VHL affiliate, where he scored 10 goals and 14 points in 12 games. He was then loaned to another KHL club, HK Sochi, where he ended up earning a top-six forward position, which allowed him to score nine goals and 20 points in 27 games.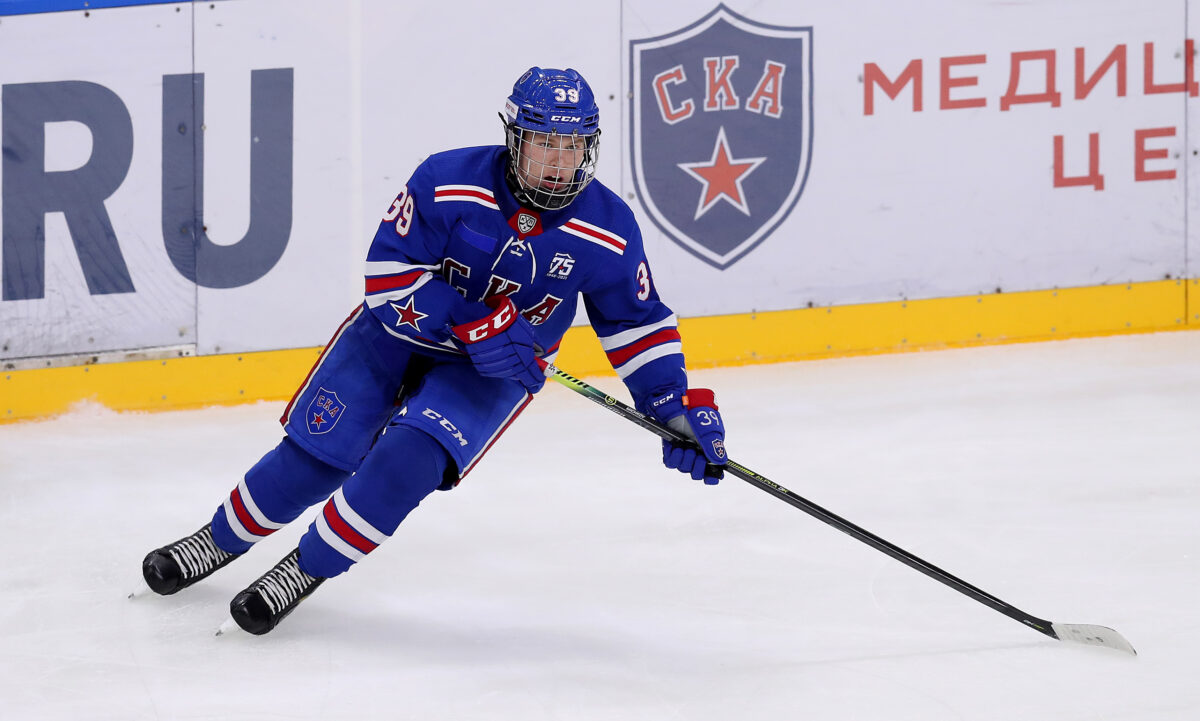 Michkov has underrated playmaking abilities, showing excellent vision and anticipation as he can complete passes in traffic, quickly and accurately. However, it is his shot that is seen as an elite weapon. While he boasts an arsenal of shot selections, and all are heavy shots, it is also laser accurate, and his quick release allows him to mask his target. 
"If he were guaranteed to be coming to the NHL next fall, a center, and an inch or two taller, he'd have a nearly perfect profile for me. He's different than Bedard in tools and approach. Michkov's brilliance comes primarily from his ability to read and process the play at an extremely advanced level, make his decisions quickly, and execute on them with incredible proficiency, whether that's ripping a patterned shot (his one-timer, his standstill wrister, his curl-and-drag, etc.), a quick move into a pass, a sudden stop-up, or an attacking cut." 

– Scott Wheeler (from "2023 NHL Draft top 64 prospects: Scott Wheeler's March ranking", The Athletic, 3/1/23) 
Michkov's skating is above average overall. He lacks the elite breakaway speed that transitional players like himself normally use to back defenders off, but this can be improved with training. His edgework and crossover skills are elite, allowing him to change direction quickly and at top speed, which is how he generates his space on the ice, especially in the offensive zone. This skill, along with his high hockey IQ and ability to play at a very high pace make him a dangerous offensive player. While he does need work in the defensive zone, that will come in time with experience and development. 
Selecting Michkov 
If the expectations stay steady, the Canadiens, drafting at five, will have an excellent prospect available to them. On pure talent, an argument that Michkov would be the best player available at five could be made. Michkov is the biggest wild card of the draft, he's exceptionally talented and has even been compared favorably to Bedard since they've been 16 years old.
His offensive production has been impressive, however, as mentioned above, there are some potholes on the road to selecting him. But if Hughes is willing to take a risk, he could get that elite talent the Habs have needed. 
"It's kind of a risk-reward assessment for any team that is considering drafting him…It would be a tiebreaker…if you're considering Michkov and another player you deem very, very comparable in terms of talent and potential, then those factors are probably going to weigh him down. But we're not there yet where I can say we believe there are others equal to him, or that he's equal to them for that matter"  

–Kent Hughes 
As mentioned, Michkov will take a couple of years before coming to North America. This shouldn't be as big of a factor as many believe, as every 2023 Draft-eligible prospect not named Bedard or Adam Fantilli will need a season or more before being ready to play in the NHL. There would be concern by the Habs that they would have little to no say in his development while in Russia, yet like Kaprizov, the time in the KHL could be an excellent developmental time for the young Russian. This is all assuming they are willing to take on the risks associated with picking the skilled yet undersized (5-foot-10, 148-pound) winger they would roll the dice.  
Passing on Michkov 
What would happen if Hughes passed over Michkov for someone like Leo Carlsson or Will Smith? And passing on him is a possibility according to the French language RDS panel. There are several reasons why he could be at five, and selecting him is to be debated. Michkov has been harder to scout than other prospects. This is due mostly to Russia's invasion of Ukraine. The impact here has been that he has not participated in any international tournaments. Also, NHL scouts have not been able to enter Russia to view him live and are relying on past viewings and video scouting. 
NHL fans may remember the issues involved with the Minnesota Wild's Kirill Kaprizov, which are eerily similar to Michkov's current situation. The fact he is under contract with KHL SKA St. Petersburg through the 2025-26 season, makes him a special case that requires a lot of evaluating his play on the ice and the risks that come with drafting him. There will be serious thought involved before any NHL club decides to select a Russian player, especially in the first round. Canadiens management can't afford to miss on this pick. 
Montreal is not an easy market to navigate for young players, especially those selected high in the draft or with high expectations, fans only need to look at the Jonathan Drouin situation. The added pressure on a player selected fifth, who needed to wait three years before joining the team will face massive scrutiny, especially due to the hype of being so highly touted and long-awaited. Between that and the risk that he never comes to the NHL, there will be a heavy debate at the Habs' draft table on selecting him, if his talent is significantly above those of the other two possible prospects available in Carlsson or Smith, then and only then would the Canadiens be willing to take the club but lack the risks associated with selecting Michkov. 
---
---