Montreal Canadiens defenceman Karl Alzner might have been listening to what his general manager had to say about his performance so far this season.
On Sunday evening, prior to his team's matchup versus the Vancouver Canucks, Marc Bergevin met with the media to discuss a wide-range of topics, including what he thought about Alzner's game through the first half of the year. Bergevin, who signed the former Washington Capital to a 5-year, $23.125 million contract on July 1, was not exactly thrilled about the way his marquee free-agent signing has played thus far.
"Karl Alzner is not playing up to his expectations or ours," said Bergevin in French.
Alzner's Best Game of the Season
Whether or not he heard it, Alzner sure lived up to those expectations on Sunday night. Nine minutes into the first period, Alzner knocked down a pass from goaltender Anders Nillson intended for Sam Gagner, then skated into Vancouver's zone and took a shot that was redirected passed Nillson for his first goal with the Canadiens, giving Montreal a 1-0 lead.
Alzner was not done there. After leaving the game in the third period following a collision with Daniel Sedin, he returned minutes later, just in time to set up Brendan Gallagher for the game-winning goal with 11:16 left to play. The Canadiens added two more goals, one from Paul Byron, and an empty-netter from captain Max Pacioretty, to beat the Canucks 5-2 in front of a Bell Centre crowd. It was the first time Alzner recorded a multi-point game since Jan 23, 2017 when he registered two assists against the Carolina Hurricanes, and he credits a change in gear for his best game of the season.
"I tinkered with a couple of things equipment wise before the game," said Alzner after the win. "Sometimes that can spark something in you mentally and I just felt really good out there with the puck and skating and all that."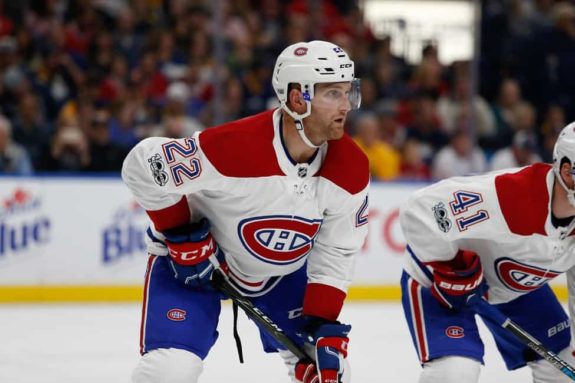 Fortunately for Alzner and the Canadiens, his collision with Sedin looked much worse than it ended up being. Alzner, who has played in 582 consecutive games, went back-first into the boards and was visibly shaken up. After taking a few strides on the ice during a stoppage in play, Alzner returned to the dressing room to receive treatment from the training staff. Luckily, the injury was not serious, and he was able to return to action.
Alzner & Canadiens Need to Be Better
While it was a strong performance for him on the night, Alzner's season has not been as good. Prior to Sunday's win, the 29-year old Burnaby native had only managed to record 5 assists, and was a minus-10 in 41 games. Averaging 16:45 minutes of ice time per game, Alzner's Corsi-For percentage at even strength (CF%) was 51.82 percent, meaning that while he was on the ice, the team was controlling the puck just over half the time. For a player known for his defensive prowess, his game needed to improve, and Alzner showed it was possible against the Canucks.
"You always want to play better. I don't think anyone is ever content with the way they're playing," said Alzner. "I think there's a lot of us in the room that want to forget the first half [of the season] and kind of restart. This was a nice way of doing it tonight.
Brendan Gallagher, who almost got his stick on the redirected Alzner shot, was pleased to see his teammate score his first goal since signing in Montreal.
"I was happy for him," said Gallagher, who currently leads the Canadiens with 16 goals. "First goal with the Habs, it's a pretty special feeling. He was kind of waiting for it, so it was nice to see it go in and obviously get us going."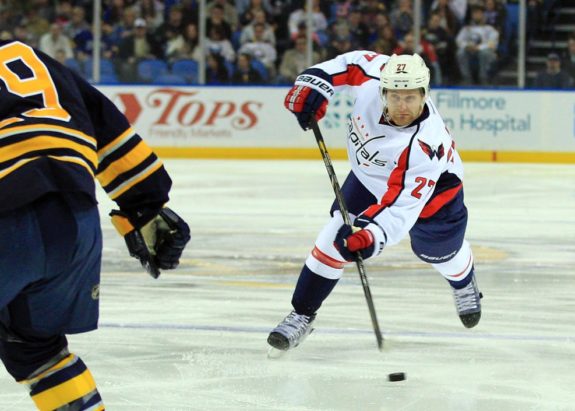 The win was the second in a row for a Canadiens team that had just come off a five-game losing streak prior to Thursday's victory over the Tampa Bay Lightning. Montreal's record now stands at 18-20-4, good enough for sixth in the Atlantic division. Currently 12 points out of third place, and seven points away from the final wild card position in the Eastern conference, the Canadiens must build on their recent success to get back into a playoff race, and there's still a chance, according to Bergevin.
"I believe [making the playoffs] is possible, but a lot of things have to change," said the Canadiens' GM. "There are times where I've seen [the team] capable of doing it."
With five days off before their next contest against the Boston Bruins, Montreal will be well-rested as each upcoming game becomes more important than the last. Needing to accumulate all the points they can from here on out, head coach Claude Julien is excited about the road ahead.
"The beauty of this sport is the challenges that are offered to you, and if you approach it the right way, then you cherish those and you take advantage of it, and you try to make the best of those challenges," said Julien. "I'm hoping our team is going to be in that mindset."
I cover the Montreal Canadiens and Laval Rocket for The Hockey Writers. I am currently a student at the University of Concordia studying journalism in the hopes of one day becoming a full-time sports reporter. I have previously covered the Indianapolis Colts of the National Football League for Pro Football Spot.