Despite having detractors at every step of his development, saying he is too small, lacks strength, and can only pad his stats playing against weaker teams, Lane Hutson continues to surpass all expectations. In the last calendar year, he has set records in the United States National Training and Development Program (USNTDP), been drafted to the NHL, joined Boston University and set records at the NCAA level then joined Team USA's 2023 Men's World Championship roster and became a key player in that tournament.
Related: Canadiens Prospect Report: The Memorial Cup
The Montreal Canadiens already have several young defensemen already in the NHL, having dressed five rookies, several of which are left-handed – Jordan Harris, Kaiden Guhle, and Arber Xhekaj. This may seem like a problem, but it is a good one. It buys time for Hutson to develop before making the leap to the NHL, but the downside is that not all of them will be able to remain on the roster, leaving general manager (GM) Kent Hughes to make a difficult decision on who to keep and who to move. The development of the Canadiens' second-round (62nd overall) 2022 NHL Draft pick is beginning to look as though the Habs could have a budding All-Star on their hands.
Canadiens Dream of Hutson
Hutson joined Boston University and was left at the bottom of the depth chart to start the season, yet he earned more time on ice and a larger role as the season progressed. For the majority of the season, he was used on the second pair at even strength and the second power-play unit. Despite not being the leader in ice time, Hutson (as a freshman) finished the season leading all NCAA defencemen in scoring with 48 points in 39 games. He ended the season seventh overall in NCAA scoring. The next closest under-19 defenseman in the NCAA finished a full 19 points behind him.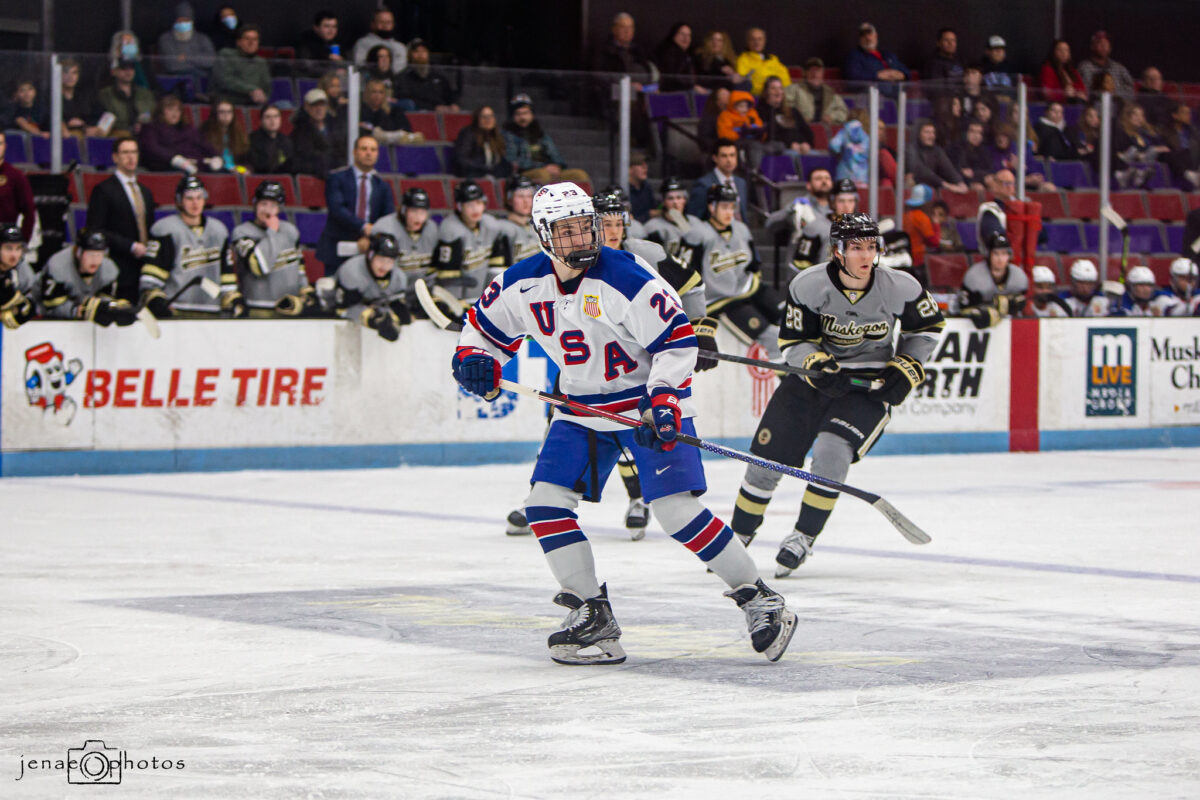 His 1.23 points-per-game pace and 48 points overall are both the best statistically for an NCAA defenseman in the last 30 years. Officially, he has passed Brian Leetch for most points by a freshman defenseman in the NCAA since 1986-87. Any expectation placed on the 19-year-old has not only been exceeded but they've also been smashed. He will have another full season to continue to grow his game and also physically as he has chosen to return to university next season.
"Huge thank you to the seniors for leading the way for us. Looking forward to another great season playing in front of the best fans in college hockey."

–Lane Hutson
Internationally, Hutson joined Team USA for the under-20 World Junior Championship in December of 2022. There he scored one goal and four points in seven games on his way to helping his team win a bronze medal. Following his NCAA season, he was added to Team USA's Men's World Championship roster, and somehow, he has become a more impactful player while playing against professionals. He has scored more and been nearly a point-per-game player, recording two goals and six points in seven games played.
He has provided his head coach, David Quinn, with a weapon on the power play. Hutson's play has impressed many, including his coach.
"He's as eclectic and dynamic as he was in college in this tournament. The thing I like about him is I think he learns quickly about how he has to adapt his game to another level. He's a coachable kid. He works hard. He's a great teammate."

– David Quinn
Hutson's strengths stem from his ability to think the game. His hockey IQ, work ethic, and willingness to learn form the foundation of the player he can become.
Hutson's Dynamism
Hutson was a star with the USNTDP, but teams were wary because of his size. At the combine prior to the draft, he was measured at 5-foot-9 and 148 pounds. When he was interviewed by teams, he carried a letter from his doctor saying that a growth spurt was imminent. He is now listed at 5-foot-10 and 161 pounds. This still leaves him as an undersized defender who will need to outthink his opponents as he cannot outmuscle them, but the additional size will make a difference.
---
Latest News & Highlights
---
Hutson isn't just impressing his coaches at the NCAA and international levels, he has impressed independent scouts as well.
"I've never really seen a player like him. Just a remarkable talent, he's got such tremendous presence on the puck. He's going to change the way we think about D-man. I've been watching hockey for a while & I can't think of a D-man who plays like Lane Hutson."

– Chris Peters
Prior to the draft and all season long the only real weakness in his game stems from his size. At 5-foot-8, he was one of the smallest players to be drafted. Even now at 5-foot-10, the list of high-end NHL defensemen at that height is short (no pun intended). This lack of size impacts an important area of his game, defense.
Starting with defensive zone retrievals, he is vulnerable to larger, more aggressive players initiating contact. Because of this, almost every successful solution for him will require beating the forechecker to the puck. His ability to anticipate and manage incoming pressure is a skill based on his ability to think ahead. This is aided by his active scanning habits, giving him a 360-degree view prior to every puck touch. This gives him a map of skating and passing lanes to exploit providing him with a list of options prior to any play. While this is a skill most defensemen in the NHL already have, Hutson's level of skill is already being compared to some of the elite in the game, such as Adam Fox.
One-on-one board battles are also a concern as he can be muscled off the puck easier than larger defensemen. Hutson will be required to work on his speed, puck protection and elusiveness to use his footwork and outthink the larger forwards he will compete against. Yet this is where his hockey IQ comes into play, helping to build off of his advantage due to his mobility and expertise in starting defensive breakouts.
But what makes him special are the strengths in his game. His elite mobility and anticipation make him a highly dynamic puck-moving defenseman. This makes him a possible elite-level power play quarterback, a type of player the Canadiens haven't had since Andrei Markov was with the franchise.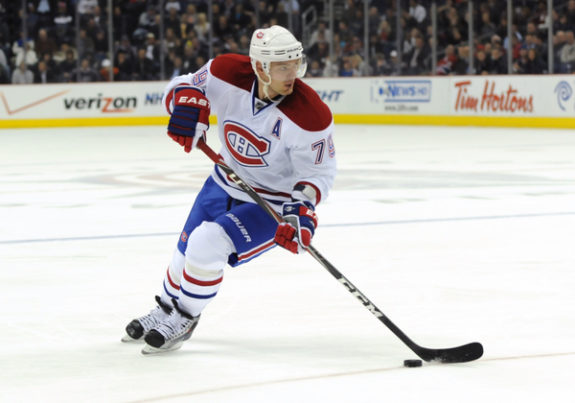 Hutson has also shown that he can flash skill in isolated, small-area plays which allows him to ensure controlled zone exits and also offensive zone entries. Also, with his scanning habits, he is capable of identifying gaps in coverage, be it for himself or a teammate, and can exploit those openings, forcing defensive shifts, creating new breaches in the defenses, and adjusting to those as well. While in the offensive zone, his mobility allows him to hold the blue line, and to move across it with the puck. The movement is designed to create openings that he can use with a simple pass, a gap that he can skate into, or a quick and accurate shot that can provide rebounds. What fans at Boston University and for Team USA have seen is a highly effective and elusive puck-moving defenseman whose development has taken a quantum leap forward in just his draft-plus-one year.
Hutson's play this past season has reduced any concern that his game wouldn't translate to the professional level. His hockey IQ and character should allow him to make the adjustments when he graduates, and every coach he has played for come to agree with that once they watch him play. He is committed to returning to Boston University for the 2023-24 season. With the progress shown by Hutson in this last year and his unparalleled NCAA production rate, any concern of him fizzling out and not being able to replicate his NCAA success against professionals has greatly diminished. There is more than enough reason to be excited about him and even make the argument that he is the top prospect in the Canadiens' system.
---
---