It's often said that a team is only as good as their backup. This season, splitting duties as the No.2 goaltender behind Carey Price, Antti Niemi and Charlie Lindgren have proven to be reliable auxiliaries in the Montreal Canadiens net.
Injuries and inconsistency have derailed Price this season. His .904 save percentage and 2.98 goals against average rank 21st and 20th among NHL goalies with at least 40 starts, while a lower-body injury, chronic fatigue and a concussion have sidelined him for 14 games. With Price's subpar play and health concerns, Niemi and Lindgren have had their opportunities to show their stuff.
Niemi and Lindgren to the Rescue
Lindgren's first relief appearance came on Nov. 5, 2017 against the Chicago Blackhawks after former Canadiens backup, Al Montoya, suffered a concussion the night prior versus the Winnipeg Jets. Lindgren stopped all 38 Blackhawk shots he faced to earn his first career NHL shutout, and would go on to start Montreal's next seven games, posting a 1-4-2 record with a .910 SV% and a 2.71 GAA. He was re-assigned to Montreal's AHL-affiliate Laval Rocket on Nov 24, 2017 when Price returned to the lineup.
For Niemi, his time with the Canadiens began on Nov. 14, 2017 when he was claimed off waivers from the Florida Panthers. Four days later, Niemi saw his first game action in relief against the Toronto Maple Leafs after Lindgren surrendered five goals against.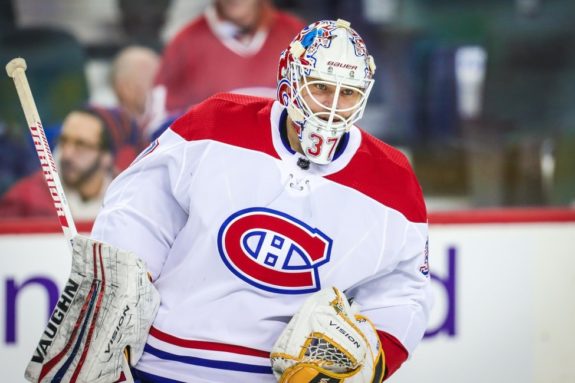 His first start came versus the Nashville Predators in a 3-2 shootout loss, but Niemi demonstrated his worth, stopping 31 of 33 shots, including all 27 at even-strength. His play earned the confidence of general manager Marc Bergevin, allowing him to trade Montoya to the Edmonton Oilers on Jan. 4 in exchange for a conditional fourth-round pick in this June's Entry Draft, thus handing Niemi the reigns as backup goalie in Montreal. Since then, the 34-year-old veteran has started six contests, registering a .944 SV%, a 2.33 GAA, and a record of 4-2-1.
With Price suffering from a concussion for the time being, it has become Niemi and Lindgren's responsibility to man the crease until the former Hart-trophy winning goalie returns to form. It's surely not the the ideal situation for head coach Claude Julien, but he believes they are up to the task.
"Their competitiveness make them good goalies," said Julien. "Players get really excited about goalies like that. When they see a goalie who works hard in practice like they do, it's encouraging for players who play in front of them. When they're in the net, the players want to play well because they appreciate their work ethic and level of intensity."
Overcoming Hardship Away From Montreal
There is reason to Julien's confidence in his backup tandem. Since Price's injury last Tuesday versus the Philadelphia Flyers, Niemi and Lindgren have combined for a 2-0-2 record, a SV% of .962 and a GAA of 1.75 in four games, highlighted by Niemi's first-star performance against the New York Islanders in a 3-1 win on Wednesday. After failing to gain any ground in Pittsburgh and Florida earlier in the season, Niemi seems to have finally found his footing in Montreal.
"Overall, I've felt really good in practices and games for the last little while. I'd like to keep that going," said Niemi after the 27-save effort. "Being here for a longer time, getting comfortable and working with [goaltending coach Stephane Waite] and the players has helped."
The same can be said about Lindgren. After returning to the minors following his successful early season stint with the Canadiens, the 24-year-old posted a record of 8-14-2 with a SV% of .891 and a GAA of 3.18 in Laval. His mediocre AHL statistics can be in part credited to a less-than-stellar Rocket team that is in constant in flux with players moving up and down from Montreal, but Lindgren's carries some of the responsibility as well. With a newly-signed three-year deal kicking in next season, Lindgren has to prove his worth in the NHL once again. And that was exactly what he did in his first start since returning to the Canadiens on Monday at the Bell Centre.
Against the Flyers, Lindgren stopped all 33 shots faced in regulation and overtime to earn his second shutout in just his 12th career game, and saved five of seven attempts in the shootout. His performance was not enough, as Philadelphia beat the Canadiens for a third time in as many weeks, but he showed that he is an NHL-ready goalie.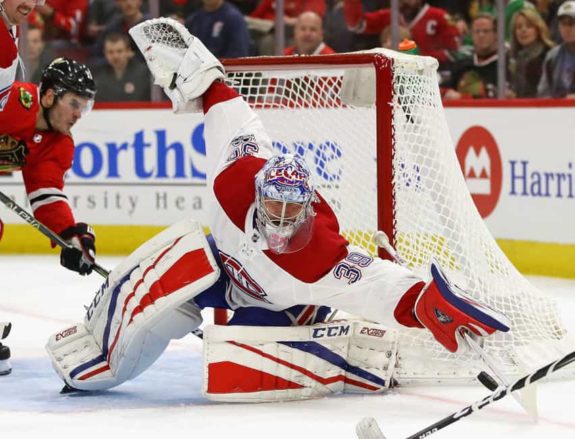 "Every time I'm up here [in Montreal], I want to take advantage of my opportunities and prove myself," said Lindgren after the game. "That's my mindset. Every time I'm in the cage, I just try to give the team the best chance to win."
In a season where wins have been scarce, and depth on the roster has been limited, a chance to win is all that the Canadiens can ask for in their backup goalies. Price's shortcomings are one of numerous reasons why the team finds itself 11 points out of a playoff spot, but Niemi and Lindgren's play are certainly not. Until Price is fully recovered and ready to return, the Canadiens are in good hands between the pipes.
"Unfortunately, our best goalie is injured at the moment, but we have two goalies in Niemi and Lindgren who are doing the job, said Julien. "It's a good sign and it could make some decision much more difficult at the end of the season."