Know your competition. It is a key concept for sport, business, and certain portions of everyday life – know your competition. For women's hockey, that pool of competition is about to get wider and deeper. Every indication is that when the 2022 Beijing Winter Games are held that the women's hockey competition will be expanded from eight to 10 teams. International Ice Hockey President (IIHF) Rene Fasel just about said it would be the case.
"The Chinese organizer(s) were asking to add two teams in the women's competition. And we will play our next Women's World Championship with ten teams too," Fasel said at a women's hockey press conference in PyeongChang. "The IIHF Congress will soon decide about the exact format for 2019 in spring and formal approval would also be needed for 2022."
One country with a legitimate shot at making the Beijing tournament is Norway. While Finland and Sweden have long been among the best in women's hockey, their fellow Scandinavian nation has been right on the outside and about to step in. The Norwegian women's ice hockey team will be competing from Apr. 8 to the 14 at the 2018 IIHF Women's World Division IA Championships in Vaujany, France. This is the second highest level tournament for international women's hockey.
The Norwegians have competed in Division IA Women's Worlds every year since 2007 (prior 2012 this second tier of women's hockey was known simply as Division I). In that time Norway has had three second place finishes, and two third place finishes. They have been ever so close to advancing to the top division with USA, Canada, Russia, and so on.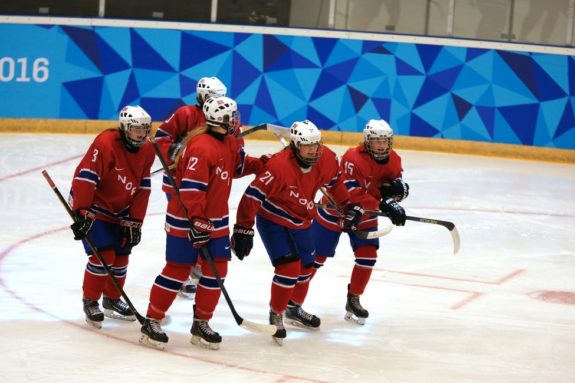 One young Norwegian that you can expect to see in the near future is Maren Knudsen. Know your competition. You are going to want to know all about this young defender because she is a dandy on the ice and the future for Norway's women's team. Especially if they make it to Beijing.
Learning the Game at a Young Age
Knudsen just turned 18 years old in January of 2018. She has represented Norway at three straight IIHF Women's U18 tournaments, and is now poised to compete for the women's national team. She is a native of Vigrestad, Norway, and told THW a bit about her hometown.
"Vigrestad is a really small town with only 2000 inhabitants, and there is no ice rink there," Knudsen explained. "Growing up I played handball and soccer at Vigrestad, and we had to drive for 20 minutes to get to the ice rink, which was no problem for my parents. Until I was 15 or 16 years old I played and practiced with boys in the club Nærbø Farmers, which was the closest ice hockey club."
Showing off at the U18's whereby the wishlist grows https://t.co/4Kth4CDdI5 pic.twitter.com/11EWuZdt7y

— Mats Bekkevold (@Smats1984) January 13, 2018
Though they instituted hockey in 2008, the Nærbø Farmers sports club has been in existence since 1923. In addition to hockey they also include curling, handball and soccer as some of the other club sports. With the opportunity to play and learn the game fairly close to home, Knudsen developed an affinity for it well before her teenage years.
"I started playing hockey when I was eight years old," she said. "There was a new ice rink built not too far from my home. My dad took me and my siblings to the rink and introduced us to the sport. I had been skating on lakes in the winter and really liked it, and therefore I wanted to play hockey."
Knudsen Has a Calm Way of Playing
Two of the biggest names to come from Sweden in recent years have served as inspirations to Knudsen, but for different reasons than one might think. Offensive defensemen are exhilarating to watch, especially the ones who can control the play and put everything at the tempo of their own choosing. Goals and assists typically come in abundance, and it is captivating to behold their sleekness. But the premier offensive defenders, the ones that cannot seem to be duplicated, have an aspect to their game that most skaters do not – calmness.
"Earlier I haven't been inspired by any particular players – I have only been watching hockey games," Knudsen recalled. "The last few seasons I have wanted to improve my offensive play as a defender. I really look up to Erik Karlsson and Rasmus Dahlin, and their way to always make the right decisions and their calm way of playing."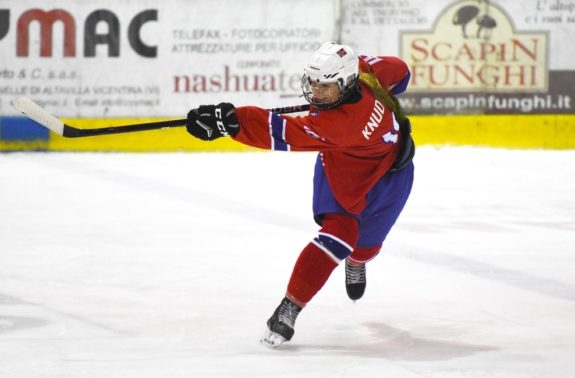 It is not surprising that Knudsen looks up to both of these gentlemen. Dahlin is just a few months younger than Knudsen, and of course is projected to be the top overall pick in the 2018 NHL Entry Draft. Karlsson is unquestionably the top offensive defenseman in hockey today. Playing for the Ottawa Senators, five of his previous eight years have seen him produce at least 40 assists in season. Twice Karlsson has scored 20 or more goals.
While Knudsen is looking to improve her offensive capabilities, she still considers her best attributes to come forth in her own end of the ice.
"I am usually a safe player in the defensive zone," Knudsen explained. "I am strong in one-on-one battles, and staying inside the game. Not letting the opponent close to our net. Also break out and regroup passes."
Playing in Norway for Stavanger
Knudsen has elevated her offensive game quite extensively over her past few years with her Norwegian club team. Playing with the Stavanger Oilers, she led her team in plus/minus with a plus-61 in only 20 games during the 2016-17 season. Knudsen was also a point per game player with 12 goals and 15 assists during that same season, all coming from the back end. Those numbers are jumping up from Knudsen's previous campaigns of just three assists in 14 games and one assist in 11 games in her two years prior.
"Our team practices a lot, and the players challenge each other in practice," Knudsen shared. "The interest of girls hockey in Stavanger, and the many girls playing, has made Stavanger one of the strongest teams in the league. Unfortunately, there are only five teams in the Norwegian women's league and they are uneven. I would like it if there were more good teams to play against to get game experience at a higher level. I believe this is the reason why many girls move to other countries to play in better leagues. But as I mentioned earlier I am satisfied by the practice opportunities in Stavanger and I have grown a lot as a player after I started playing there."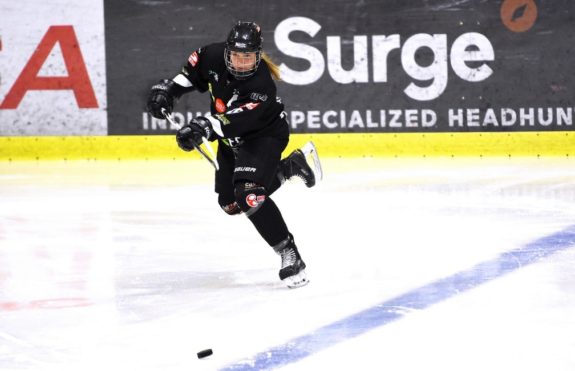 As Knudsen pointed out, many of the top Norwegian players in women's hockey have sought opportunity elsewhere. Truly talented players like Emilie Kruse Johansen, Henriette Behn, and Lene Tendenes are just a handful of Norwegians who have found success playing in Sweden. Kruse Johansen and Tendenes both play in Svenska damhockeyligan (SDHL), which is the top women's league in Sweden.
Still, Knudsen has done very well with Stavanger and continues to be a mainstay for the hockey club. While she has every right to seek chances to play abroad, she is content with being an Oiler and proud of her achievements thus far.
Knudsen Representing Her Country
Including the most recent Division IA tournament back in January, Knudsen played three years straight representing her country at Women's U18 competition. For the 2018 tournament she served as team captain. Having played in 15 U18 games total, Knudsen posted one assist and 20 penalty minutes. She put five shots on goal at this year's tournament from the back end, seven in 2017 and one in 2016. Though Knudsen is 5-foot-6, she is quite sturdy at 150 pounds. She utilizes her size and strength to be a dependable, physical defender in her own zone.
"It means a lot to me and it makes me proud to represent Norway," she told THW about her international experiences. "Playing in these championships makes me nervous in a good way, because I feel like it is the place to play at my very best. Usually I play my best games during the season in these championships."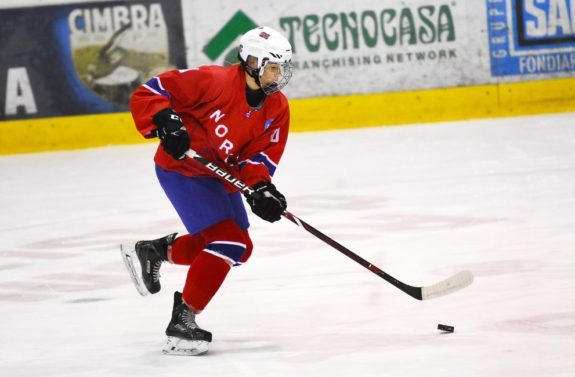 Stress is not always bad. In fact, it can be a major motivator. In fight or flight situations, Knudsen is an athlete who "fights" every time and feeds off of the higher level competition. She is at her best when it matters most. At the 2017 tourney Knudsen helped guide Norway to a bronze medal finish – the only time the U18 team medaled during her tenure.
"It is a good memory from the tournament and it shows that we played a very strong championship. For example beating Germany, who were promoted. I am proud over our teams' performance."
Norway was the only team at the 2017 championship to defeat the Germans, as the team won their other four games and garnered promotion to the top tier.
Possessing the Right Attitude & Having a Bright Future
There is no doubt that Knudsen will be a face for Norwegian women's hockey for many years to come. Given her skill set and her determination, she will likely grow into a recognizable athlete for all circles of women's hockey This would be the case especially if Norway makes it as one of the women's teams for Beijing.
What you will like about Knudsen first and foremost is her leadership abilities. She wasn't just named captain of the 2018 U18 team for no good reason. THW asked her what qualities she possesses to be such an effective leader for her team.
"Difficult to answer," she stated, "but probably that I am usually always positive and happy. That I care a lot for the game and my team. In addition, I am working hard to be the best that I can in everything I do, such as both hockey and school."
Kapten Knudsen tar täten under värmningen för Norge, redo att möta Österrike i U18-VM! pic.twitter.com/3TOSlxjgki

— Mats Bekkevold (@Smats1984) January 8, 2018
Youth is certainly on her side, and there will be many more years of great hockey for her to play. As far as the women's game is concerned, Knudsen is an adult now and she aspires to be part of the top team for her country. She knows that in order to make the senior women's national team that dedication is paramount.
"I have learned that if I want to be a better hockey player I need to be disciplined, hardworking and know my goals," Knudsen stated. "This can be compared to several other parts of my life: that hard work and dedication is the key to success. The sports give me a lot of emotional moments, both happy and sad and my hockey career has ups and downs such as life itself. I have learned to keep my head up and keep fighting during harder times, which has made me stronger as a person."
It is also why she will eventually make Norway's women's national team, if there were ever any doubts. This is a player you are going to want to watch through all future tournaments. Know your competition, but know too which players are the most well-rounded. The ones who are workhorses as players and as people. Maren Knudsen is molded from that type of character. Cool, calm and collected for many years to come.