The 2021 World Junior Championship (WJC) starts in less than two weeks, and Vancouver Canucks fans will have a couple of players to watch this year. The tournament starts on Christmas day in Edmonton, Alberta. The WJC is an opportunity to see the talent that young prospects bring in one of the most exciting tournaments in hockey. In previous years, Canucks' fans have been fortunate to see players such as Quinn Hughes, Elias Pettersson, and Bo Horvat. 
Impact in 2020 World Junior Championship
Let's start with a quick recap of the Vancouver prospects who took part in the WJC last year. The Canucks had four prospects take part in the tournament, which included Vasili Podkolzin (Russia), Nils Hoglander (Sweden), Toni Utunen (Finland) and Karel Plasek (Czech Republic). Podklozin, the 2019 first-round pick, finished the tournament with a silver medal and scored one goal and five points in seven games. 
Hoglander, the 2019 second-round draft pick, was the most noticeable of the four Canucks' prospects last year. Not only did the Swedish forward finish as the third-highest scorer (five goals, 11 points), he scored the goal of the tournament against Finland.
After winning gold in Vancouver at the 2019 WJC, Utunen struggled to produce offensively at the 2020 WJC as he played on the team's third pairing. Finland failed to medal as they lost to Sweden in the bronze medal game. Plasek, another 2019 pick, also struggled to produce while playing top-six minutes and regular power-play time.
Who to Watch in 2021
Canucks' fans were lucky last year to have four players playing in the WJC, but this year, they will only have two players to watch. Podkolzin will return to play for Russia and will likely captain the team. Head coach Igor Larionov named him the captain of Russia's U20 team at the Karjala Cup, which they won last month. It will be interesting to see if Podkolzin improves on his performance from last year and leads Russia to gold.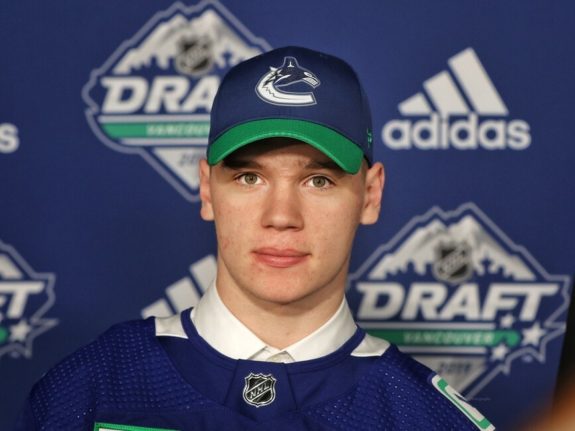 Arvid Costmar will be the other player Canucks' fans can look out for this year. Costmar was drafted in the 2019 NHL draft with the 215th overall pick in the seventh round. He got his opportunity to represent his country after several players were sidelined due to COVID-19. 
Karl Henriksson was one of the players sidelined due to COVID-19 and was supposed to centre the top line with Alex Holtz and Lucas Raymond nicknamed "Terror Twins." With Henriksson out, Costmar could get an opportunity to play with the two. 
Players Who Didn't Make It
There are a few Canucks' prospects who will not take part in the 2021 WJC. Hoglander is one of those players and will not participate because he turns 20 years old on Dec. 20. 
Similar to Costmar, Canucks' 2020 seventh-round pick Viktor Persson also had an opportunity to make Team Sweden. Persson was one of the five final cuts from Sweden's training camp. Joni Jurmo, the 2020 third-round pick, did not make it to Finland's preliminary roster, although some believe he is capable of playing in their top four on the blue line.
Dmitri Zlodeyev, a 2020 sixth-round pick, is the other Canucks' prospect the team hoped would play for Russia at the 2021 WJC.
Zlodeyev scored four goals and 12 points in 15 games with MHK Dynamo Moskva of the MHL in the 2020-21 season but was not a consideration for Team Russia's camp due to an injury. 
When to Watch
On the first day of the WJC, Podkolzin and Team Russia take on Team USA, while Costmar and Team Sweden will not play until the second day against the Czech Republic. The two will play against one another on Dec. 30. Here are the time and dates for both teams:
Team Russia: 
USA – RUS 7:30 P.M. MST Dec. 25
RUS – CZE 7:30 P.M. MST Dec. 27
RUS – AUS 7:30 P.M. MST Dec. 29
SWE – RUS 7:30 P.M. MST Dec. 30 
Team Sweden:
CZE – SWE 12:00 P.M. MST Dec. 26
SWE – AUT 4:00 P.M. MST Dec. 28
SWE – RUS 7:30 P.M. MST Dec. 30
USA – SWE 7:30 P.M. MST Dec. 31
---
---