Since the 1993-94 season, the Anaheim Ducks have participated in 26 seasons of NHL hockey. In that time they have amassed a record of 973 – 804 – 107 – 171 for a total of 2224 points in 2055 games. They've explored the darkest depths of the league standings, reached its highest peaks holding its greatest prize, and everywhere in between along the way. Despite its relatively youthful existence (the Montreal Canadiens have played 6731 games while the Detroit Red Wings have played 6505), the Ducks franchise has had more than a handful of players stick around.
More than forty players have played at least five years with the club, a fifth of its lifespan. However, only twelve players in the history of The Franchise Formally Known as the Mighty Ducks of Anaheim, have managed to reach the 500 games played mark. From players who made their first appearance in the mid-'90s to players who have yet to play their last game, this list reflects the team's best years, as well as its leanest ones. Wingers to centers to defensemen, offensive powerhouses and defensive specialists, these twelve players tell a fascinating history of the club.
Hampus Lindholm, 2014 – Present
502 GP, 50 G, 143 A, 256 PIM
Drafted sixth overall in the 2012 NHL Entry Draft, the highest a player was taken since Bobby Ryan was drafted second overall in 2005, Lindholm Joined the Ducks organization with a significant amount of expectation. At 26 years old and with just over 500 games under his belt, he has managed to live up to, if not exceed, those expectations. Upon making his NHL debut in 2013, the Swedish rearguard has been a staple on the Anaheim blue line.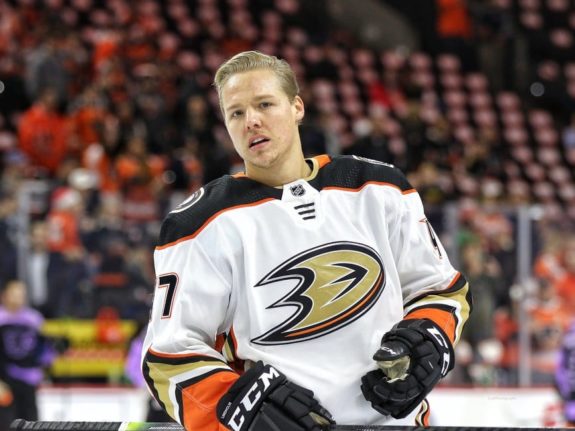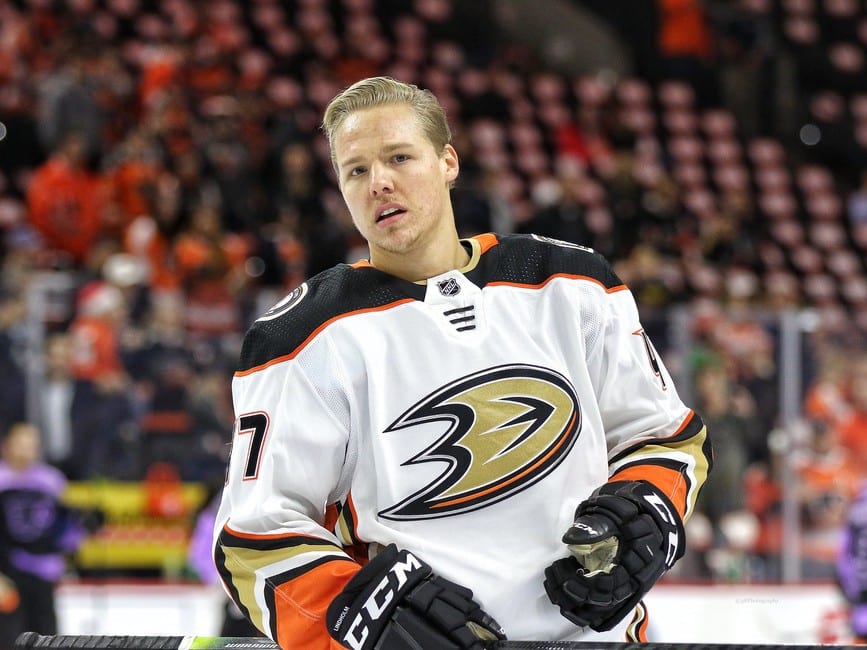 He has played over 21 minutes a night all but once, his rookie year in which he averaged 19:46 TOI in 78 games posting 30 points and earning a spot on the NHL's All-Rookie team. While his offensive numbers don't immediately jump off the page, Lindholm has developed into one of the league's best shutdown defensemen.
Utilizing a combination of size, skating, and high-end hockey sense, he has become the Ducks' go-to defender when tasked with shutting down the opposing team's best players. Although he just barely clears the 500 games mark, it's all but certain he will continue to rise up this list as his career continues on.
Jakob Silfverberg, 2014 – Present
510 GP, 128 G, 144 A, 148 PIM
Ooh, aah, Silfverberg. Arriving in Anaheim after a tumultuous contract negotiation between Bobby Ryan and Bob Murray ended in Ryan being shipped off to Ottawa, Silfverberg emerged as a key contributor on the Ducks' teams of the mid-2010s. A good skater with a nasty wrist shot, the winger found success with Ryan Kesler and Andrew Cogliano on the Ducks' dominant second line. Furthermore, with 41 points (including four game-winning goals) in 57 playoff games, Silfverberg developed a reputation for reaching another level when it mattered most.
While Silfverberg lacks the high-end offensive upside that ultimately priced Bobby Ryan out of Anaheim's future, he still managed to become a steadying presence in a Ducks' lineup that was seemingly in constant flux around the edges. Add in the fact that he boasts a career shootout percentage over 40%, including a ridiculous 9 for 13 in the 2014-15 season, and it's easy to see why he's managed to stick in Anaheim for so long. Like Lindholm, Silfverberg should continue to rise further up this list as the years go on, solidifying his place in Ducks history.
Samuel Pahlsson, 2001 – 2009
527 GP, 51 G, 90 A, 257 PIM
Traded to Anaheim less than 20 games into his rookie season, Sami Pahlsson quickly developed into a fan favorite. As strong as he was savvy, the Swedish pivot was the Ducks premiere shutdown center for the vast majority of his tenure in Southern California. Despite never scoring more than 11 goals in a season and failing to hit 30 points even once in his career, he averaged over 16 minutes a night over eight years.
He played perhaps the best hockey of his career during the 2006-07 season that saw the franchise's first and only Stanley Cup win. Along with Rob Niedermayer and Travis Moen, Sami centered the team's dominant shutdown line, earning himself second place in that year's Selke voting. Registering 23 points in 64 postseason games, including three goals and nine assists in the Cup run, helped further cement his status amongst the Ducks' fanbase's collective consciousness.
Andrew Cogliano, 2012 – 2019
584 GP, 102 G, 131 A, 170 PIM
What he lacked in size and skill, Cogliano made up for in speed, smarts, and will. To be sure, he was not a wholly unskilled player, but his best ones were less easy to spot than goals or assists. Acquired from the Edmonton Oilers in the 2011 offseason, Cogliano went on to play in every game he was on the roster until a suspension in 2018 ended his ironman streak.
However, in that time, he emerged as one of the Ducks' most consistent and dependable forwards. Capable of playing on any line, the converted center was often used by head coach Bruce Boudreau as a human spark plug.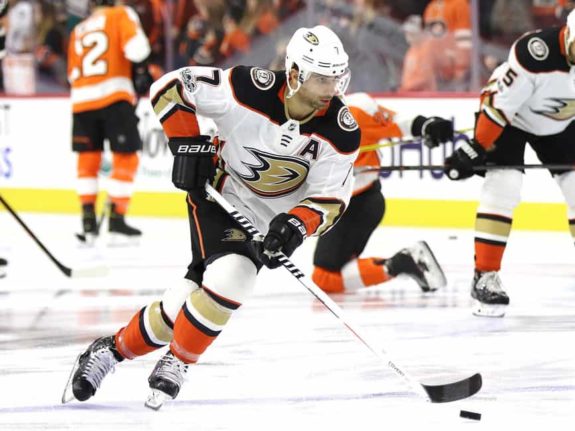 Moving him up and down the lineup whenever the team lacked energy and purpose, "Cogs" brought the same high level of energy, elite speed, and a surprising amount of physicality to whatever line he was on. He found his most success on the aforementioned shutdown line with Kesler and Silfverberg and was a staple on the Anaheim penalty kill. He became only the second player in team history to score double-digit shorthanded goals, tying Paul Kariya's career total of 16.
While his time in Anaheim came to an abrupt end when he was traded to the Dallas Stars in the middle of a disappointing campaign, Cogliano was perhaps one of the few Ducks who was beloved and respected by fans and players from across the league.
Francois Beauchemin, 2005-09 / 2010-15 / 2017-18
592 GP, 56 G, 140 A, 360 PIM
Well, sure. The one fans came to affectionately refer to as "Frank" played three separate stints in Anaheim across two decades and only once he arrived as a free agent. Acquired from the Colombus Blue Jackets in a trade that saw Brian Burke send Sergei Fedorov the other way, Beauchemin further added to Anaheim's physical, defense-first reputation. He played a significant role on the 2006-07 team chipping in seven goals and 28 points while averaging the third-highest time-on-ice behind only Scott Niedermayer and Chris Pronger.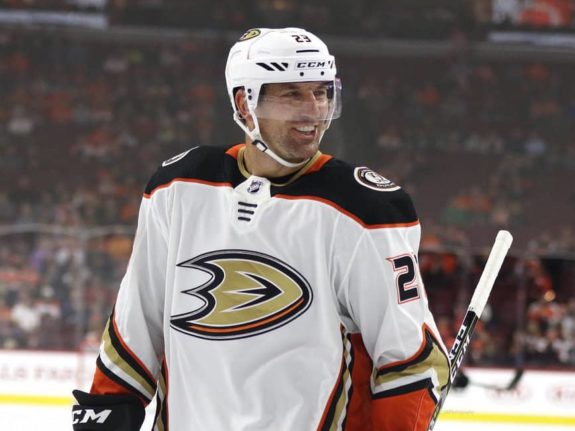 His second stint in Anaheim saw him return via a trade sending Joffrey Lupul to the Toronto Maple Leafs. He spent the majority of that time mentoring and playing with a young, developing Cam Fowler. His second stint wouldn't be quite as successful but the Quebec native was a major part of those teams.
His final tour in Anaheim saw him return as a free agent in the summer of 2017 after taking a two-year sabbatical to join the Colorado Avalanche. The third-highest scoring and the fourth most penalized defenseman in franchise history, Beauchemin was a Duck through and through.
Ruslan Salei, 1997 – 2006
594 GP, 26 G, 79 A, 735 PIM
As I've said before, Salei was the first player I fell in love with that wasn't a bonafide star. I'm not even sure how I would explain to someone what he meant to Anaheim fans during some of the team's worst seasons. The Ducks made the playoffs in only four of his nine years in Southern California. He's 11th in goals and 10th in assists and points for defensemen. Yet, he's second in games played and third in penalty minutes. He has only five more goals but twice as many PIMs as current Duck Josh Manson in a little over 200 more games.
And yet, he was everything you loved and hated about what the Ducks were and would be. He had a wonderful knack for taking the absolute worst penalties at the worst possible times.
Yet he also scored one of the biggest goals in franchise history, beating Martin Brodeur with an absolute bomb from the blue line. That goal came in overtime of Game 3 in the 2003 Stanley Cup Final, giving Anaheim their first win in a series that ultimately went seven games. Over the course of 594 games "Rusty" gave everything he had to a young franchise trying to find its footing. Ducks' fans will always be grateful for that simple, yet meaningful, fact.
Paul Kariya, 1995 – 2003
606 GP, 300 G, 369 A, 213 PIM
With their first pick in their first draft, the Mighty Ducks made what would possibly turn into the single most important decision in the history of the franchise. Selecting a young winger from the University of Maine who was coming off a collegiate season that saw him win the Hobey Baker Award.
Lightning fast, supremely skilled, and possessing a rare mixture of poise and creativity, Kariya brought Anaheim it's very first superstar. Despite the franchise experiencing limited success in its early days, Kariya managed to make the Ducks appointment viewing almost from the start. The Vancouver native scored 39 points in 47 games and was rewarded with a spot on the first-team All-Rookie squad at the year's end.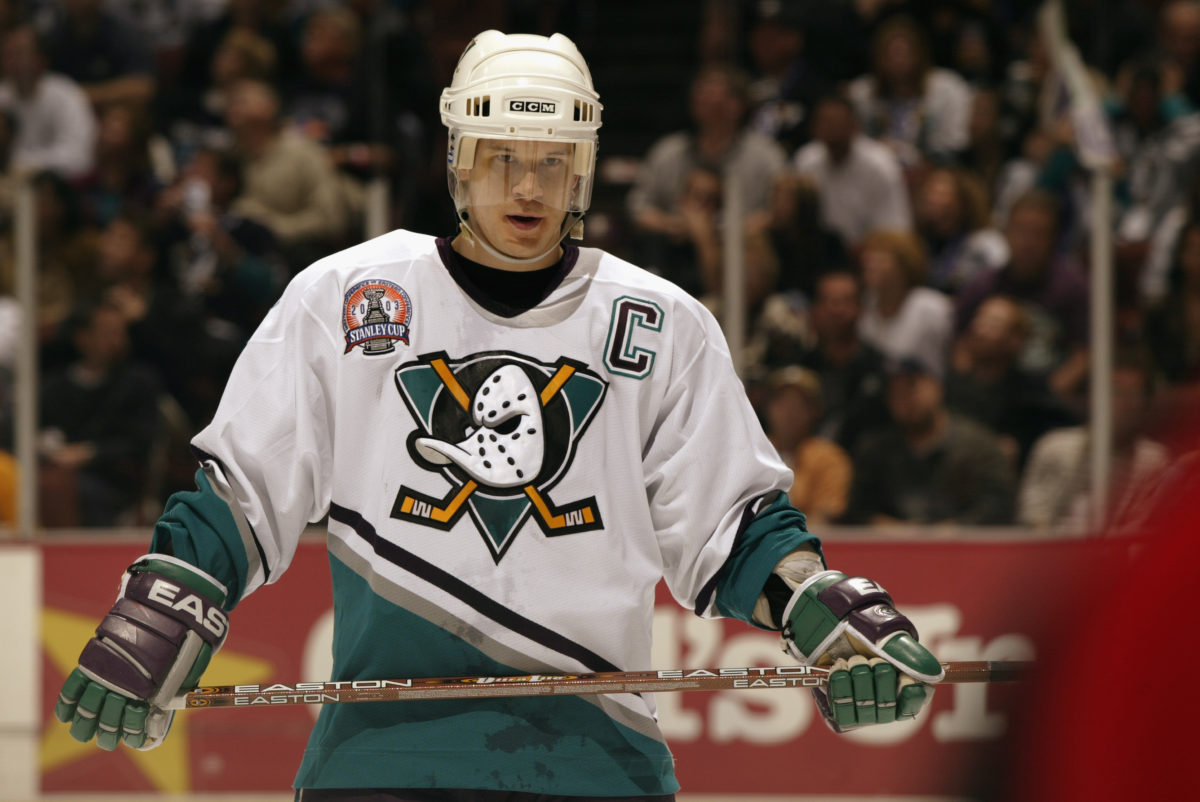 During his time in Anaheim Kariya made five postseason All-Star teams, won the Lady Byng Trophy twice, cracked 100 points twice, led them to Stanley Cup Finals in 2003, and put Anaheim hockey on the map. Despite a seemingly strained, if not outright contentious, relationship with the franchise and hockey in general, Kariya was ultimately elected into the Hockey Hall of Fame.
He was also the second player to have their number retired by the organization at the start of the 2018 season where his No. 9 was able to take its rightful place next to Teemu Selanne's No. 8. In the eyes of many within the franchise and the fanbase, the moment that his jersey hit was raised to the rafters marked a moment of healing and appreciation that many had wanted for a long time.
Steve Rucchin, 1994 – 2004
616 GP, 153 G, 279 A, 140 PIM
Rucchin was the Ringo Starr of the Mighty Ducks. Rucchin was never the flashiest or the most entertaining player on the ice per se, but that was never his job. Tasked with doing just about everything but score, he spent most of his career being Kariya and Selanne's centerman. Big, strong, and capable, he posted four consecutive seasons of at least 50 points from 1996-2000 despite never reaching 30 goals.
Taken second overall by Anaheim in the 1994 NHL Supplemental Draft, Rucchin's time in Southern California was largely successful and culminated in his being named captain in his final season with the team. While he may be little more than a name on an old jersey, or a friendly face on the occasional postgame show to younger fans, Rucchin will always hold a special place in the hearts of Ducks' fans of a certain age. Likewise, it's probably safe to assume that the same can be said for former Mighty Ducks of a certain age as well.
Cam Fowler, 2011 – Present
679 GP, 67 G, 234 A, 185 PIM
Despite turning 29 a little over a week ago, Fowler will head into the upcoming season with 10 seasons of NHL hockey under his belt. The 12th overall draft pick in the 2010 draft, Fowler has become the longest-tenured defenseman in Ducks' history. Quickly approaching 700 games, Fowler is already first in goals, assists, points, as well as games, among Ducks defensemen. After bursting onto the season with a 10 goal, 40 point rookie campaign, Fowler quickly emerged as a crucial part of the Ducks defense.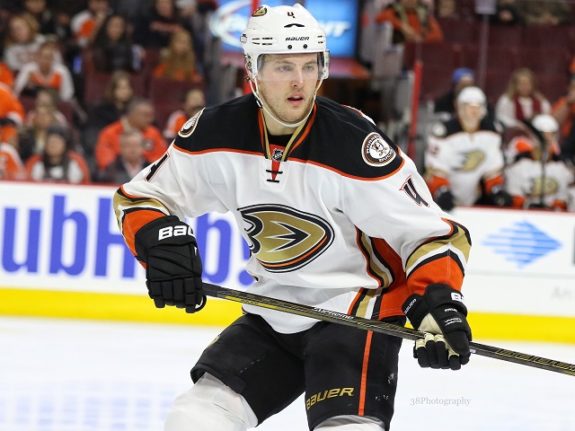 A preternaturally gifted skater with good skill and high hockey IQ, Fowler has been one of the few constants on a roster that seems to be in some state of flux at all times. Entering the third year of an 8-year $52 million deal that should see him in Anaheim through his age 34 season, meaning as of this moment Fowler is the most likely candidate to be the second Duck to reach a thousand games. A lot can happen between 700 and 1000, but for now, barring a Perry reunion, he has the best chance of anyone to get there.
Teemu Selanne, 1995 – 2001 / 2005 – 2014
966 GP, 457 G, 531 A, 471 PIM
The Ducks' all-time leader in both goals and points, and second in assists, the one they called the Finnish Flash played in just shy of a thousand games in an Anaheim sweater. Acquired in a franchise-altering trade from the Winnipeg Jets in early 1995, Selanne had two separate stints in Southern California. One of the most electric and exciting players in the league at his best, he combined with Kariya to form one of hockey's most entertaining duos. They found limited postseason success, however, and failed to advance beyond the conference quarterfinals.
Selanne played the prodigal son and returned to Anaheim after the 2004-05 season was lost to a lockout. At age 35, he scored 40 goals and 50 assists in 80 games, only to surpass that the following season with 48 goals, 46 assists, and a Stanley Cup. He stayed with the Ducks through his final season in 2013-14 at age 43, announcing his last season with a cheeky, over-the-top video that highlighted a sense of humor Ducks fans had come to know well.
When all was said and done, Selanne scored 457 goals and 531 assists in 966 games played, won both the Masterton and the Rocket Richard and made three postseason All-Star teams. None of which truly gets to the heart of how beloved a figure the Finnish phenom became in the eyes of Orange County residents.
Corey Perry, 2006 – 2019
988 GP, 372 G, 404 A, 1110 PIM
The fact that Perry is still active but not a member of the Ducks franchise is a tough pill to swallow for a significant portion of the Anaheim fanbase. For almost a decade and a half, Corey Perry was a staple in the Anaheim lineup and dressing room. Second in goals, and third in assists and points, at his peak "Worm" was as prolific a goal scorer as there was in the league. His 36 goals and 53 assists in 119 postseason games is a further testament to the prolonged success that Anaheim experienced with him on the roster.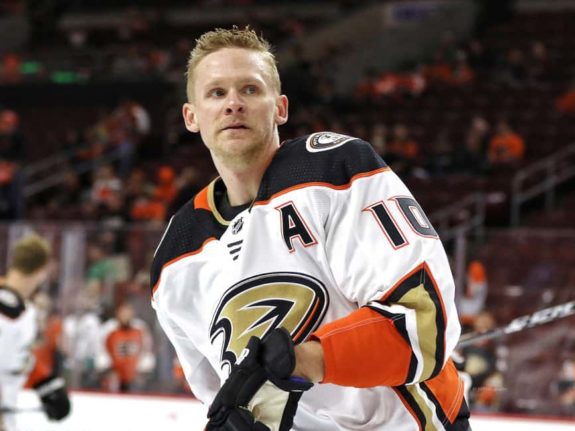 Known for suffering from a curious ailment that saw his balance diminished anytime he stood in blue paint, Perry made a name for himself around the league for his charming and lovable demeanor, as well as his offense. The only player in franchise history to win the Hart Trophy, his tenure in Anaheim came to a less-than-ceremonious end in the 2019 offseason.
After a significant drop in production, he failed to reach 20 goals in his final three seasons with the team, he was bought out by the front office to free up both cap room and a roster spot. A move that was largely maligned by fans, Perry left Anaheim just twelve games short of a thousand.
Ryan Getzlaf, 2006 – Current
1053 GP, 274 G, 691 A, 888 PIM
The all-time leader in games played and assists, second in points, power-play points, and penalty minutes, and fourth all-time in goals, Getzlaf has played in over fifty percent of all Ducks games ever. The big-bodied playmaker was a key contributor to the Ducks 2007 Stanley Cup-winning squad, leading the team in postseason points at the age of 21 and with three future Hall of Famers on the team to boot.
As captain, he has presided over the most successful era in franchise history, including five straight division titles and two western conference finals appearances. Along with Perry, Getzlaf went on to define what it meant to play Ducks' hockey for over a decade, much in the same way that Selanne and Kariya had done before them.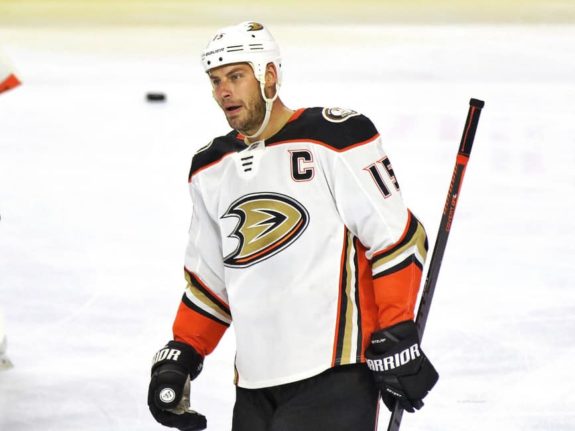 Despite having yet to win a Stanley Cup as team captain, and never receiving any individual awards, Getzlaf is one of, if not outright, the greatest players in franchise history. The closest he came to an individual award was in 2013-14 when he scored 87 points and be named a second-team postseason All-Star, coming second in Hart Trophy voting behind Sidney Crosby.
With his tenure in Anaheim yet to come to an end, and the opportunity to catch Selanne in points while extending his lead in games played, Getzlaf's place in Ducks' history is firmly fixed. A Mount Rushmore level talent and the only player to reach the thousand game mark, Getzlaf is as synonymous with the Ducks as Kariya and Selanne were.
Baker's Dozen
As you may have noticed, this list doesn't include any goaltenders, which given that goalies never play all 82 games in a season isn't entirely unreasonable. However, one would think that over the course of 26 seasons and 2055 games, someone would do it. Well, unfortunately, that is not the case.
In fact, only two goalies have come close. Guy Hebert played 441 games for the Mighty Ducks of Anaheim from 1994 to 2001. He recorded 173 wins, 202 losses, a .911 save percentage (SV%), and a 2.73 goals-against average (GAA) in that span. But Hebert is not the all-time leader in games played for Anaheim goaltenders, that honor belongs to Jean-Sebastian Giguere.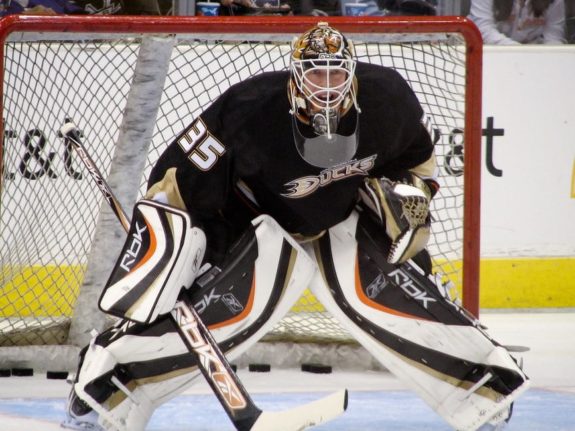 Between 2001 and 2010 "Giggy" played 447 games for the Ducks. He posted a .914 SV% and 2.47 GAA, collecting 206 wins and 163 losses along the way. He backstopped the Ducks to an improbable birth in the 2003 Stanley Cup Finals and was rewarded with the Conn Smythe despite ultimately losing the series to New Jersey.
He was also the goalie for the Ducks' Stanley Cup-winning 2006-07 season, going 36-10-8 for the season with a .918 SV% and 2.26 GAA. No other goalie has managed to reach, let alone exceed, 400 games in an Anaheim sweater. In fact, current undisputed starter John Gibson has yet to even reach 300.
A Little Bit of Everything
Throughout Anaheim's history, it has managed to ice 368 skaters and 32 goalies for at least one game. Of those 400 players, less than half (196) have managed to make 50 appearances. When you consider that an NHL roster has 23 players and a number of players shuttle up and down from the NHL to the minors, let alone in and out of the lineup on a nightly basis, that number seems a bit low. Hard not to find it surprising that less than 200 players have managed to stick around long enough to play 50 games for the team.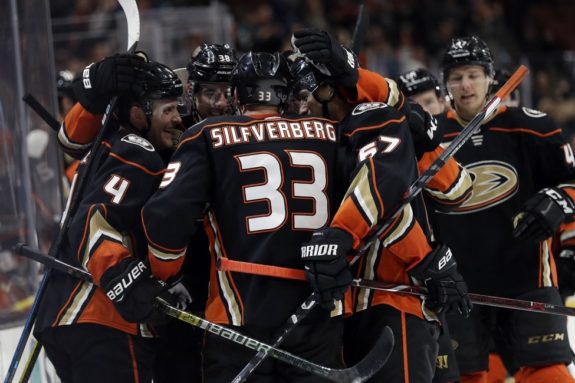 Yet, if you move that games played threshold up to 500, you wind up reducing that number all the way down to 12. A dozen players in Anaheim's history have managed to reach that milestone. Some of those players have long since retired, some of them have moved on to different teams, and less than a handful are still on the team and hoping to add to their already impressive total. Those players run the gamut from role players to superstars, dynamic goal scorers, and shutdown specialists alike.
Some were around when the team was in its infancy and struggling to establish itself, while others have been driving forces behind some of the franchise's best and most successful teams. All in all, this collection of players from both the team's past and present does a really good job of providing a snapshot into the past two and half decades of Anaheim Ducks hockey.
---
---