The Vancouver Canucks had a pretty successful 2019-20 season. The team made the playoffs for the first time since the 2015 season, they beat the Minnesota Wild in four games in the play-in round, eliminated the 2019 Stanley Cup champion St. Louis Blues in six games, and forced a Game 7 against the Vegas Golden Knights.
Related: Top 3 Canucks Defensemen of All-Time
General manager Jim Benning was active from the 2019 NHL Draft until the trade deadline in the regular season. He traded for J.T. Miller at the draft and for Tyler Toffoli at the trade deadline. Benning signed Tyler Myers, Jordie Benn, Micheal Ferland and Oscar Fantenberg during free agency. It is now an appropriate time to evaluate all of their seasons with the Canucks. 
J.T. Miller
The Canucks acquired Miller from the Tampa Bay Lightning for Marek Mazanec, a 2019 third-round draft pick and a 2020 conditional selection. The 2020 conditional pick is now a 20th overall pick and belongs to the New Jersey Devils, who acquired it in a trade for Blake Coleman. Miller had 13 goals and 47 points in 75 games in the 2018-19 season with the Lightning. 
In his first season with the Canucks, Miller was impressive as he led the team with 72 points and tied Elias Pettersson to lead the team with 27 goals. His 27 goals and 72 points in 69 games were both career-highs for Miller in his breakout season. In the playoffs, he continued to play at the same level as he tied Pettersson for the team lead in points with 18. The 27-year-old Miller pitched in six goals through 17 playoff games. 
He was a great leader to the young players on and off the ice. All in all, the Miller trade was a home run for Benning as he acquired a top-line winger who fits in perfectly with his team's young core. 
He has all the attributes of a great hockey player. He's a veteran guy, so he kind of has taken us under his wing. He plays the right way."

Brock Boeser on his new teammate.
Tyler Toffoli
A week before the trade deadline, the Canucks traded for Toffoli. They acquired him from the Los Angeles Kings for Tim Schaller, a second-round pick, forward prospect Tyler Madden and an additional fourth-round pick in 2022 if Toffoli re-signs with Vancouver.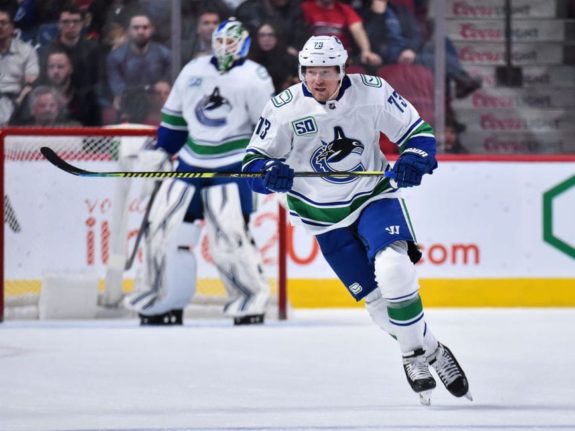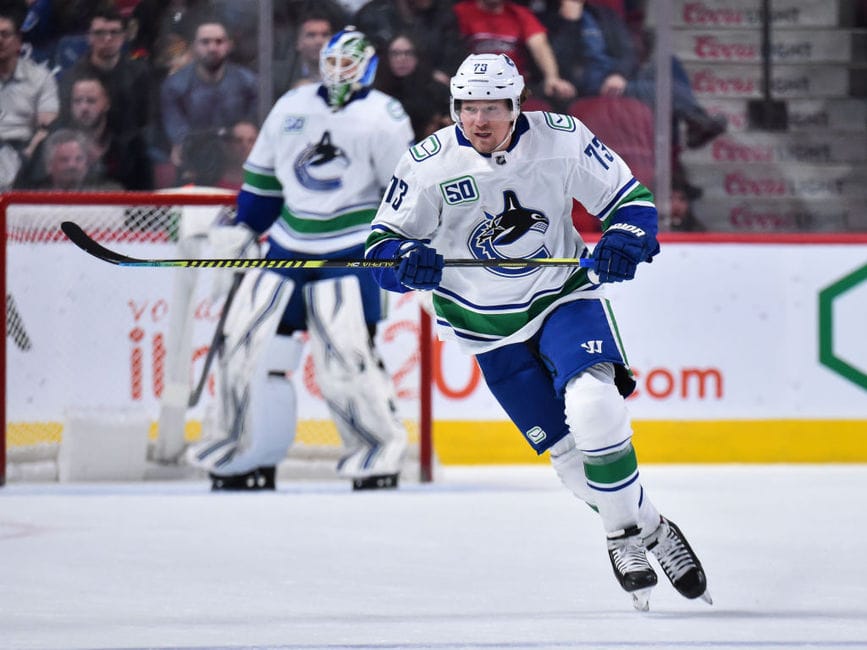 Before joining the Canucks, Toffoli had 18 goals and 34 points in 58 games with the Kings. He made his impact on the Canucks immediately, scoring six goals and 10 points in 10 games with the team. He was unable to continue his regular-season success in the playoffs since he suffered a reported high-ankle sprain in Game 1 of the play-in round against the Wild. Toffoli did not return until Game 2 in the second round. 
Toffoli posted two goals and four points in seven playoff games, even though he returned earlier than expected. Benning stated the 27-year-old returned twice as fast than he should have. He also played a veteran role in helping the team force a Game 7 against the Golden Knights after going down 3-1. It is difficult to assess whether the Toffoli trade was a success for the Canucks since he is a free agent this offseason. The trade will be a success if he re-signs with the club and produces as a top-six forward.
Tyler Myers
The Canucks added Myers to their blue line through free agency last offseason, signing the defender to a five-year deal with a $6 million cap hit. He posted 114 points in 270 games over his five seasons with the Winnipeg Jets. In his first season with the Canucks, he posted six goals and 21 points in 68 games. Next season, instead of playing him with Fantenberg, he may benefit from playing with a defensive defenceman, which allows Myers to excel offensively.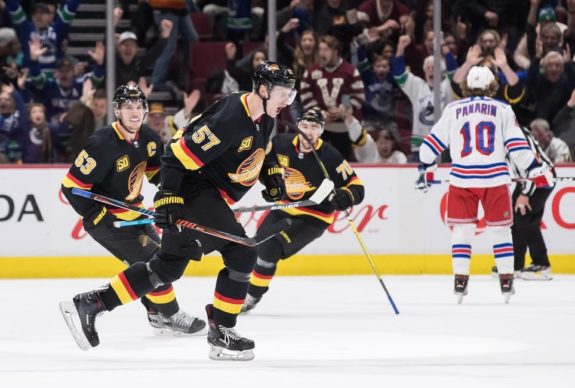 Myers' $6 million cap hit is a problem for the club. For example, had the Canucks not signed Myers, their cap issues would not have been as big of an issue. The Canucks have 11 free agents with $14 million in cap space, including Jacob Markstrom, Chris Tanev and recently acquired Toffoli. 
Also, they would have had an opportunity to sign Alex Pietrangelo. Although he would come with a cap hit above $8 million per season, he has been an elite defenceman for some time and is worth it. Without Myers, the Canucks' right side on their blueline could've included Pietrangelo, either Tanev or Troy Stecher and prospect Brogan Rafferty.
Micheal Ferland
Benning signed Ferland to a four-year deal with a $3.5 million cap hit. He had 17 goals and 40 points in 71 games with the Carolina Hurricanes last season. His first season with the Canucks was derailed by injuries. He played 14 games this season, which resulted in him registering five points. Ferland played four shifts in Game 2 of the play-in round before leaving the game and later leaving the Edmonton bubble.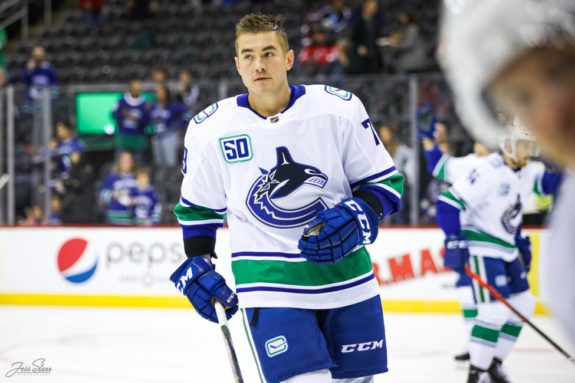 Ferland still has three seasons remaining on his contract, but if he continues to suffer from injuries, the Canucks may have to buy him out. Canucks' fans were excited to see the forward join the team due to his performance from the 2015 Stanley Cup playoff series when he played with the Calgary Flames. Ferland made an impact as he played an aggressive style and finished his checks, which created momentum for the Flames in that series. 
Related: One for the Ages – Charlies Hodge's 1970-71 NHL Season
The Canucks are unable to buy out Ferland this offseason due to his current injuries, so they will have to keep him on their roster and hope for the best with him and his health. 
Jordie Benn
The Canucks signed Victoria B.C. native, Jordie Benn for two years at an average annual value of $2 million per season. Benn came off a season where he ranked third among Montreal Canadiens' defenceman in points with 22 points in 81 games. Benning hoped the defender would bring leadership to the club.
"Jordie is an experienced defenceman who brings leadership and versatility to our team. His steady presence will be an example and support to our young players."

Jim Benning
Benn didn't live up to expectations during the season as he played his way out of the lineup. He was a healthy scratch in 25 of the Canucks' final 32 games. In the playoffs, Benn played his best hockey and got an opportunity to show off his versatility as he played on the right side as a left-handed defender. With Rafferty potentially joining the main roster next season, he may be the odd man out, which makes him a good trade piece this offseason.
Oscar Fantenberg 
The Canucks signed Fantenberg to a one year deal at $850,000 to add depth to their blueline. He split the 2018-19 season between the Kings and the Flames, and he posted four points in 61 games between the two teams. He only played 36 games with the Canucks but became a regular on the third pairing after his first game on Dec. 1. Due to Fantenberg's lack of defensive ability, he struggled to support his offensive mindset partner, Myers (from 'Patrick Johnston: Canucks' defensive approach was fun but still leaned too much on goaltending,' The Province, 09/16/2020).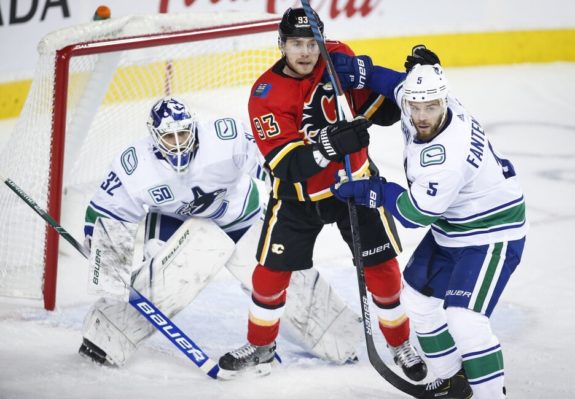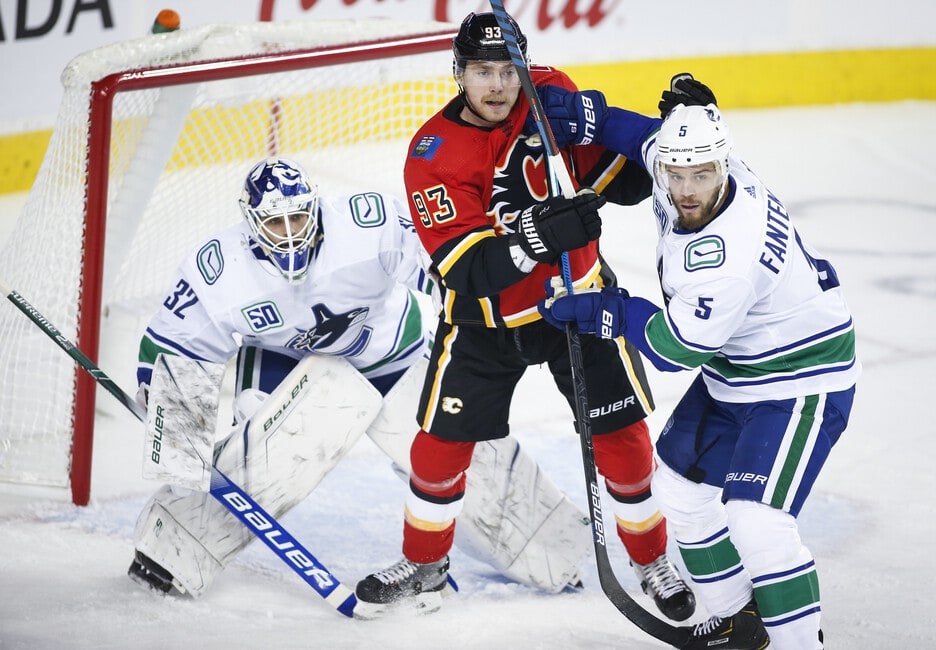 Fantenberg is not a high priority for the Canucks heading into the offseason. If he re-signs, he will likely spend next season as the seventh defenceman, or lower with the likes of Olli Juolevi and potentially Jack Rathbone having a shot at the main roster. 
Benning's Transactions Are Improving
Aside from Benning overpaying for Myers and potentially Toffoli, he did a good job of improving the club. The Canucks improved, winning 35 out of 82 games in 2018-19 to 36 wins in 69 games in 2019-20. Benning improved in making trades and signings over the last year, but he will have to be better this offseason. Expectations for the club are the highest they've been since the general manager joined the team. He is already looking to make a big deal by acquiring Oliver Ekman-Larsson but has to be careful and not overpay for the defenceman. 
---
---