By this time in any other year, we'd be watching our favourite NHL teams while predicting which player breaks out, who wins the Hart Trophy, and which team will run away with the Presidents' Trophy.
Instead, here we are in mid-October wondering exactly when the 2020-21 NHL season will begin.
So while we wait, let's have some fun by predicting three hot takes that could happen if the stars align for these Vancouver Canucks players and coaches during the 2020-21 NHL season.
Comeback Season for Sven Baertschi
At this point, predicting that Sven Baertschi has a comeback season is like predicting rain in Vancouver. Yes, it's an eye-rolling expectation, but hear me out. 
What makes this season different is that Baertschi enters the final year of his three-year contract with the Canucks, who after striking out on re-signing Tyler Toffoli, need his services now more than ever. With a top-six role available, Baertschi has an opportunity to replace Toffoli on the left side of Elias Pettersson and finally make good on that three-year, $10.1 million contract.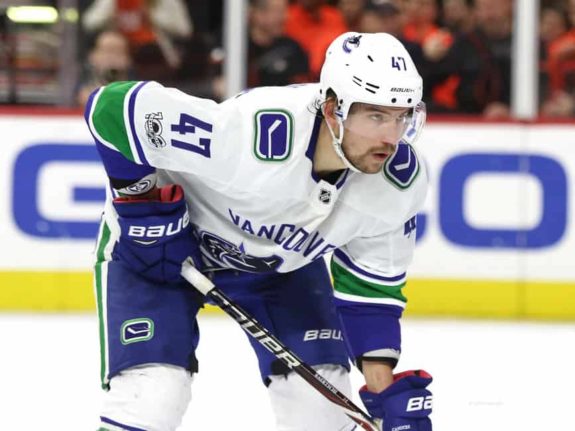 When the contract was signed, Baertschi and the Canucks had high expectations. But since then, Baertschi has battled injuries, cleared waivers to split time between the Canucks and their AHL affiliate, Utica Comets, and requested a trade, which Canucks general manager Jim Benning reportedly worked on for 10 weeks without being able to make a deal. (from 'Canucks GM Benning confirms team looking to trade Sven Baertschi,' The Province, 12/14/2019) 
In all honesty, it makes you feel for Baertschi and if the unwanted one wants to change his environment, he has no one left to bet on but himself, which he did last season playing in the AHL.
After being waived by the Canucks in December 2019, Baertschi was impressive during a shortened season with the Utica Comets. In 43 games he scored 46 points and showed his durability by suiting up consistently and performing in a league regarded for a more physical style of play. 
But dominating the AHL isn't where he wants to be. During a phone interview with TSN 1040.ca, Baertschi stated that although the AHL energized him, his focus is on returning to the NHL.
"I don't want to be back in the minors," said Baertschi. "That's where I've set my goal at. It's up to them (Canucks management) really what they're going to do next. That's their job and that's what they do. I'm just going to work my a** off going forward making sure I'm ready to go to whatever camp I'm going to. I have no plans of going back to Switzerland or to Europe; I think personally I can play on any team in the National Hockey League. I can do it. I can just focus on myself and making sure I'm ready for another year. I think I've proved to everybody that was worried before. I'm a hundred percent healthy, my games going well and I'm preparing for whatever is next."
Baertschi's motivation to return to the NHL should coincide with Benning shopping at the trade deadline, and I can't help but imagine this breaking down like a mafia movie… I envision Baertschi entering a dimly lit office where he or Jim Benning says to each other, "Look, I don't like you and you don't like me, but if we work together, we can both win."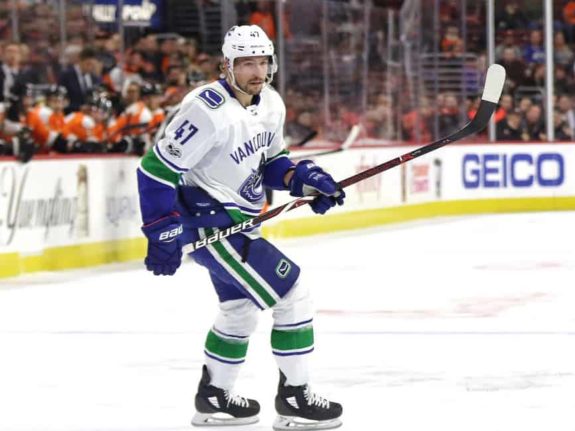 Jokes aside, if the man labelled "Swiss Can't-Miss" can continue his AHL scoring pace and turn his animosity into a fuel that earns him a role next to Swedish superstar Pettersson, and his linemate Brock Boeser, I think that Baertschi and the blondes could be electric. 
Suddenly, I don't feel as bad for Baertschi as I do for those opposing goaltenders — facing a guy in a contract year with a chip on his shoulder next to the Canucks' top-talent sounds like a recipe for restless nights.
The Hart Trophy is Awarded to an Alien
Can the cosmic skill of Pettersson, who's entering the third year of his NHL career, shine brighter?
Nicknamed an "Alien" by his peers, Pettersson's skills are out of this world, and I fully expect the star to dance crop circles around his opponents this season and for the Professional Hockey Writers' Association to turn their telescopes towards Vancouver.
To make that happen, Pettersson will need the talents of those who dubbed him an Alien to takeoff alongside him. If Boeser, Quinn Hughes, Bo Horvat and the aforementioned, Baertschi can improve, then the Canucks will skyrocket to the top of the Pacific Division.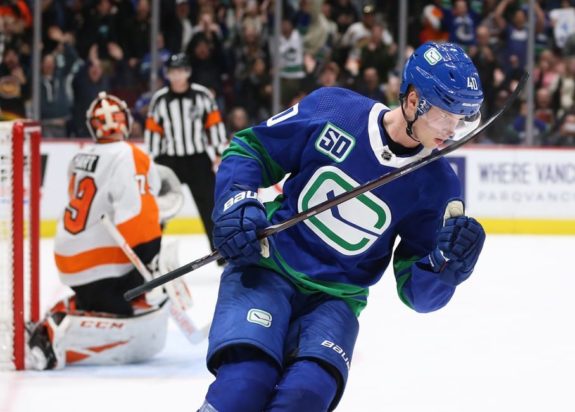 The basis for this high praise stems from an incredible 16 game performance in the 2020 NHL Playoffs where Pettersson scored seven goals and had 11 assists. But what is more indicative of him being able to improve, is that he chose to stay in Vancouver this offseason to improve upon his otherworldly skill.
Of course, travel is an issue this year and players are normally back in their host cities by autumn gearing up for the next season anyway, but the maturity to stay put, get on-ice training along with additional weightlifting and dietary assistance with his trainers, shows that the 21-year-old who is already an offensive dynamo with elite awareness and vision, is putting in the work to improve. 
A perfect example of this is when he was called upon to take the draw last season. During the 2019-20 regularseason, Pettersson won 27 of 63 draws, earning him a faceoff percentage of 42.9%. In the playoffs, he took that winning percentage up to 65.7% by winning 23 of 35 crucial postseason possession opportunities.
With an improvement at the draw, look for his elevated supporting talents to create more scoring opportunities and power-play shifts that will help him surpass his career-best points total of 66 —  a total he has achieved in back-back-seasons while playing under 82 games.  
If this improvement continues and he can stay healthy, it's realistic to predict that the Alien can reach the 90-point plateau.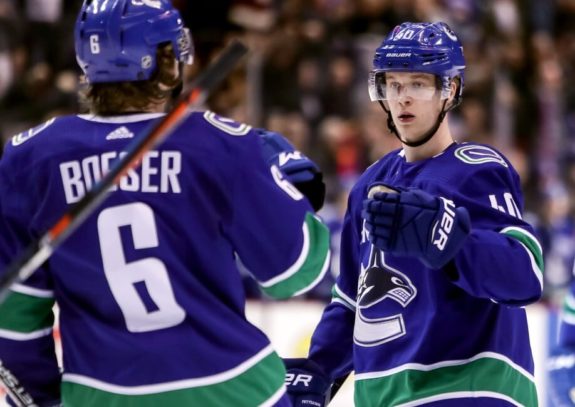 By comparison, last season's Hart Trophy winner, Leon Draisaitl, scored 110 points in 71 games and the finalists alongside him were the stickhandling wizard Nathan MacKinnon (93 points), and the Breadman, Artemi Panarin (95). Therefore, if Pettersson was able to surpass 90 points and lead the Canucks to the top of their division, he is a rock-solid bet to be considered one of the most valuable players in the league.
In two years, Pettersson has shown us that he never backs down, and by the time the Hart Trophy is awarded, the 22-year-old, third-year pro will be the recipient — not far off from the youngest players to win the award.
Canucks Win the Presidents' Trophy
Pour yourself a glass of milk, this one's spicy! 
If the previous two hot take predictions above come into fruition, along with one more improvement, I think the Canucks can be the best team in the league. But this is not just about players improving, it is about goaltending coach Ian Clark progressing, too.
Clark, who was a member of the Vancouver Canucks coaching staff between 2002-10 returned in 2018 when Trevor Linden announced that Clark would return to his hometown as the goaltending coach.
"I'm excited about the changes we've made to our Hockey Operations staff," said Linden. "We emphasize forward-thinking in every area of our team and when you combine the talent and experience of this group with that progressive mindset, we're optimistic about the future."  
With Clark, that future has been excellent and it is exciting to think about the possibilities that come with the newly acquired Braden Holtby.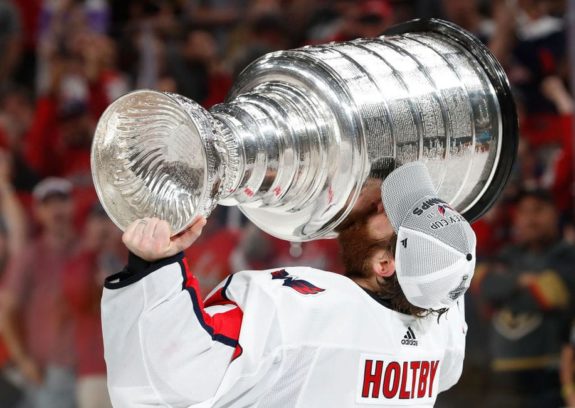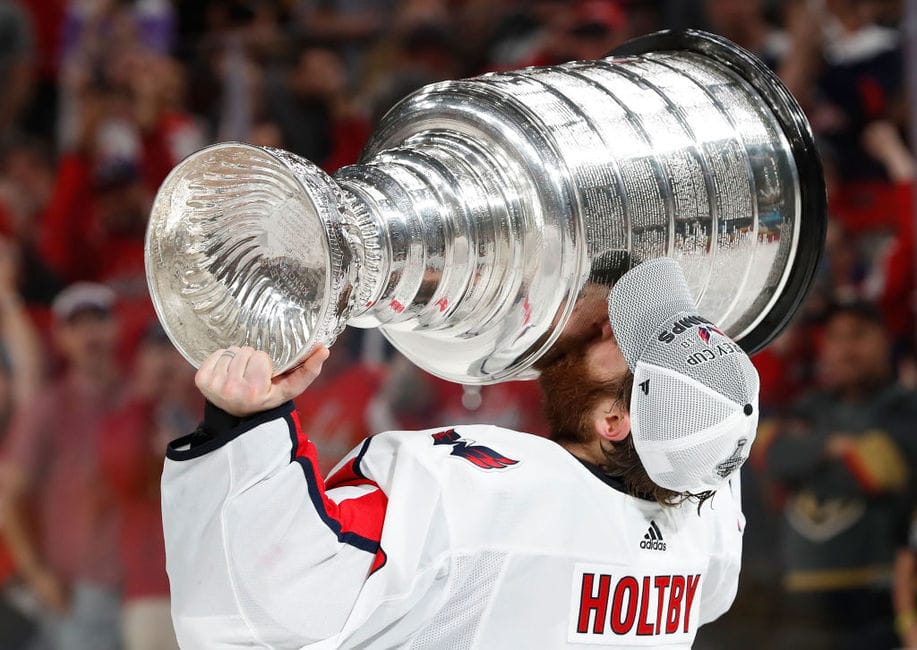 For the Canucks to win the Presidents' Trophy, they need wins. And with a former Vezina Trophy-winner and former Stanley Cup champion paired with a young star in the making, Thatcher Demko, Clark has what he needs to make up for the loss of Jacob Markstrom.
This offseason, the team lost a few key players including the man they called "Dad," and Clark's former mould, Markstrom, who relocated to Calgary on a well-deserved six-year contract worth $36 million. But many may have forgotten that before Clark was in the picture, Markstrom once cleared waivers. 
Markstrom is a part of a shortlist of Canucks goaltenders, who over the last few seasons have worked with Clark. Some of them, Eddie Lack and Anders Nilsson have shown promise, but not been able to replicate the success they had with Clark elsewhere. This includes Sergei Bobrovsky of the Columbus Blue Jackets who won a Vezina under Clark's tutelage and is currently struggling without him in Florida. 
Imagine that Clark can elevate Holtby while crafting Demko into a franchise starter. Now pair that with Baertschi proving his worth and Pettersson winning the Hart Trophy and the Canucks, who still need to make a few more key offseason additions have the pieces to push for the Presidents' Trophy. 
---
---