Welcome to the Vancouver Canucks 2022-23 report card series. In this series, we at The Hockey Writers look back at each Canucks player from the past season, break down how their campaign went and assign a letter grade reflective of their overall performance. This edition will focus on center Dakota Joshua.
Joshua's Career Season
Signed as a free agent to a two-year, $825,000 average annual value contract in the offseason, Joshua was brought in to add some size and toughness to the bottom six. While he had only played 42 NHL games before arriving in Vancouver, he impressed the Canucks management staff after posting 15 points and 58 penalty minutes in 18 games as a member of the Springfield Thunderbirds during the 2021-22 American Hockey League (AHL) postseason. A player who showed up in big games, he recorded a goal in each game. He finished tied for third on the team in points as they made it all the way to the Calder Cup Final.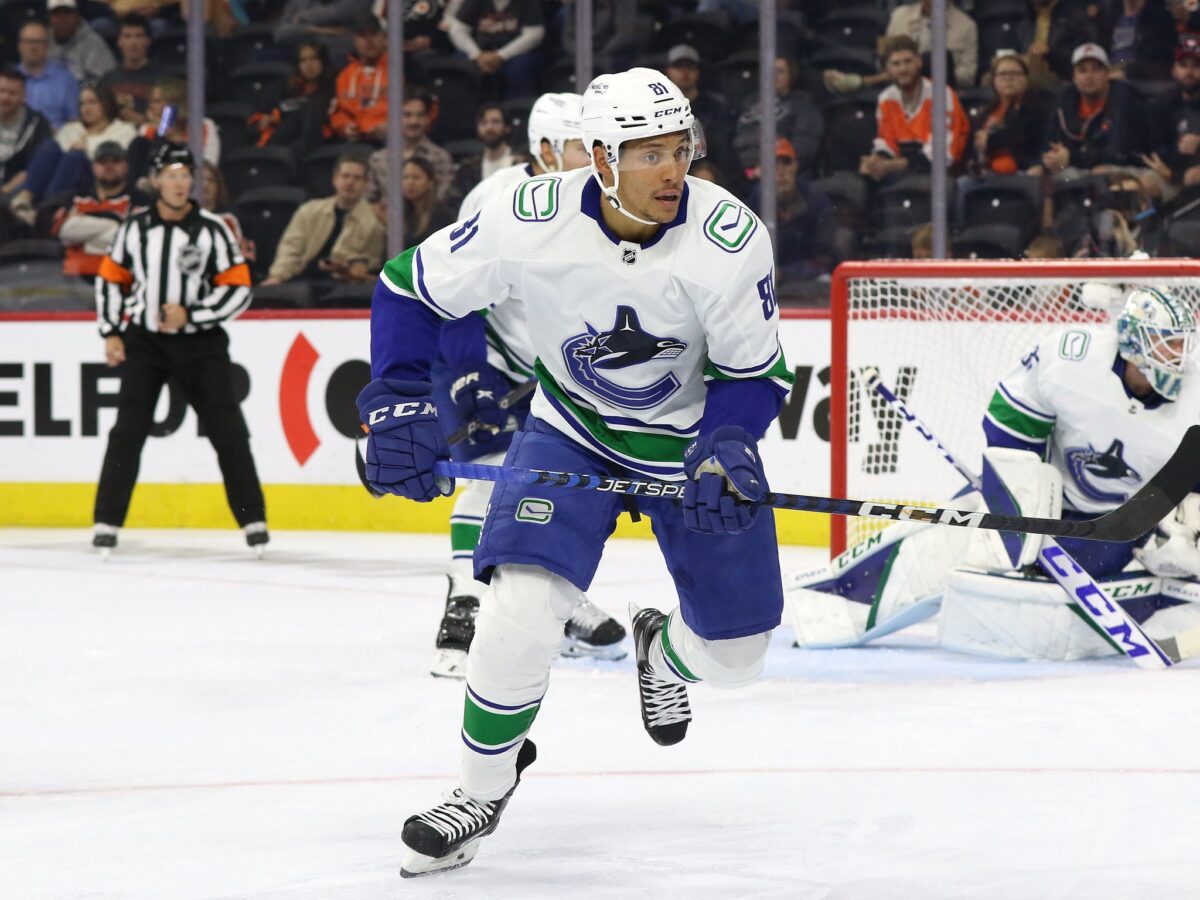 After a strong training camp and preseason, Joshua won a spot on the Canucks main roster and became a mainstay playing a career-high 79 games. During that time, he set career highs in goals (11), assists (12), and points (23). Despite being a center, he played mostly on the wing but did well when called upon to win faceoffs posting a 53.5 win percentage on 43 attempts. He also finished the season with 222 hits which ranked 12th across the league among forwards playing on average 11:31 per night. Overall, he did exactly what Vancouver asked him to do and more as he provided depth scoring, had a physical presence on the ice and was the winner of the Fred J. Hume Award, voted on by the fans and given to the team's unsung hero at the end of the season.
Joshua's Play At Even Strength
Just like many Canucks this season, Joshua's even-strength play needs to improve next season. He finished the season with a 43.81% Corsi and an expected goals against of 36.5 compared to an expected goals for of 31.44. The Canucks also gave up more shots than they produced, more goals than they scored, and allowed more high-danger chances against than they created with him on the ice. While it is not uncommon for bottom-six forwards, especially on poor defensive teams, to have analytics like this, the hope is he can work on his defensive game this offseason so that he can become more productive at even strength next season.
Related: Canucks' Offseason Additions Mid-Season Report
---
Latest News & Highlights
---
One piece of good news when diving into Joshua's even-strength statistics is he helped keep some of the NHL's best off the scoresheet. In 13:13 of ice time against Nathan MacKinnon, not only did he help keep the Colorado Avalanche star off the scoresheet, the Canucks outshot Colorado 7-6 while limiting him to just two high-danger chances. A similar trend can be seen when Vancouver faced off against the Edmonton Oilers. In 6:31 of ice time against Connor McDavid, he held this year's Art Ross Trophy winner to zero goals, three shots and just two high-danger chances. While these ice times are low, it does show that he has the ability to help shut down some of the leagues' top scorers, which is, hopefully, something he can build on in 2023-24.
Joshua's Special Teams Play
This season, Joshua was given time on the power play and penalty kill. Starting off with the power play, he played 9:24 and scored his first career goal with the man advantage on Dec. 7, 2022, against the San Jose Sharks. He also registered two shots and was credited with two high danger chances created. When on the ice, he mostly played as a net-front presence who was in charge of screening the goalie and collecting the puck down low on rebounds or missed shots. He did his job and could see more ice time next season on the second unit.
Joshua spent most of his time on special teams on the penalty kill, logging 77:32 while shorthanded. During that time, the Canucks gave up 12 goals on 63 shots which equals out to 9.29 goals against per 60 minutes of play. He also scored his first-ever shorthanded goal, which came on March 25, 2023, against the Dallas Stars. A positive going into next season is that it is clear head coach Rick Tocchet likes him on the penalty kill, as 59:59 of his ice time came after the coaching change. Expect him to get plenty of usage while shorthanded next season, as the coach clearly trusts him in a penalty-killing role.
Final Grade For Dakota Joshua: B
The 2022-23 season should be classified as a success for Joshua as he proved to the Canucks that he can play consistently in the bottom six and can capitalize when given opportunities, as evidenced by his double-digit goals this season. He is also a cheap winger that provides value which this organization is desperate for. He has been a good find for the Canucks and has the potential to build on what was a successful 2022-23 campaign in what will be a contract year for him in 2023-24.
Analytics Provide By Natural Stat Trick
---
---