Welcome to the Vancouver Canucks 2022-23 report card series. In this series, we at The Hockey Writers look back at each Canucks player from the past season, break down how their campaign went and assign a letter grade reflective of their overall performance. This edition will focus on center J.T. Miller.
Miller's Disappointing First Half
After leading the Canucks in scoring with 99 points during the 2021-22 season and signing a massive seven-year, $56 million extension in the offseason, expectations were high for Miller coming into the 2022-23 campaign. Not only was he expected to be a foundational piece on the ice, but a leader as he was once again given an "A" to start the season. Unfortunately, he wasn't able to deliver on either front as lazy habits started to once again creep into his game, whether it was on backchecks or in his own zone. There was even an on-ice argument with Luke Schenn that was shown live on Hockey Night in Canada against the Buffalo Sabres after he turned over the puck late in the period, which led to a scoring chance. Just like Vancouver, he was struggling to return to his 2021-22 form and, despite putting up points on the power play, was a liability on the ice.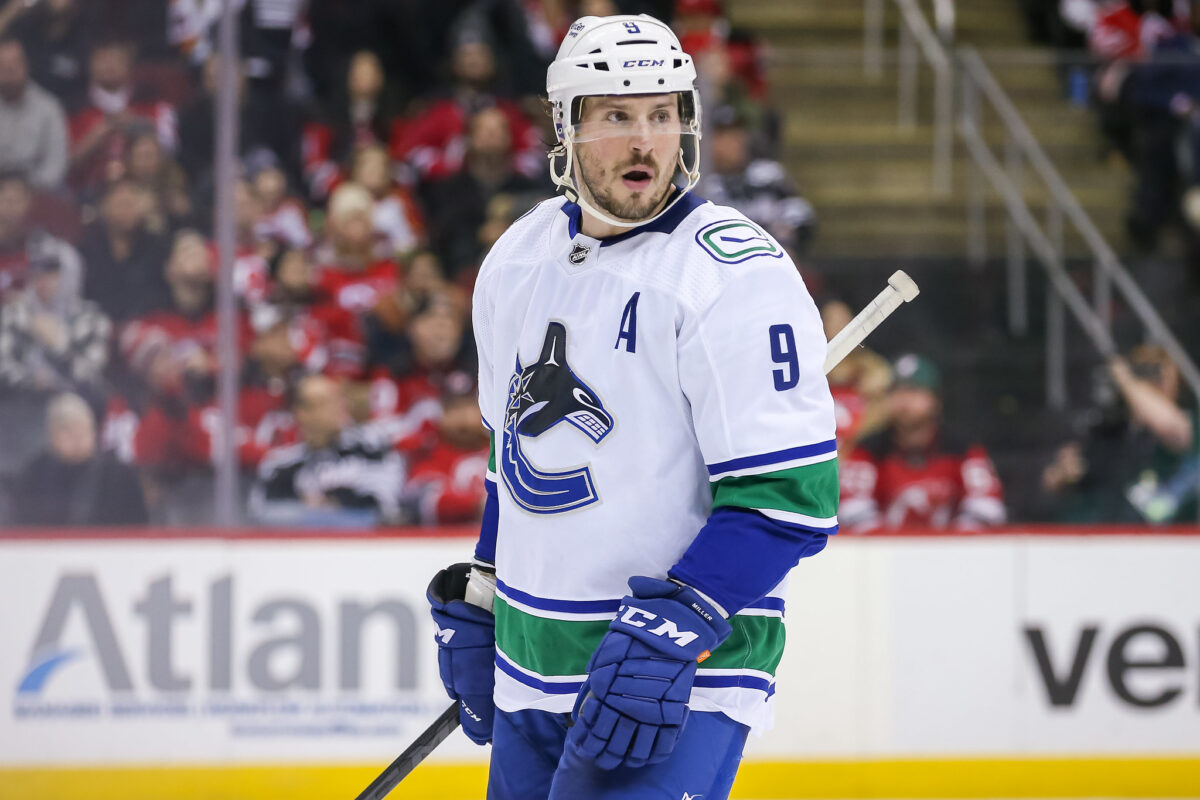 The Schenn incident wasn't the only significant altercation with a teammate before the calendar flipped to 2023. In late December, Miller was screaming and then slammed his stick on the back of Collin Delia's goal, indicating that he should leave the ice for the extra attacker. While then-coach Bruce Boudreau tried to play down the incident after the game, it showed a level of disrespect toward the goaltender, who was playing in just his third game with the Canucks. Later, he would make things worse during an interview with Sportsnet stating that he didn't care what others outside the locker room thought of the incident. This once again left a sour taste in Canucks fans' mouths as not only was he not living up to expectations on the ice, but essentially told the fan base that their opinion didn't matter when it came to how they expected the team to act and perform on and off the ice.
Related: Canucks Need to Take the "A" Away From Miller
---
Latest News & Highlights
---
By the time Boudreau was fired, Miller had played 46 games and recorded 41 points. He also had a plus/minus of minus-16, which was second-worst on the team, ranked first with 32 giveaways, while his 21 even strength points were tied for sixth on the team. He also had the third-highest expected goals against per 60 (xGA60) at even strength, trailing only Jack Rathbone and Tanner Pearson, who both had played under 15 games, while his 19 goals against on the penalty kill were tied for second most on the team. Based on these statistics and analytics, it is clear why there was plenty of concern among Canucks Nation, especially considering the long-term extension had not even kicked in yet.
Arrival of Tocchet Helps Miller
Once Rick Tocchet arrived in Vancouver, the attitude and on-ice play of Miller changed. Over the final 35 games, he started to become the player Canucks management envisioned when they extended him in the offseason. He once again posted 41 points, but this time in 35 games, with nine of those points coming on the penalty kill. He also saw a decrease in goals allowed on the penalty kill from 19 to 14 despite playing just under five minutes more total, while his xGA60 at even strength dropped from 3.47 down to 3.24. Overall, it looked as though he was buying into the new system that the new coaching staff put in, which is a good sign knowing that Vancouver signed their new head coach for the next two seasons.
While he had a good end to the season, it is important to note that the Canucks did have an easy schedule over the final 36 games of the season, with 19 or 53% of them coming against non-playoff teams. Of the 35 games Miller played, here is a look at how his point totals were divided between playoff and non-playoff teams.
| | |
| --- | --- |
| Non-Playoff Teams | Playoff Teams |
| 19 Games – 9 Goals, 17 Assists, 26 Points | 16 Games – 5 Goals, 10 Assists, 15 Points |
While it is nice that Miller posted a 1.37 points per game against non-playoff teams, his .94 points per game against playoff teams is concerning. In the postseason, players don't get the benefit of playing teams near the bottom of the standings, so producing strong performances against the top teams in the league is crucial. For the amount of ice time he is getting, he needs to be consistent and play at the same level regardless of the level of competition he faces.
Constant Trade Discussion
Despite signing a contract extension that includes a no-move clause, there were rumours as the trade deadline got closer that the Canucks were looking to move Miller. According to reports, the Pittsburgh Penguins were in discussion with Vancouver, and while the deal never materialized, the Canucks were asking for multiple assets for the former 99-point player. General manager Patrik Allvin has stated since that Vancouver never received a trade offer from the Penguins, so it is possible the two teams may have had discussions, but never progressed to discussing what a deal would look like.
Related: Canucks 2022-23 Trade Wins & Losses
If the Canucks are serious about moving Miller, they have until July 1, 2023, as that is when his no-move clause kicks in. They could see if Pittsburgh is still interested, but it is important to note that they will have a brand new management team as the Penguins made massive changes after missing the postseason. There may also be other teams interested due to the weaker-than-usual free agent class and the fact that he has a fixed cost for the next seven seasons. Regardless of whether or not he is traded, the results will have massive implications on this franchise for the next decade and one Vancouver cannot afford to make a mistake on.
Final Grade for J.T. Miller: C+
Based on the entire season, a fair grade for Miller would be a C+. While he finished the season over a point per game, his play and behaviour through the first half of the season were major factors in why the Canucks missed the postseason. If he is back with Vancouver next season, he needs to be productive for the entire 82-game schedule, not against select opponents only when the Canucks are already eliminated from postseason contention.
Analytics Provided By: Natural Stat Trick
---
---