When you think of the Edmonton Oilers, you think of their high-octane offence led by their dynamic duo of Connor McDavid and Leon Draisaitl, and why wouldn't you? When those two players are at the top of their game, they're head and shoulders above the rest. Because of that, the less fancy role players on the team won't necessarily receive the glory, but as we saw in these playoffs, a team cannot solely rely on a couple of players, because it takes a whole group that executes their roles, in order to win.
On that note, Oilers' forward Derek Ryan is a player I immediately think of that won't dazzle you with dekes, but is smart with the puck defensively, and someone who can chip in offensively from time to time. Edmonton was eliminated from the Stanley Cup Playoffs at the hands of the Vegas Golden Knights, but throughout the postseason, I was enamoured with his intelligent puck management and more specifically, whenever there was a big shot from the opposition and when the puck would bounce out for a rebound, I often caught myself saying right after, "Of course – it's Derek Ryan again scooping up the loose puck and skating it out of danger."
Related: Oilers' Offseason Moves: Insiders Agree That Fewer Is Better
---
Latest News & Highlights
---
The 36-year-old is in the latter half of his career, and he said in a recent interview that he's comfortable in Edmonton and emphasized his desire to finish his career in Oil Country. If the team can work out a team-friendly contract, it would be a wise move to seriously consider bringing him back into the fold for next season. 
Ryan Was Candid That He Wants to Finish His Career as an Oiler
Before playing with the Oilers, Ryan had ties to Edmonton, having previously played for the University of Alberta Golden Bears for four seasons. His first shot at the NHL was with the Carolina Hurricanes during the 2015-16 season. He played with their organization for three seasons and fun fact, he assisted on now teammate Warren Foegele's first NHL goal, when he was also a member of the Hurricanes. Thereafter, Ryan played three seasons with the Calgary Flames and following that, he signed with their provincial rivals in 2021 and inked a two-year deal worth an average annual value (AAV) of $1.25 million.
Ryan was recently on the "Oilers Now" show with Bob Stauffer, and he was asked if he made the right choice signing in Edmonton, and he responded by saying:
I've had that conversation with my agent, with my dad, with my wife, with my kids — with everybody close to me in my life how that was a hard decision. I had the same contract to stay in Calgary, but I chose to come here and that's never an easy choice, but I couldn't be happier with my choice to be here and I'd love to finish my career here.
In 155 regular games in an Oilers' uniform, he's scored 23 goals and added 19 assists, and won an average of 53% of his faceoffs in just over 11 minutes of ice time. He's more suited to play the wing at this point of his career, but he's versatile in that he can step in at center if the team requires it, and it seems like he meshes with just about any player he lines up with.
Ryan Posted Great Advanced Analytics in Regular Season and Playoffs
As previously mentioned, Ryan produced well this past regular season, and out of his 13 goals, 11 of them were scored at even strength and two shorthanded. Taking a deeper dive at his advanced analytics, according to Natural Stat Trick, he posted solid statistics at 5-on-5 where he recorded a 52.66 Corsi (CF%), 50.68 shots-for-percentage (SF%), 56.36 goals-for-percentage (GF%), 55.29 scoring chances for percentage (SCF%), and 59.71 high-danger-chances for (HDCF%).
What's more, in 11 postseason games, his 5-on-5 game elevated, according to the underlying numbers, despite only tallying a single goal. He increased in all categories, posting a 63.21 CF%, 63.06 SF%, 66.67 GF%, 59.38 SCF%, and 68.00 HDCF%. Moreover, among all NHL players who've played 20 minutes or more in these playoffs, Ryan ranks fifth in Corsi, sixth in shots for percentage, and seventh in high-danger chances for at 5-on-5.
The Line of Ryan, McLeod & Foegele Excelled. What Does a New Contract Look Like?
Something the Oilers should consider for next season is returning the line of Ryan McLeod, Foegele and Ryan. While they only combined for 11 points in the playoffs, they pushed the pace and their underlying metrics demonstrate that. In five of the six games in the second round against the Golden Knights, they played over 32 minutes together and they generated an outstanding average of 77.14 CF%, 75.43 SF%, 74.80 SCF%, and 81 HDCF%.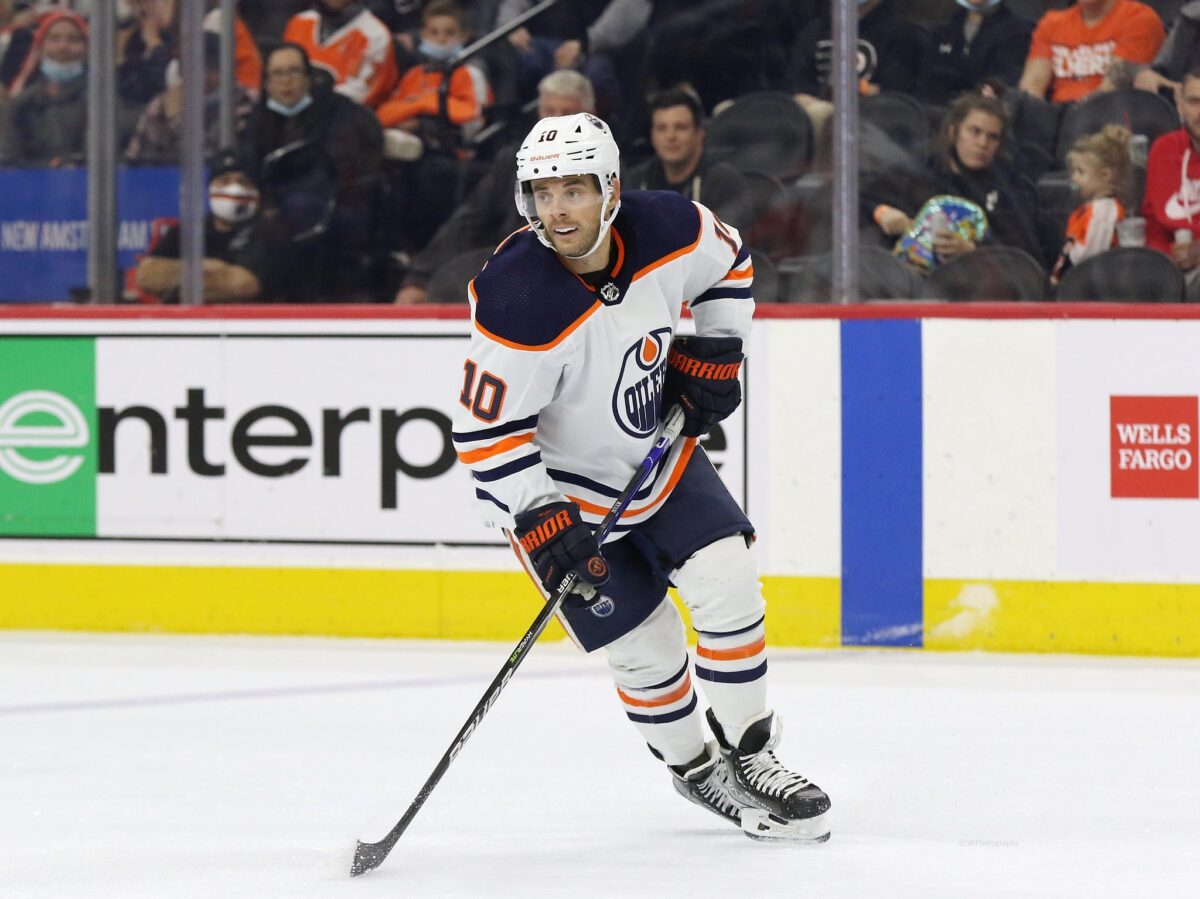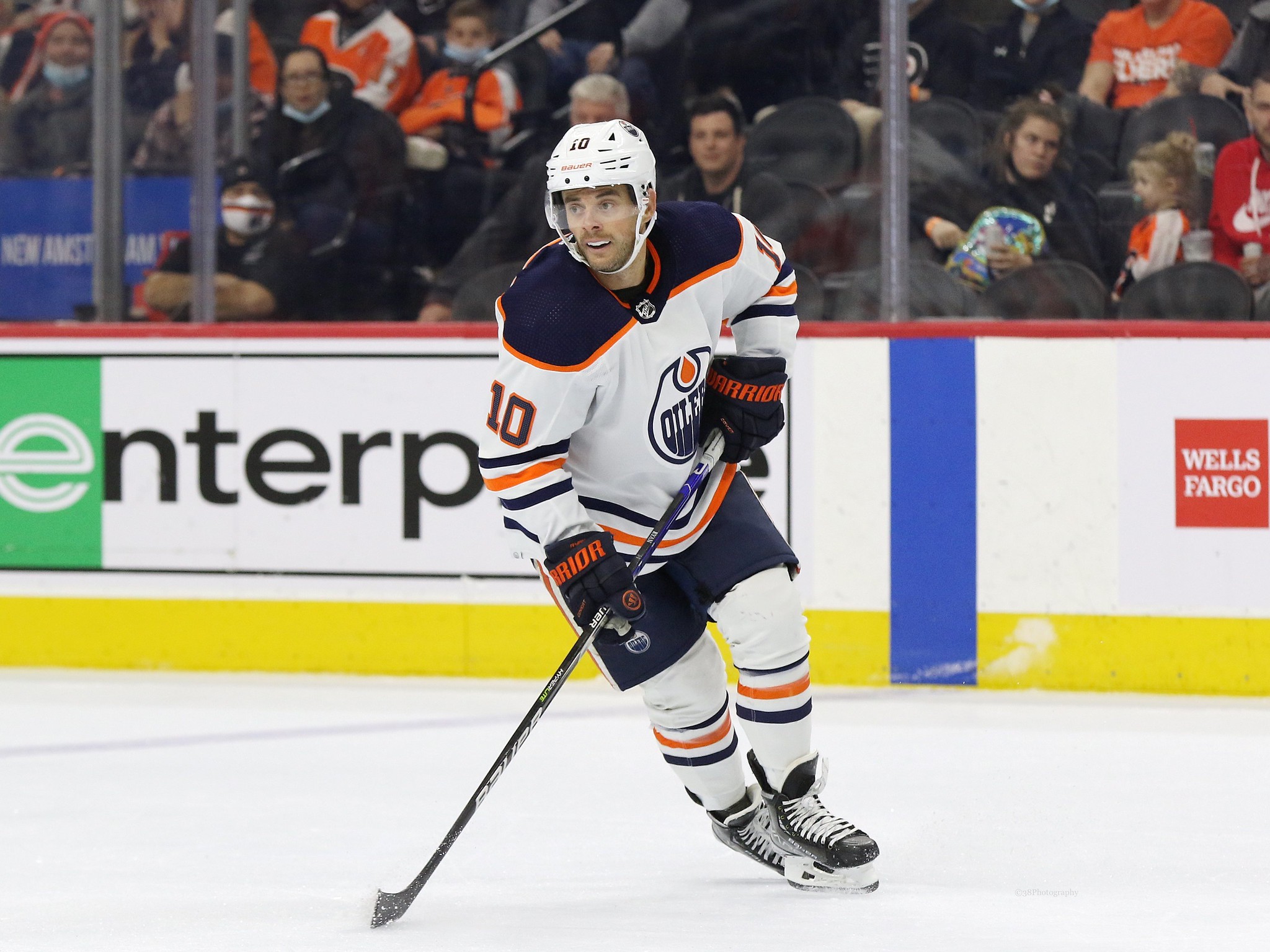 In the regular season, injuries will occur as well as hot streaks and cold streaks, so I don't expect this line to stay together for a full season; however, knowing how well they performed in these playoffs should give head coach Jay Woodcroft comfort that he can ice a trio (if all three return to the Oilers) that can play hard minutes and likely won't get scored on, and can also chip in offensively, in next season's postseason push.
Ryan is a pending unrestricted free agent, so what would it take to re-sign him? According to PuckPedia, if the Oilers don't move any contracts (which they likely will) they'll have just under $8 million in cap space to work with for the 2023-24 season. That said, it would be in the team's best interest to ink Ryan to the league minimum which increases to $775,000 next season; however, if he agrees to that annual salary, I'd imagine he and his agent will want extra term on the contract, so signing him for two years at $775,000 AAV seems reasonable.
Unfortunately for the Oilers, they didn't get the result they wanted this season, which was to go the distance and challenge for the Stanley Cup. Yet, with their core players intact and signed for the next few seasons, they'll hopefully learn from their experience this year and become stronger in 2023-24. They'll need cheap, yet effective depth players like Ryan, to help them achieve their ultimate goal of winning a championship.
Should the Oilers bring back Derek Ryan? If so, what is a reasonable contract for him? Have your say in the comments below!
---
---