After yet another season out of the playoffs, the Vancouver Canucks will be looking to improve their team in the offseason through free agency and trades. Unfortunately due to their cap situation, free agency probably won't yield a lot of fruit. So, that leaves the trade market, which as we all know, can be dicey especially if you're competing with a bunch of general managers for the same player. With that said, let's start the 2023 edition of the offseason trade targets series with the team that's the closest to a modern-day dynasty, the Tampa Bay Lightning.
Ross Colton
Over the years the Lightning have had to say goodbye to some major pieces from their Stanley Cup rosters. From their uber third-line of Blake Coleman, Yanni Gourde, and Barclay Goodrow to playoff sniper Ondrej Palat and veteran Ryan McDonagh, the salary cap has prevented the team from staying the same from one season to the next. Ross Colton could be the next player to suffer that fate.
Colton will be a restricted free agent (RFA) come July 1, and deserves a raise on his expiring $1.125 million deal; a raise the Lightning cannot afford as they only have a projected $1.6 million in cap space going into the 2023-24 season. Considering their desire to re-sign pending unrestricted free agent Alex Killorn, that might leave Colton on the outside looking in and possibly on a new team next season.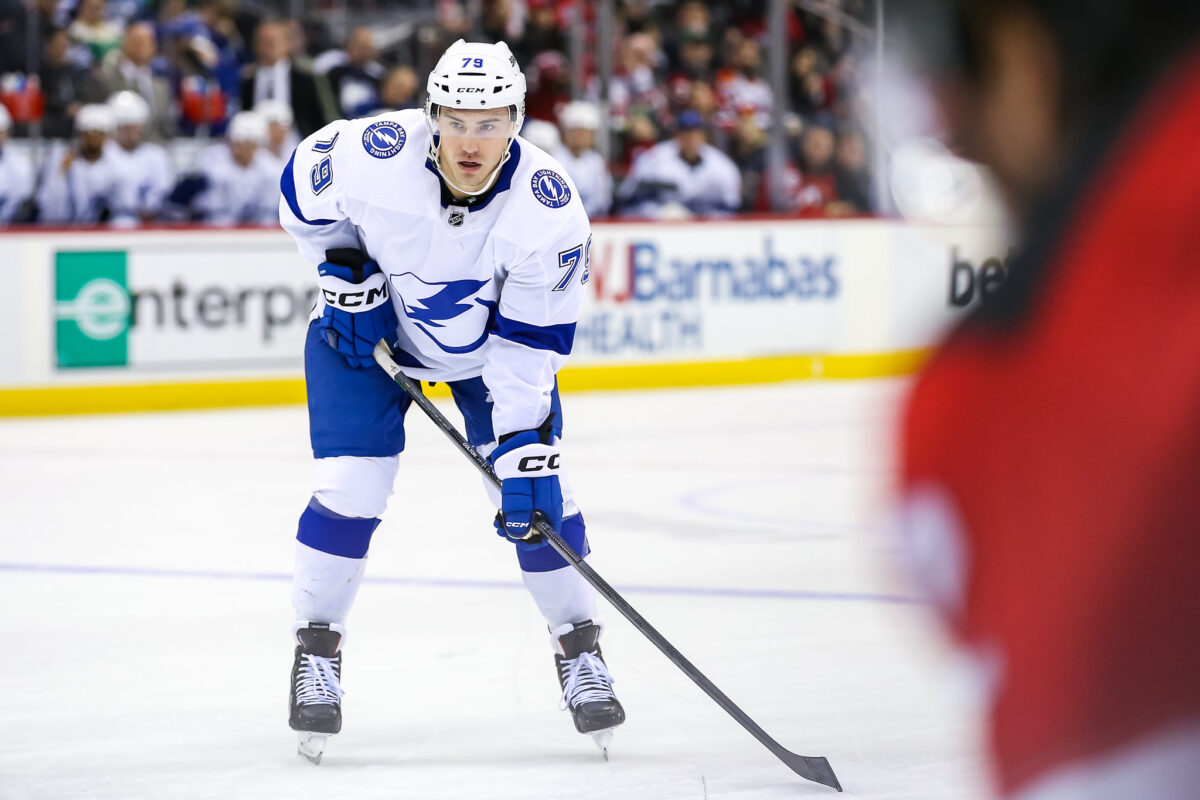 While the Canucks have their own salary cap hell to deal with, they also want to upgrade their bottom six (specifically the third-line center position) and defence corps. Colton would help solve the former as he's just entering his prime and has shown tremendous potential of becoming a solid two-way third-line pivot that can consistently score 20-25 goals. He already has a 20-goal campaign under his belt – that coming in 2021-22 when he scored 22 – and just put together another good season where he scored 16. His shot on the power play has also become a bit of a staple on the second unit, as four of those 16 were sniped on the man advantage.
Now entering his third full season as an NHLer (he only played 30 games in his rookie season split between the Syracuse Crunch and the Lightning), Colton is exactly what the Canucks need in their bottom six. He's physical (188 hits in 2022-23), can win faceoffs (52.1 percent in his career, 56.1 percent in 2022-23), and has strong underlying numbers with a career 52.9 Corsi For percentage (CF%). On top of that, he's got the offensive ability to step into the top six when needed and make the second-unit power play a threat as well.
As for what it will cost the Canucks, it likely starts with a package involving Nils Hoglander and a draft pick. While he is also an RFA come July 1, the raise on his contract won't nearly be as much as Colton's. He is also in the age range where he could help the Lightning right now. Apart from him, the Canucks don't have any second-round picks to offer the Lightning, whether it be this year or even next year, as they traded one (2023) for Filip Hronek and another (2024) for Riley Stillman. The earliest they could offer is 2025, which might be too far down the road, especially since the Lightning don't have a selection in 2023 until the sixth round. BriseBois probably wants picks this year in a deal for Colton considering how strong the draft is at the top.
Colton Is Likely the Only Real Target on the Lightning
Looking at the Lightning's roster, the only real target for the Canucks is Colton. They could try and go after Nick Paul, but considering his massive seven-year contract carries a $3.15 million average annual value cap hit and the Canucks are already in over their head with long-term deals to J.T. Miller and Oliver Ekman Larsson, it probably wouldn't be a good idea to add another one. Paul also has a no-trade clause that will likely throw a wrench into any negotiation Allvin has with BriseBois.
Related: Canucks 2023 Offseason Free Agent Targets: Toronto Maple Leafs
---
Latest News & Highlights
---
The Canucks could also look at a defenceman like Nick Perbix or Darren Raddysh, but since they are signed to budget-friendly contracts of $1.125 million and $762,500 respectively, BriseBois will probably hesitate to part with them unless it's for a player that drastically upgrades his team. Not to mention Perbix and Raddysh showed well in the playoffs combining for a goal and five points in six games, and Perbix seemed to fit in nicely alongside Mikhail Sergachev on the second pairing.
All in all, the Lightning and the Canucks' salary cap situations will make it difficult for a trade to be consummated – especially if it involves major pieces. With past targets Anthony Cirelli and Erik Cernak (still in my mind the perfect partner for Quinn Hughes) locked up to lucrative long-term contracts, Allvin will have to zero in on Colton and try and make the best offer possible. Unfortunately, he won't be the only GM looking at him, and with the lack of draft capital and cost-controlled assets, he can only go so far with his package. In the end, acquiring Colton might be a pipe dream, but that shouldn't stop Allvin from trying.
All stats were from Hockey Reference