In this edition of Vancouver Canucks News & Rumors, I'll report that Justin Bailey has re-signed with the team. I'll also report Swiss-native Sven Baertschi's comments that he is determined to once again, as he was for several seasons, become a key part of the team during the training camp.
Related: Canucks News & Rumors: Podkolzin, Ferland, Hoglander, Demko & More
I'll also share recent news that Vasili Podkolzin, although he's had a difficult season playing in the KHL, still remains in some people's eyes the Canucks' top prospect. Finally, I'll share rumors that the Canucks are after defensive defenseman Travis Hamonic.
Item One: Justin Bailey Re-signs with the Canucks
This week, Justin Bailey re-signed a one-year, two-way contract with the Canucks. During the 2019-20 season, Bailey scored 28 goals and 19 assists (for 47 points) in 53 games with the Canucks' AHL's Utica Comets. The 6-foot-4, 215-pound Buffalo-native also played in two games with the Canucks last season. 
Item Two: Sven Baertschi Confident He'll Make Canucks Roster
Sven Baertschi is confident that, although he spent the bulk of the season playing with the Canucks' AHL affiliate in Utica, he'll be able to make the Canucks opening-game roster. Given that Tyler Toffoli signed with the Montreal Canadiens and that Micheal Ferland is still suffering from concussion issues, there's a space for a forward. Baertschi is convinced he's the one to fill that space.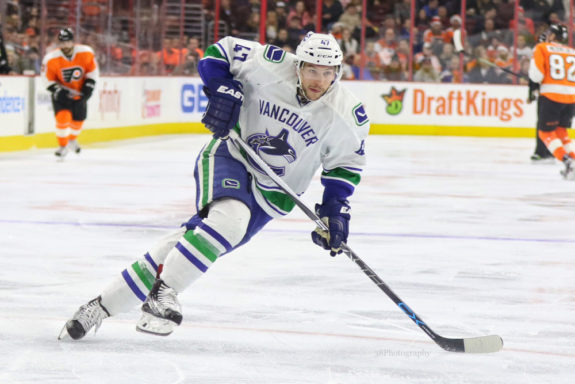 As Baertschi noted, "I'll be fighting like hell. I'm still really confident in my abilities and I know I can be relied on in a day-to-day basis. I feel so good about my game in many ways and I have to come to camp and make a statement. I've always had the belief and I'm going to stick with it. I train like an NHL player and think like an NHL player."
Related: Canucks 'Ring of Honour' Candidates: Ryan Kesler
Baertschi has shown in the past that he has the skill set needed to contribute. Last season he was more than a point-a-game player with the Comets when he registered 46 points during 43 games played. As well, he's had a couple of strong seasons with the Canucks where he came close to 20 goals a season. He might be someone to watch during the Canucks' upcoming training camp. (from "Can Sven Baertschi get it right winging it to fill Canucks' big roster hole?, Ben Kuzma, Vancouver Province, 17/12/20).
Item Three: Vasili Podkolzin Remains the Canucks' Top Prospect
During the 2019 NHL Entry Draft, the Canucks made Vasili Podkolzin their first-round selection (10th overall). At that time, general manager Jim Benning had noted that the team was willing to wait for Podkolzin to complete his KHL contract. That contract will soon be up.
However, the fly in the ointment is that, so far playing in the KHL with SKA St. Petersburg, Podkolzin's scoring hasn't been what most Canucks' fans expected. The 19-year-old Russian winger ended the 2019-20 season with only two goals and eight points in 30 games. This season hasn't been his strongest season either, and he's started the season with two goals and six points in 24 games. He even was demoted to Russia's second-level of hockey.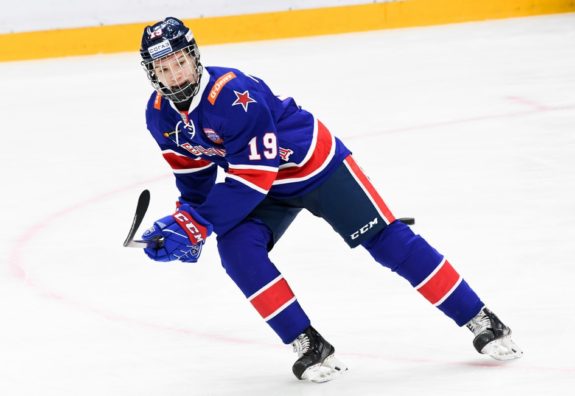 However, Pete Jensen of NHL.com still believes Podkolzin is the Canucks' top prospect. In fact, Jensen goes so far as to say that he thinks Podkolzin will make his NHL debut during the 2021 regular season with the team.
Canucks' general manager Jim Benning echoed that belief when he noted: "When [Podkolzin's] season is finished in Russia, we've communicated to him and his agent that we'd like to get him signed and bring him over." 
Benning added, "We think he can for sure step in and play in the NHL right now. … He plays a power forward-style game and is a good two-way player, which coaches like in young players. … We feel like he's going to be another one of those guys that's going to be in our group of young core players that's going to drive winning for the team for a long time."
Should Podkolzin be as good as Benning believes he'll be; and, with the addition of Nils Hoglander, the Canucks might become an offensive powerhouse over the next decade.
Related: Q & A with Whale Rookie Kayla Friesen
It will interesting to watch Podkolzin's play over the regular season. I have little doubt he'll be given a chance to line up – at least as a test – with the Canucks' great young Elias Pettersson. If that combination could work, it might offer the kind of protection the young Swede needs to play more freely on the ice.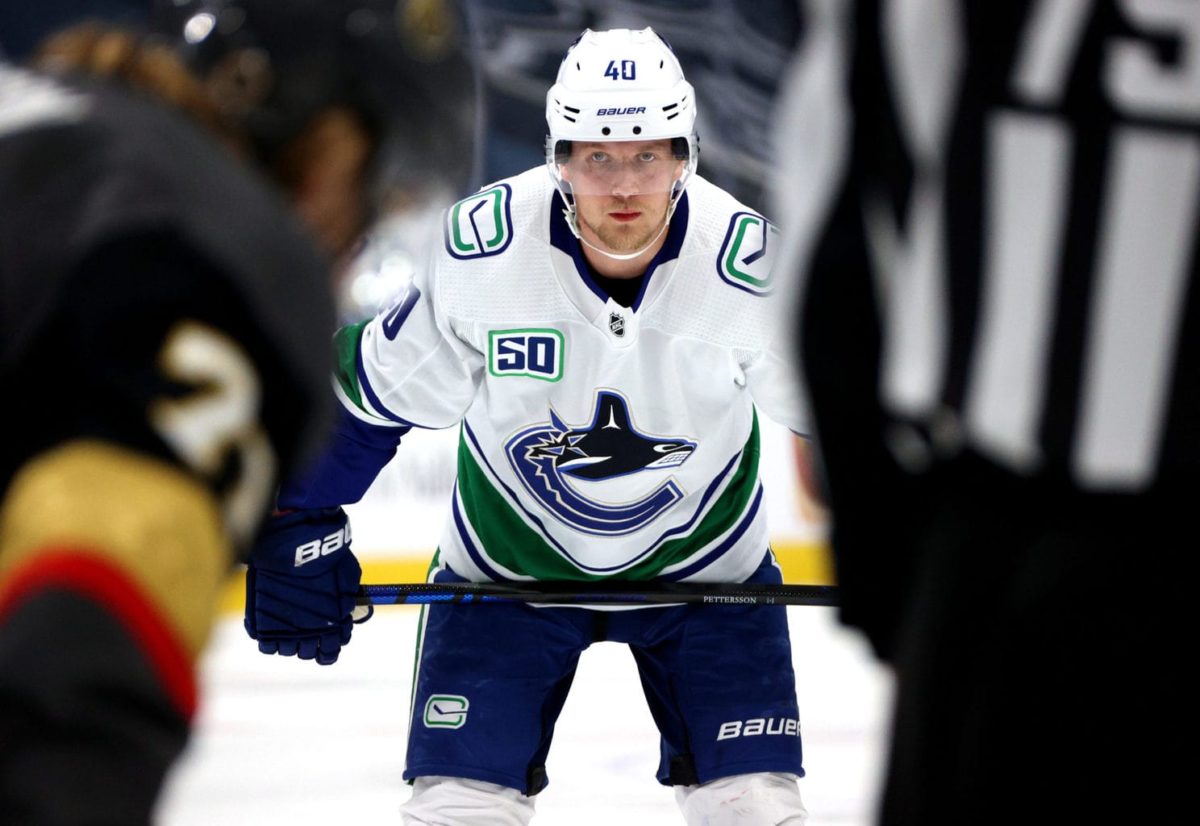 During last season's playoff rounds, both Pettersson and youngster Quinn Hughes were constantly muscled and beat on by the physical play of the Vegas Golden Knights. To their credit, neither young Canucks' player acted intimidated. Still, if Podkolzin could provide an increased ability to respond to such physical intimidation, it would offer these youngsters more space. Ferland has the heart of a lion but, sadly for the team, seems prone to concussions. For his own health and the good of the team, he needs to not accept every challenge thrown his way.
Item Four: Canucks Are Interested in Defenseman Travis Hamonic
It seems the Canucks might not be finished adding players to their roster. Bob Marjanovich of TSN Radio Vancouver reported that both the Calgary Flames and the Canucks are interested in unrestricted free-agent defender Travis Hamonic. 
As Marjanovich noted, "Calgary and Vancouver are in on Hamonic, and whoever can clear enough [cap] space, will end up getting him on a one-year 'show me' deal."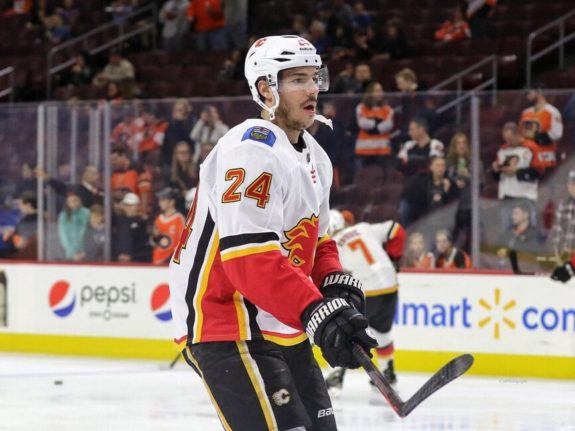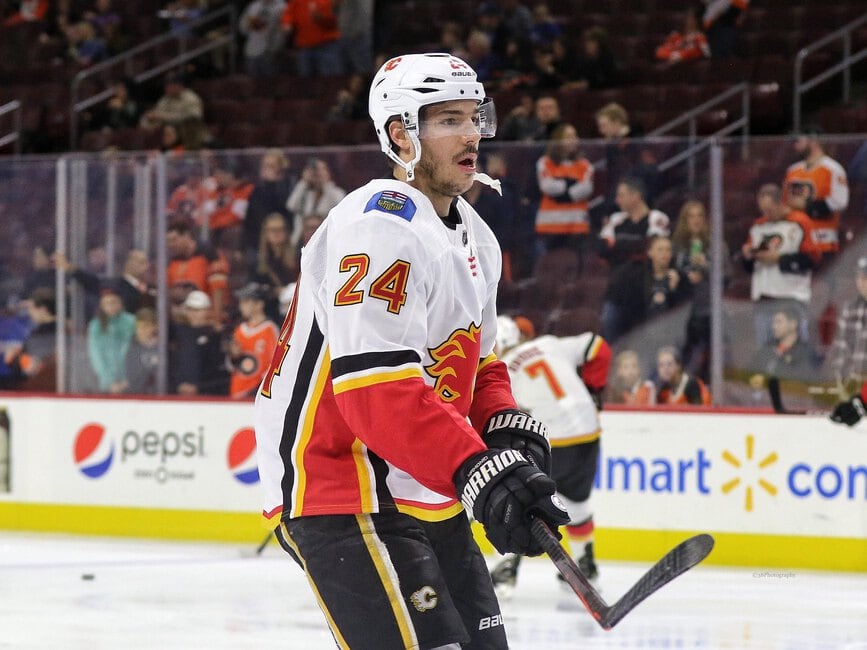 Marjanovich added, for the Canucks, "It all comes down to Ferland and if he goes on LTIR."
Hamonic, who has the reputation of a defensive defenseman, has played with the Flames for the last three seasons. In the 50 games he played last season, he posted three goals and 12 points; however, he also blocked 110 shots. 
What's Next for the Canucks?
I have no confirmation of this rumor, but I've heard from my friends who are strong Canucks' fans that there's word that head coach Travis Green might be in line to become the first head coach of the Seattle Kraken. From what I've heard – and again I have nothing firm from any source – there's some issue with his waiting for a new Canucks' contract.
Related: Canucks News & Rumors: Demko, Naslund, Edler & Pettersson
If this did happen, it really would ramp up any anticipated rivalry between Seattle's team and Vancouver's team. Geographically, the two cities are close together. This rumor might be one to keep an ear close to.
---
---