We Are All Freaking Out
That's the unofficial tagline that Canuck fans have been declaring after witnessing a short season & summer break of underachievement (second straight first round exit), extreme shock (Corey Schneider gone via trade) and certain doubt (about John Tortorella's hiring and Roberto Luongo's uncertain future.)
As fans of the Vancouver Canucks, it's important not to let the negativity going back to the past three seasons get in the way of the team's desire and motivation in the present. The Canucks and fans need to let by-gones be by-gones, forget about the past and move forward. That's what everyone around this team is forgetting to do – to move forward.
Believe it or not, there are some things to look forward to heading into the 2013-14 season. Here are some examples:
Tortorella in the Picture
At the tail end of former coach Alain Vigneault's tenure, it seemed that the Canucks were simply being outclassed and out-dueled by pretty much everyone else in the league that have bulked up their rosters and improved their strategies. Just look at the Chicago Blackhawks, Boston Bruins, Dallas Stars, Los Angeles Kings and the San Jose Sharks. They are next season's favorites.
With John Tortorella entering the fray, his demand for accountability, responsibility, and adherence to his brand of hockey that will determine how the Canucks will to respond to these top Cup contenders. The Sedins have even pledged to work with the new coach and get involved more by putting them on special teams like killing penalties. While blocking shots doesn't necessarily win games, the Sedins know that their stock is starting to fall as they head into their final season of their contracts. They don't want to be looked at as one-dimensional anymore and will try to extend their stay in Vancouver.
The NHL regular season schedule was released on Friday. Check out our partners at TiqIQ for the best deals on Vancouver Canucks tickets for all 2013-14 games.
The Canucks' roster will be a mixed bag of veteran leadership and youthful engagement. If GM Mike Gillis intends to steer the ship right after a few years of unproven late draft picks, then the time is right for Torts to turn this bag into a solid contender, one that could legitimately challenge for the Stanley Cup once again.
Luongo is Moving On (and so should we)
Let's get one thing clear: Roberto Luongo is back in Vancouver, and you can count your blessings that he hasn't quit on the team that's still paying him the big bucks. After falling short for the past three seasons, he has a lot to prove and he knows it. With his tandem partner Schneider out of the picture, the focus on Luongo is to win games, as the number one starter once again. Torts sees much more from Luongo in the same way he has pushed Nik Khabibulin and Henrik Lunqvist to become better at their craft.
There will always be both sides of the coin: Lou supporters versus the doubters/haters. Not every Canuck fan is going to have the same philosophy on what kind of of personnel the Canucks should have, especially the one between the pipes. Last year, they had two proven goaltenders but they both wanted to be in net. When Gillis wasn't able to move one of them, he had to let go of the other one. That's how the business is run. Luongo knows this, and will be reporting to training camp like any other season.
Next year is another Olympic year. Luongo proved doubters wrong when Team Canada Coach Mike Babcock relied on him to help win the Gold Medal in Vancouver three years ago. If things go fairly well for Lou, Babcock wouldn't hesitate to call on him again to backstop Canada's net in Sochi next winter.
Luongo was quiet all summer. Let him be. He needed time to consider his options, so let him. All Canuck fans should be so fortunate that Luongo has returned with a clean slate. Everyone should look forward to the next season with at least some sense of optimism.
Can't wait to see all my friends tomorrow! All are welcomed! #divatour2013 pic.twitter.com/pSZMXYsNnC

— Strombone (@strombone1) September 5, 2013
Bo Knows His Value
So far, Bo has proven himself that he wants a serious crack at the Canucks' roster. Even though it's early, getting Horvat may be the single most important end result of the Corey Schneider Trade. Horvat will undoubtedly be connected to this trade whether he likes it or not, and that's okay with him.
So far, he's holding his own in the Canucks Prospects Camp in Penticton. Horvat was very noticeable, beating the San Jose Sharks prospects 3-2. He's not going to be an immediate saviour. That type of pressure isn't warranted on him or anyone else that's pushing for an opportunity in the pros.
Horvat said something very important.
"I look at it as a positive. They traded up to get me and that means they really wanted me, right? It means they really wanted me and that they have a lot of faith in me. Now I just have to prove to them that they made the right choice. It's going to be motivating."
As fans, we can't wait to see Bo's potential. Neither can we wait to see what Brendan Gaunce, Mike Santorelli, Hunter Shinkaruk, Joacim Eriksson and Jordan Subban will bring to challenge for a place on the Canucks roster.
Mark this on your calendars: November 2, 2013 will be a great day for all Canucks fans. For some, this day was long overdue.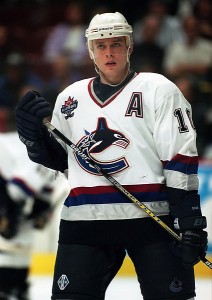 Pavel Bure's number 10 will be raised to the rafters along with Stan Smyl's 12, Trevor Linden's 16 and Markus Naslund's 19. This special Russian player dazzled Vancouver from his first shift to his memorable playoff goals. His tenure in Vancouver didn't end well, but those bitter memories can easily be forgotten.
No need to explain in words what Pavel means to Vancouver. Here's why:
Perhaps there's one major blemish in this upcoming season – the Heritage Classic against the Ottawa Senators at BC Place Stadium, just a few steps away from Rogers Arenna.
For everyone who has lived in Vancouver during the winter season knows, it hardly snows in the BC Lower Mainland, even if you're lucky. It rains, rains, and rains. The event is sponsored by Canada's most addictive substance – Tim Hortons Coffee. How fitting. How do you build a rivalry with the Ottawa Senators? Unless the NHL decides to gut their recent Divisions and Conferences, or changes the schedule so that Ottawa and Vancouver play each other 82 times, there's not going to be much in common between these two. Furthermore, ticket prices are going to be higher than expected. Many hockey fans see this as nothing more than an NHL money-grab.
Despite the odds, what people forget about the Winter/Heritage Classics is that it is a celebration of the game. It may not be as pure as it was before Gary Bettman or even John Ziegler's tenure, but this is an opportunity to celebrate & honour the hockey tradition that Vancouver and British Columbia was founded upon.
(Who are we kidding? It's a clear money-grab for the League.)
Moving Forward
The Canucks need to forget the past, and so should the fans. The rivalries in the revamped Western Conference is going to be fierce. There's no question that they'll be up for a real challenge, now that realignment has taken place. It won't be easy to remain optimistic.
Taking the pressure off  to win it all from Vancouver to say Chicago, Los Angeles, San Jose or Anaheim could help the Canucks focus on winning, one game at a time. These are baby steps, but that's a strategy that Coach Tortorella will have to implement if the full season ahead is going to be meaningful.
A former novice/atom player, timekeeper and fan of the game, Peter has lived and breathed hockey throughout his life, covering hockey happenings in Edmonton, Vancouver, and currently in Saskatchewan. He is now a contributing writer for the Hockey Writers.