What was long-rumoured became fact on Monday morning, as the Calgary Flames announced that long-time netminder Miikka Kiprusoff has retired.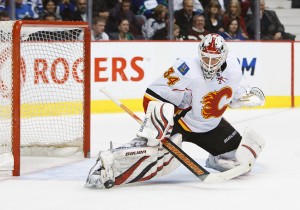 The 36-year-old Finn entered the NHL during the 2000-01 season after being drafted by the San Jose Sharks in the fifth round of the 1995 Entry Draft. Other goalies taken before Kiprusoff in that draft include first-rounders Jean-Sebastien Giguere, Martin Biron, Brian Boucher and Marc Denis. However, the Sharks were committed to goaltenders Evgeni Nabokov and Vesa Toskala, so Kiprusoff became the odd man out despite his strong AHL performances. The man best known as "Kipper" joined the Flames in November 2003 via a trade with the Sharks for a second round draft pick, which the Sharks used to select Marc-Edouard Vlasic.
Kiprusoff quickly helped steady the Flames shaky netminding, forming a formidable tandem with veteran Roman Turek that led the club to its first playoff berth since their Stanley Cup win in 1989. Setting the modern goals-against record (1.69) in his debut season, Kiprusoff became one of the best goaltenders of the Lockout Era. Between the two lockouts, he posted staggeringly strong numbers:
NHL leader in wins
NHL leader in games and minutes played
NHL leader in shots against and saves
Tied for third in NHL in shutouts (tied with Roberto Luongo; only Martin Brodeur and Henrik Lundqivst had more)
Between 2005-06 and 2011-12, Kiprusoff posted a 273-168-62 record, with a 2.48 goals against average and .914 save percentage. For reference, every other Calgary Flames goaltender combined had a 22-36-13 record, with a 3.11 goals against and .897 save percentage. In short, he was easily Calgary's most important netminder – by a country mile – and was likely the most valuable goalie in the entire NHL during that time-span.
Despite an injury-addled 2012-13 campaign which saw him most disappointing numbers, Kiprusoff retires as the leader in almost every Flames goaltending category and near the top of the all-time NHL leaderboard – including sitting 23rd in wins and 30th all-time in shutouts.
Kiprusoff will likely be most fondly remembered in Calgary for his role in the Flames run to the Stanley Cup Final in 2004 or his Vezina Trophy winning season in 2005-06. In April, during his last start at the Scotiabank Saddledome, Flames fans bid a preemptive farewell to their beloved netminder.