The second day of rookie camp came along today for the Colorado Avalanche. I was unable to make day one, so this was my first taste of some of the new kids in town. It's always exciting to get a taste of what the future is going to look like for your team. Here are my takeaways from the second day of rookie camp for the Colorado Avalanche.
Nathan MacKinnon Is What We Think He Is
Watch MacKinnon play for just a few minutes, even if they are just drills, and you can see exactly why people were so high on him coming into the draft. He is blazing fast, has a quick shot and works his tail off every single time he is out there. There was a moment during a 3-on-3 drill in zone where MacKinnon flashed behind the net to get to a loose puck first, made an immediate backhand pass from behind the net one of his players cycling on the opposite front side of the net and was immediately put in. There was no hesitation and if you had been looking down for just a second you would have missed it. Great instincts, fast decision, caught the other players totally off-guard, ends up in the net. Definitely things you want from a top overall pick.
At the same time, MacKinnon is also an 18 year old in his first camp and he definitely got frustrated from time to time. Even though these guys haven't spent time in the NHL, there are plenty of guys who are coming into rookie camp for the third or fourth time. MacKinnon hasn't really been dominant by any stretch of the imagination and, at times, looks very frustrated. Which is good, you want somebody that you're expecting to see be a big part of your team getting fired up when he's struggling. Better that than beating yourself up about it. MacKinnon seems like a guy who will just work harder when things aren't going his way.
The Future of the Defense Looks Bright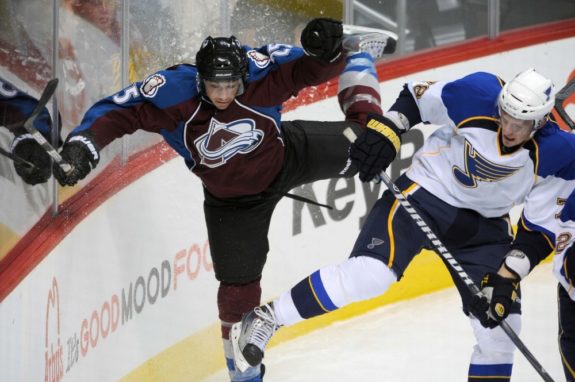 The Avalanche defense is a source of much concern for the team in the present and for the future, but there are some young players who you will be seeing in the NHL in the next couple of years. First and foremost, Duncan Siemens has gotten much bigger, physically, since his first visit to Colorado Avalanche training camp a couple of years ago. He also seems to be more comfortable trusting his positioning and doesn't try to rely as much on the physical aspect. If he can use more solid positioning and combine that with his excellent size, an active stick and his viscous mean streak, you're looking at one heck of a defenseman.
Chris Bigras is going to be an awesome defenseman. Many people who were able to attend day one of Avalanche rookie camp had remarked about how dominant Bigras was against everybody. On day two, I wouldn't say that he was dominant by any stretch of the imagination, but he was still doing all the right things at the right time. His instincts are fantastic and it will be very interesting to see how he plays when the rest of the players show up for training camp.
Markus Lauridsen is another player who seems to be developing nicely, playing with the right mix of physical and positional play, forwards all seemed to have trouble with him today. Mikael Tam was another player who definitely made an impact today, in a more literal sense. At one point, he drilled Mitchell Heard and sent Heard crashing into Calvin Pickard. This caused practice to stop for a moment, and everybody seemed to be okay. Tam was also quite physical throughout the rest of the day, he's definitely making a solid effort to stand out to the coaches.
There is a New Environment
Not because it's September and the leaves will soon be shifting with the season, this coaching staff has a brand new demeanor to them. During day one of rookie camp, some in attendance noted how assistant coach Andre Tourigny was "picking fights" with several players. Then, at today's practice, Avalanche assistant coach Tim Army was all over the rookies about their passing during a drill. Following several around the ice, stopping drills and making players who botched either delivering or receiving a pass start again until they did it right. Two phrases were constantly repeated at these young players; "Make better passes," and "Work harder." And when players weren't improving, the coach stopped the drill and ended practice with a bag skate session. It has been forever since you could look at a collection of Avalanche coaches and be able to say, "Wow, those guys mean business."
There was a huge difference in the atmosphere of this practice and any other when Joe Sacco had been coach of the team. Even though Sacco would be in the middle and speaking to the players, he never seemed to have any actual control. These guys had the attention of the young players and control of the practice immediately. There was no question who was in charge and it is so nice to see that for a change.
The other huge difference was seeing a goalie coach, though it was not Francois Allaire today, working with the young goalies. Until recently, the most we ever really saw from an Avalanche goalie coach was Kirk McLean doing some pretty basic warm-up drills. It has been a point of contention for several years with those who follow the Avalanche closely, and it is a great thing to see finally happening again in the organization.
Added Bonus
Several of the Avalanche veterans were also present at camp today, and took to the other rink at Family Sports Center for a Captain's Practice. After a few drills to warm up, the team broke into sides and had a little scrimmage.
There were two highlights of this scrimmage. First, Avalanche fans are really going to like seeing Matt Duchene playing with Ryan O'Reilly. Those guys just have a way of finding each other in prime scoring spots with really sharp passes. Second, we might be talking about Stefan Elliott a lot this year. Last season, when he came into camp, you could just see that something wasn't quite right. Whether it was physical or mental, who knows, but Elliott started things off fantastically during this scrimmage when he sent a laser top shelf over J.S. Giguere's glove early on. I am very hopeful that this is a sign of things to come for Elliott.
Looking forward to day three, tomorrow.
I'm a Denver native who has been a fan of the Avalanche since they came to town and a fan of the game before that. I started writing my own blog a couple years ago before moving to Bleacher Report and becoming a Featured Columnist there. You can also find me the Burgundy Brigade Podcast